News
Geek shows and movies on UK TV in the coming week
Sherlock comes to an end, and Mad Men gets going again from the start. Plus lots of movies in this week's UK TV round-up...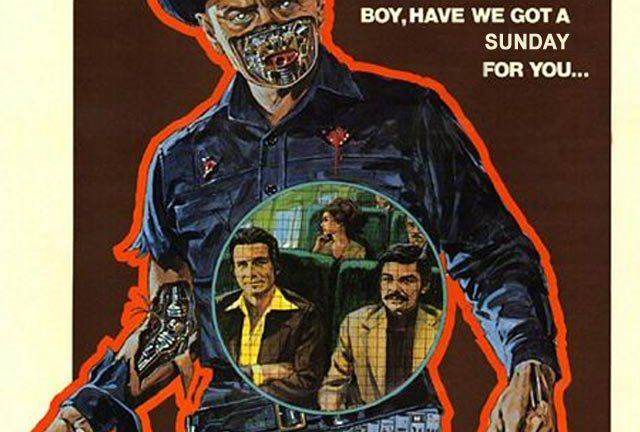 This is a short, but especially sweet round-up of shows, with the highlight of the week being the third and final episode of Sherlock airing Sunday, August 8th at 9:00pm on BBC1, in a story that, even in name, holds a lot of promise: The Great Game.
In our interview with Mark Gatiss, co-creator and author of the final episode, he says, "There's a lot to be said for the fact that, when nothing's on, you get a lot of attention!" But, although the timing happens to be true, there's so much more going for Sherlock than that and it's been fun, surprising, and a real adventure on a Sunday night.
In fact, the show's been so good that it's replaced that vague and creeping wave of dread at the week's end with a real sense of joyous anticipation. If that sounds a bit far-fetched for a TV show, you've not seen it yet and should rush to the BBC iPlayer to see for yourself. (There are 10 days left to catch the first impressive episode, A Study in Pink, here.)
Our congratulations go out to all involved in what can best be described simply as a very special few nights of telly. We'll have our review when the last episode airs and welcome your thoughts on the series and whether, like us, you'd like to see much more.
We have another welcome Sunday night gift from the BBC in the repeat performance of Mad Men from its first series' first episode, Smoke Gets In Your Eyes at 11:00pm, Sunday August 8th on BBC2, immediately followed by episode 2, Ladies Room.
This TV fan has never had the pleasure of an introduction to Mr Don Drapper or his world of the 1960s advertising game in the Big Apple. If, like me, you've felt you were missing something quite good that others with keen taste enjoyed, now is our chance to get a foot in the door on opening day.
Now, on to the films showing through the weekend and a bit beyond, As always, if we missed anything interesting, have a shout in the comments, with our thanks.
---
Please also note: the ordinal numbers for dates will help you scan through this simple list with your browser's search function. Enter '7th' in your browser's Find box or window to highlight and/or tab through all movies shown on Saturday. Enjoy!
---
An American Werewolf in London
On: SyFyDate: Saturday 7th AugustTime: 11:20pm (and 00:20am 8th Aug Syfy+1)
Analyze ThatOn: ITV1 GranadaDate: Friday 6th AugustTime: 10:35pm
At Close RangeOn: TCMDate: Sunday 8th AugustTime: 9:00pm (and 1:05am 9th Aug)
AuditionOn: horror channelDate: Sunday 8th AugustTime: 10:55pm
Batman BeginsOn: ITV2Date: Saturday 7th AugustTime: 9:00pm (and 10:00pm ITV2+1, 10/11:00pm 11th Aug)
Blood WorkOn: ITV1Date: Sunday 8th AugustTime: 02:40am
Blue VelvetOn: TCMDate: Saturday 7th AugustTime: 11:20pm
Broken ArrowOn: Film4Date: Sunday 8th AugustTime: 01:20am (and 2:20am Film4+1)
ColorsOn: TCMDate: Friday 6th AugustTime: 9:00pm
Dog Day AfternoonOn: ITV3Date: Saturday 7th AugustTime: 11:40pm
Final Destination 2On: Channel 4Date: Sunday 8th August s)Time: 10:55pm
FranticOn: ITV3Date: Sunday 8th AugustTime: 9:00pm (and 10:00pm ITV3+1, 11/midnight 12th Aug)
GoneIn 60 SecondsOn: ITV1Date: Saturday 7th AugustTime: 10:35pm
HostageOn: Film4Date: Sunday 8th AugustTime: 11:15pm (and 00:15am 9th Aug Film4+1)
Kiss Of The DragonOn: Film4Date: Friday 6th August )Time: 10:40pm (and 11:40pm Film4+1)
Lara Croft: Tomb RaiderOn: BBC 3Date: Saturday 7th AugustTime: 9:20pm
Lara Croft Tomb Raider: The Cradle of LifeOn: BBC 3Date: Sunday 8th AugustTime: 7:10pm (and 8:00pm 11th Aug)
Live And Let DieOn: ITV1Date: Sunday 8th AugustTime: 3:50pm (and 1:45pm 14th Aug)
ManhattanOn: TCMDate: Sunday 8th AugustTime: 11:15pm
Minority ReportOn: Sky Movies Sci-Fi/HorrorDate: Friday 6th AugustTime: 3:05pm (and 9:00pm)
Nacho LibreOn: E4Date: Sunday 8th AugustTime: 9:00pm (and 10:00pm E4+1)
NotoriousOn: BBC 2Date: Sunday 8th AugustTime: 1:20pm
Once Upon A Time In MexicoOn: BravoDate: Friday 6th AugustTime: 9:00pm (and 10:00pm Bravo+1)
Phone BoothOn: Film4Date: SaturdayTime: 00:30am (and 1:30am Film4+1)
QuadropheniaOn: ITV4Date: Saturday 7th AugustTime: 11:40pm (and 00:40am ITV4+1)
Robin Hood: Prince of ThievesOn: Five USADate: Saturday 7th AugustTime: 8:00pm (and 9:00pm Five USA+1)
ScarfaceOn: ITV4Date: Sunday 8th AugustTime: 11:10pm (and 00:10am 9th Aug ITV4+1)
School Of RockOn: Film4Date: Wednesday 11th AugustTime: 9:00pm (and 10:00pm Film4+1)
SpaceballsOn: SyFyDate: Saturday 7th AugustTime: 6:10pm (and 7:10pm Syfy+1)
SpellboundOn: BBC 2Date: Sunday 8th AugustTime: 11:30am
Star Trek: First ContactOn: Channel 4Date: Saturday 7th AugustTime: 11:10pm (and 00:10am 8th Aug 4+1)
Starship TroopersOn: Sky Movies Sci-Fi/HorrorDate: Saturday 7th AugustTime: 00:55am (and 10:00pm 10th Aug Sky Showcase)
Sudden ImpactOn: Five USADate: Friday 6th AugustTime: 9:00pm (and 10:00pm USA+1, 9/10:00pm 10th Aug)
SurrogatesOn: Sky Movies PremiereDate: Friday 6th AugustTime: 9:45pm (and 10:45pm Premiere+1, then daily through 12th Aug)
Teen WolfOn: SyFyDate: Saturday 7th AugustTime: 2:30pm (and 3:30 Syfy+1)
The China SyndromeOn: Five USADate: Sunday 8th AugustTime: noon (and 1:00pm Five USA+1)
The Karate Kid, Part IIOn: FiveDate: Saturday 7th AugustTime: 3:25pm
The LookoutOn: BBC 1Date: Friday 6th AugustTime: 11:15pm
The Rocky Horror Picture ShowOn: Film4Date: Monday 9th AugustTime: 01:25am (and 2:25am Film4+1)
The SentinelOn: Film4Date: Saturday 7th AugustTime: 9:00pm (and 10:00pm Film4+1)
The Seventh Voyage of SinbadOn: FiveDate: Saturday 7th AugustTime: 5:35pm
The UntouchablesOn: Film4Date: Sunday 8th AugustTime: 9:00pm (and 10:00pm Film4+1, 9/10:00pm 14th Aug)
The War Of The RosesOn: more4Date: Friday 6th AugustTime: 9:00pm (and 00:20am 7th Aug)
There Will Be BloodOn: BBC 2Date: Saturday 7th AugustTime: 9:45pm
Total RecallOn: ITV1Date: Monday 9th AugustTime: 10:35pm
Transporter 2On: Film4Date: Friday 6th AugustTime: 9:00pm (and 10:00pm Film4+1)
WestworldOn: BBC 2Date: Sunday 8th AugustTime: 00:15am