News
Geek shows and movies on UK TV in the coming week
Doctor Who At The Proms, a new fourth series of Mad Men, a return to Deadwood and Mock The Week, plus great movies for the weekend ahead...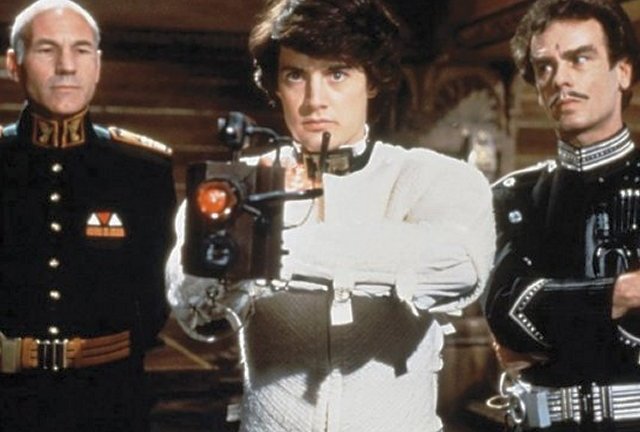 We start the week with a musical treat and a temporary fix for our Doctor Who habits. On Monday, September 6th, at 8:30pm, BBC3 hosts Doctor Who At The Proms 2010 where a number of Who cast and characters will tap toes and sway eye stalks to Murray Gold's music. We'll have a special remembrance on the day from a fan who was in attendance at the filming of the programme. You'll find it in our TV section on Monday, with an additional reminder about the broadcast.
We heard good things about Deadwood, but missed the show when it first aired here. We reckon we'll rectify that gap in our TV western drama viewing and TCM aims to help, with daily airings of episodes starting with the pilot, showing on Monday, September 6th at 11:00pm. That can headline a week of great western fare including Clint Eastwood's Unforgiven, Sergio Leone's Once Upon A Time In America, and Michael Mann's colonial frontier classic, The Last Of The Mohicans, details on air dates and times of which follow in our film listing.
If it wasn't so slickly written and admirably acted, it might be harder for modern women to watch the excellent Mad Men. In fact, that's what the men at the ad agency would call us, "modern women". And they'd say it with a lechy snear, in the office, right to our faces. The sixties-set drama enters its fourth season with opening episode, Public Relations, and takes place over that most American of holidays, Thanksgiving, a concept as foreign as the accepted behaviour and brazen belt notching of some of Mad Men's always interesting characters. We're just thankful for a new series, which you can catch on Wednesday, September 8th at 10:00pm on BBC4. 
After an extended break that left a serious dent in our Thursday night funny quotables quotient, Mock The Week, hosted by Dara Ó Briain, returns at 10:00pm on September 9th to BBC2. Chris Addison, Milton Jones and Andi Osho are the guest starring stand-ups sitting down with weekly panel bosses Hugh Dennis, Russell Howard and Andy Parsons.
Now, on to the films showing through the weekend and a bit beyond. As always, if we missed anything interesting, have a shout in the comments, with our thanks.
---
Please also note: the ordinal numbers for dates will help you scan through this simple list with your browser's search function. Enter '4th' in your browser's Find box or window to highlight and/or tab through all movies shown on Saturday. Enjoy!
---
Army Of Darkness
On: TCMDate: Friday 3rd SeptemberTime: 9:00pm (and 1:00am 4th Sept)
Cape Fear (1962)On: AlibiDate: Friday 3rd SeptemberTime: 00:55am (and 1:55am Alibi+1, 10:35/11:35pm 3rd Sept)
CloverfieldOn: Film4Date: Friday 3rd SeptemberTime: 9:00pm (and 10:00pm Film4+1)
DeathwatchOn: Film4Date: Monday 6th SeptemberTime: 01:10am (and 2:10am Film4+1)
DesperadoOn: Five USADate: Monday 6th SeptemberTime: 10:00pm (and 11:00pm Five USA+1, 9/10:00pm 7th Sept)
DuneOn: Five USADate: Sunday 5th SeptemberTime: 2:15pm (and 3:15pm Five USA+1)
Flash GordonOn: ITV4Date: Saturday 4th SeptemberTime: 4:50pm (and 5:50pm ITV4+1)
For Your Eyes OnlyOn: ITV1Date: Sunday 5th SeptemberTime: 4:15pm
Gremlins 2: The New BatchOn: FiveDate: Saturday 4th SeptemberTime: 5:10pm
Grosse Pointe BlankOn: BBC 1Date: Friday 3rd SeptemberTime: 11:15pm
Groundhog DayOn: BravoDate: Thursday 2nd SeptemberTime: 9:00pm (and 10:00pm Bravo+1, 6/7:00pm 9th Sept)
HeroOn: Film4Date: Saturday 4th SeptemberTime: 00:10am (and 1:10am Film4+1)
HighlanderOn: ITV4Date: Saturday 4th SeptemberTime: midnight (and 1:00am 5th Sept ITV4+1, 11/midnight 7th Sept)
Kiki's Delivery ServiceOn: Film4Date: Sunday 5th SeptemberTime: 4:45pm (and 5:45pm Film4+1)
Logan's RunOn: Film4Date: Friday 3rd SeptemberTime: 6:35pm (and 7:35pm Film4+1)
MoonrakerOn: ITV1Date: Saturday 4th SeptemberTime: 1:25pm
National Lampoon's Animal HouseOn: ITV4Date: Monday 6th SeptemberTime: 00:45am (and 1:45am ITV4+1)
Once Upon A Time In AmericaOn: Film4Date: Monday 6th SeptemberTime: 10:50pm (and 11:50pm Fim4+1)
Point BreakOn: FIVERDate: Friday 3rd SeptemberTime: 9:00pm (and 10:00pm Fiver+1, 9/10:00pm 6th Sept)
Run Lola RunOn: Sky Movies IndieDate: Sunday 5th SeptemberTime: 4:40pm (and midnight)
Secondhand LionsOn: Film4Date: Saturday 4th SeptemberTime: 1:00pm (and 2:00pm Film4+1)
Shallow GraveOn: Film4Date: Saturday 4th SeptemberTime: 9:00pm (and 10:00pm Film4+1)
Terminator SalvationOn: Sky Movies PremiereDate: Friday 3rd SeptemberTime: 10:00am (and 11:00am Premiere+1, 8/9:00pm, then daily at similar times through 9th Sept)
The Last Of The MohicansOn: FiveDate: Monday 6th SeptemberTime: 9:00pm
The Pursuit Of HappynessOn: FiveDate: Sunday 5th SeptemberTime: 8:00pm
The WarlordsOn: Film4Date: Sunday 5th SeptemberTime: 11:00pm (and midnight Film4+1)
This Is EnglandOn: Channel 4Date: Monday 6th SeptemberTime: 11:10pm (and 00:10am 7th Sept 4+1)
Three KingsOn: ITV2Date: Sunday 5th SeptemberTime: 10:00pm (and 11:00pm ITV2+1, 10/11:00pm 8th Sept)
TransformersOn: Channel 4Date: Sunday 5th SeptemberTime: 6:20pm (and 7:20pm 4+1)
The Blues BrothersOn: ITV4Date: Friday 3rd SeptemberTime: 10:10pm (and 11:10m ITV4+1)
The Bourne UltimatumOn: ITV1Date: Saturday 4th SeptemberTime: 8:45pm
The FacultyOn: Sky Movies Sci-Fi/HorrorDate: Sunday 5th SeptemberTime: 1:10pm (and 7:15pm)
UnforgivenOn: TCMDate: Tuesday 7th SeptemberTime: 9:00pm (and 00:30am 8th Sept)
Wallace And Gromit In The Curse Of The Were-RabbitOn: BBC 1Date: Saturday 4th SeptemberTime: 6:20pm
X-MenOn: Film4Date: Sunday 5th SeptemberTime: 9:00pm (and 10:00pm Film4+1)