News
Geek shows and movies on UK TV in the coming week
Spooks, QI, 8 out of 10 Cats, Michael McIntyre's Comedy Roadshow and a re-run for Reaper. Plus lots of movies too in the week ahead...!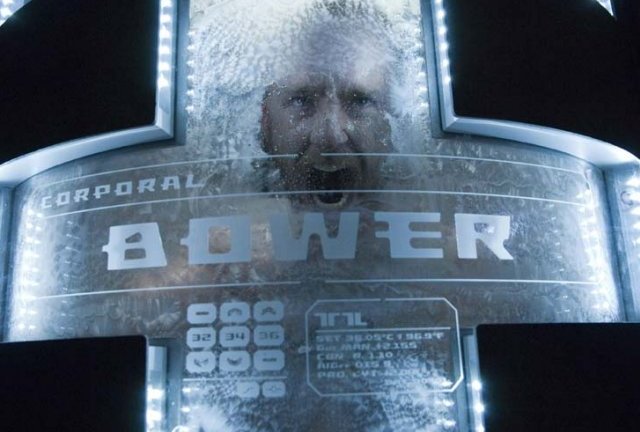 Where do MI5's secret agents hide out when they're not defending the Isles? Why, among comedians, that's where.
We start our weekend off in the style that only Mr Stephen Fry can deliver with a ninth series of QI. The first of sixteen episodes welcomes Phill Jupitus, Jack Dee, Ross Noble and, of course, Alan Davies to the letter 'H' and the topic of Hodge Podge tonight, Friday, September 17th at 8:30pm on BBC1.
A little later in the evening, Jimmy Carr-hosted 8 Out Of 10 Cats returns to trump QI with one series better (numerically, that is) in the first of five episodes at 10:00pm on Channel 4. Guests joining regulars Jason Manford and Sean Lock are Dr Christian Jessen, Jamelia, and the Jacks, Whitehall and Dee. (That Jack's getting around, isn't he?)
If that isn't enough funny to fill your humour needs, you can top up with Michael McIntyre's Comedy Roadshow on Saturday, September 18th at 9:15pm by visiting BBC1. The second series' first of six stops visits Glasgow and roadshow jokesters are Kevin Bridges, Daniel Sloss, Milton Jones and Craig Campbell.
That should have you nicely chuckled out before the seriouness of the return of Spooks. Entering its ninth series with the first of eight episodes on Monday, September 20th at 9:00pm on BBC1, it's a sombre start before terrorist tracking in Tangier for Harry's team at Section D. While you enjoy the drama, it might offer relief from tension to spot the next agent to be deep sixed in what may or may not be the series' final run. Certainly, that makes for even less job – and life – security and let's hope all team members' and leaders' policies are fully paid up.
Remember Reaper? The 2007-2009 comedy about likeable slacker Sam, who's doomed to do the Devil's bidding aided by felllow underachievers Ben and Sock? If you loved Ray Wise's polar performances of friendly and ferocious turns, you can catch up with the first of the second season's 13 episodes starting Thursday, September 23rd at 11:15pm on Channel 4. If you're still wondering if the show's for you, how about this episode title: … A New Hope?
Now, on to the films showing through the weekend and a bit beyond. There's old, new, and curious horror and sci-fi titles to be found. As always, if we missed anything interesting, have a shout in the comments, with our thanks.
---
Please also note: the ordinal numbers for dates will help you scan through this simple list with your browser's search function. Enter '18th' in your browser's Find box or window to highlight and/or tab through all movies shown on Saturday. Enjoy!
---
28 Days Later
On: more4Date: Friday 17th SeptemberTime: 10:30pm
A View To A KillOn: ITV1Date: Sunday 19th SeptemberTime: 3:50pm
Ace Ventura: When Nature CallsOn: BBC 3Date: Sunday 19th SeptemberTime: 7:35pm (and 9:00pm 22nd Sept)
Alien 3On: Channel 4Date: Friday 17th SeptemberTime: 11:25pm (and 00:25am 18th Sept 4+1)
Basic InstinctOn: ITV2Date: Saturday 18th SeptemberTime: 00:20am (and 1:20am ITV2+1, 00:50/1:50am 21st Sept)
Blade: TrinityOn: Channel 4Date: Saturday 18th SeptemberTime: 9:00pm (and 10:00pm 4+1)
Blue VelvetOn: TCMDate: Sunday 19th SeptemberTime: 9:00pm (and 1:30am 20th Sept)
Conan The DestroyerOn: ITV4Date: Friday 17th SeptemberTime: 11:30pm (amd 00:30am 18th Sept ITV4+1, 9/10:00pm 19th Sept)
ConstantineOn: WatchDate: Saturday 18th SeptemberTime: 10:00pm (and 11:00pm Watch+1, 9/10:00pm 19th Sept)
Dog SoldiersOn: Film4Date: Saturday 18th SeptemberTime: 10:55pm (and 11:55pm Film4+1, 11:15pm/00:15 am 23rd/24th Sept)
Enter The DragonOn: FiveDate: Monday 20th SeptemberTime: 10:00pm
Groundhog DayOn: FiveDate: Sunday 19th SeptemberTime: 5:15pm
I, RobotOn: Film4Date: Monday 20th SeptemberTime: 9:00pm (and 10:00pm Film4+1)
Independence DayOn: Film4Date: Monday 20th SeptemberTime: 6:15pm (and 7:15pm Film4+1)
Invasion Of The Body Snatchers (1979)On: LIVINGDate: Sunday 19th SeptemberTime: 01:00am (and 2:00am Living+1)
Lethal Weapon 2On: Sky1Date: Saturday 18th SeptemberTime: 9:00pm (and 9:00pm 19th Sept Sky2, 11:00pm 22nd Sept Sky1)
Men In Black IIOn: FiveDate: Sunday 19th SeptemberTime: 7:20pm
MoonOn: Sky Movies IndieDate: Saturday 18th SeptemberTime: 1:55pm (and 10:00pm)
OctopussyOn: ITV1Date: Saturday 18th SeptemberTime: 12:45pm
PandorumOn: SyFyDate: Sunday 19th SeptemberTime: 10:00pm (and 11:00pm Syfy+1)
RoboCopOn: Sky Movies Modern GreatsDate: Friday 17th SeptemberTime: 10:00pm
Rope!On: Film4Date: Sunday 19th SeptemberTime: 4:50pm (and 5:50pm Film4+1)
Teen WolfOn: SyFyDate: Saturday 18th SeptemberTime: 6:20pm (and 7:20pm Syfy+1, 1:50/2:50pm 19th Sept)
The Basketball DiariesOn: TCMDate: Friday 17th SeptemberTime: 9:00pm (and midnight)
The Breakfast ClubOn: BBC 1Date: Monday 20th SeptemberTime: 11:35pm
The CoolerOn: Film4Date: Tuesday 21st SeptemberTime: 00:50am (and 1:50am Film4+1)
The Day Of The JackalOn: ITV4Date: Saturday 18th SeptemberTime: 9:00pm (and 10:00pm ITV4+1)
The Fly (1958)On: Film4Date: Saturday 18th SeptemberTime: 5:15pm (and 6:15pm Film4+1)
The IllusionistOn: ITV2Date: Friday 17th SeptemberTime: 9:00pm (and 10:00pm ITV2+1)
The Little Girl Who Lives Down the LaneOn: TCMDate: Sunday 19th SeptemberTime: 11:20pm (and 1:20am 20th Sept)
The Magnificent SevenOn: Film4Date: Sunday 19th SeptemberTime: 6:30pm (and 7:30pm Film4+1, 6:30/7:30pm 24th Sept)
The Man In The Iron Mask (1976)On: Film4Date: Friday 17th SeptembeTime: 4:50pm (and (5:50pm Film4+1)
The Man Who Wasn't ThereOn: Film4Date: Saturday 18th SeptemberTime: 01:15am (and 2:15am Film4+1)
The OutrageOn: Channel 4Date: Tuesday 21st SeptemberTime: 12:35pm (and 1:35pm 4+1)
The Thing (1982)On: ITV4Date: Saturday 18th SeptemberTime: 11:55pm (and 00:55am 19th Sept)
The TransporterOn: E4Date: Friday 17th SeptemberTime: 11:00pm (and midnight E4+1)
The UntouchablesOn: Film4Date: Friday 17th SeptemberTime: 9:00pm (and 10:00pm Film4+1, 9/10:00pm 22nd Sept)
The Year Of Living DangerouslyOn: BBC 1Date: Sunday 19th SeptemberTime: 11:10pm
VacancyOn: FIVERDate: Sunday 19th SeptemberTime: 10:00pm (and 11:00pm Fuver+1, 9/10:00pm 20th Sept)