News
Geek shows and movies on UK TV in the coming week
Ask Rhod Gilbert, Alan Davies in Whites, Harry & Paul return, the end of This Is England '86 and a lot more besides in our UK TV round-up!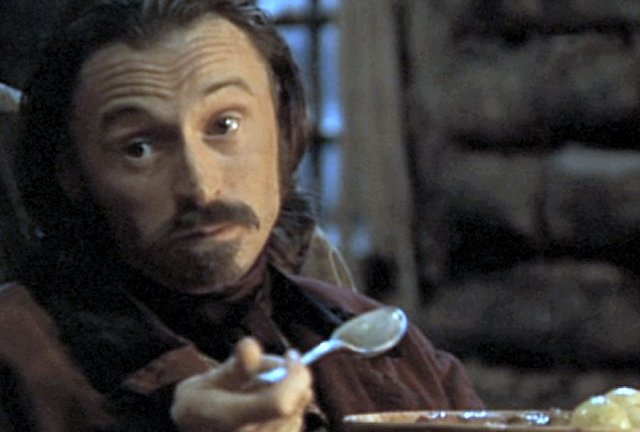 Comedy veterans return, the new guard challenges, and a freshly peeled sitcom is brewing on the burners. Plus, a brilliant little bit of geek film lovers' animation wraps up the next seven days of telly goodies.
Ask Rhod Gilbert is new to BBC1 and airs Monday at 10:35pm. The first of an eight episode run sees the stand-up comedian answer questions, from the considered to the ridiculous, with the help of guest comedians and other personalities joining regulars Greg Davies and Lloyd Langford.
Another new series, this time on BBC2, is Whites, starring Alan Davies as a country house hotel chef. A similar role was this TV fan's favourite performance by Lenny Henry in Chef! (apart from the wonderful Christmas fantasy flick, Bernard And The Genie, of course!), so we're willing to give this a go. Co-starring are Darren Boyd (Saxondale), Katherine Parkinson (The IT Crowd) Isy Suttie (Peep Show) and Stephen Wight (Ashes To Ashes and Misfits) and the first of six episodes starts on Tuesday, September 28th at 9:00pm.
Right on its tail are veteran comedians Harry Enfield and Paul Whitehouse, returning for a third series of Harry & Paul, Tuesday, September 28th at 9:30pm. Expect spoofs of other shows you love and love to hate and the pair's unique character creations in lots of make-up and wigs in the first of a six-episode stay on BBC2.
If you can handle an abrubt change of emotions, then switch over to Channel 4 on Tuesday, September 28th at 10:00pm where the concluding episode of This Is England '86 threatens to deliver quite a violent and shocking finale to the short four episode run of the dramatic series. If you need to catch up, 4OD has all three preceeding episodes here.
Wednesday, September 26th, and the FX channel grant another opportunity to watch a Burn Notice double bill with season 3's first two episodes, Friends And Family and Question And Answer. Besides being a fun watch, it's also a great excuse for a mid-week mojito and the chance to chant "Mooyami" along with an accent-confused Fi, in the opening title sequence, starting at 6:00pm.
Blink and you'll miss it, on Thursday at 20 past midnight (Okay, that's technically Friday, but this list goes through Thursdays and it'll be lost if we don't catch it here) Crash, Bang, Wallow, a brilliant, but brief animation about ex-stuntman, Larry LeTan, born moustachioed and a bit too big for a baby, tells his sad Hollywood tale on Channel 4. It's on YouTube in its entirety, but Larry's ballad deserves a big screen, as we're sure you'll agree once you've seen him in his iconic scenes aside the action stars we know so well. Or do we?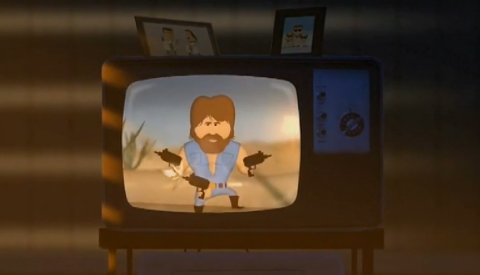 Now, on to the films showing through the weekend and a bit beyond. This week there's a collection of stoner and gross-out comedies amid gut wrenching and stomach churning horror films. Choose your poison and, as always, if we missed anything interesting, have a shout in the comments, with our thanks.
---
Please also note: the ordinal numbers for dates will help you scan through this simple list with your browser's search function. Enter '25th' in your browser's Find box or window to highlight and/or tab through all movies shown on Saturday. Enjoy!
---
9On: Sky Movies PremiereDate: Friday 24th SeptemberTime: 4:00pm (and 5:00pm Premiere+1, 11:45/12:45pm 25th Sept, and similar times daily through 7th Oct)
300On: FiveDate: Sunday 26th SeptemberTime: 9:00pm
(500) Days Of SummerOn: Sky Movies PremiereDate: Friday 24th SeptemberTime: 10:00pm (and 11:00pm Premiere+1, then daily at similar times through 30th Sept)
A View To A KillOn: ITV1Date: Saturday 25th SeptemberTime: 1:50pm
Alien Nation: Body and SoulOn: horror channelDate: Friday 24th SeptemberTime: 4:00pm (and noon 25th Sept)
Alien Nation: Dark HorizonOn: horror channelDate: Friday 24th SeptemberTime: noon
Alien Nation: MilleniumOn: horror channelDate: Saturday 25th SeptemberTime: 4:00pm (and noon 26th Sept)
Alien Nation: The Enemy WithinOn: horror channelDate: Sunday 26th SeptemberTime: 4:00pm (and noon 27th Sept)
American PieOn: ITV1Date: Friday 24th SeptemberTime: 10:35pm
BigOn: Channel 4Date: Sunday 26th SeptemberTime: 5:30pm (and 6:30pm 4+1)
BoomerangOn: Film4Date: Friday 24th SeptemberTime: 1:05pm (and 2:05pm Film4+1, 1:25/2:25pm 30th Sept)
Canadian BaconOn: TCMDate: Monday 27th SeptemberTime: 7:00pm (and 10:55am 28th Sept)
Children Of MenOn: ITV4Date: Monday 27th SeptemberTime: 9:00pm (and 10:00pm ITV4+1)
City Of GodOn: Film4Date: Saturday 25th SeptemberTime: 00:40am (and 1:40am Film4+1)
CliffhangerOn: Sky1Date: Saturday 25th SeptemberTime: 9:00pm (and 9:00pm 26th Sept Sky2, 9:00pm 29th Sept Sky1)
CollateralOn: Channel 4Date: Saturday 25th SeptemberTime: 9:00pm (and 10:00pm 4+1)
DarkmanOn: Sky Movies Sci-Fi/HorrorDate: Sunday 26th SeptemberTime: 00:45am
Dracula: Prince Of DarknessOn: ITV1Date: Saturday 25th SeptemberTime: 02:25am
Falling DownOn: ITV4Date: Friday 24th SeptemberTime: 9:00pm (and 10:00pm ITV4+1)
Gorky ParkOn: TCMDate: Friday 24th SeptemberTime: midnight
Hercules (animated, 1997)On: FiveDate: Sunday 26th SeptemberTime: 5:25pm
Harold And Kumar Get The MunchiesOn: Comedy CentralDate: Sunday 26th SeptemberTime: 9:00pm (and 10:00pm CC+1, 10/11:00pm 30th Sept)
I, RobotOn: Film4Date: Saturday 25th SeptemberTime: 9:00pm (and 10:00pm Film4+1)
Invasion of the Body Snatchers (1978)On: LIVINGDate: Sunday 26th SeptemberTime: 01:00am (and 2:00am Living+1)
IsolationOn: Film4Date: Saturday 25th SeptemberTime: 11:10pm (and 00:10am 26th Sept Film4+1)
Jackie Chan's First StrikeOn: FiveDate: Sunday 26th SeptemberTime: 7:25pm
JunoOn: Channel 4Date: Sunday 26th SeptemberTime: 9:00pm (and 10:00pm 4+1)
KingpinOn: Film4Date: Sunday 26th SeptemberTime: 01:00am
Knocked UpOn: ITV1Date: Saturday 25th SeptemberTime: 10:05pm
KontrollOn: Film4Date: Tuesday 28th SeptemberTime: 00:50am (and 1:50am Film4+1)
Memphis BelleOn: ITV3Date: Sunday 26th SeptemberTime: 9:00pm (and 10:00pm ITV3+1)
Miller's CrossingOn: Film4Date: Sunday 26th SeptemberTime: 11:30pm (and 00:30am 27th Sept Film4+1)
Never Say Never AgainOn: ITV1Date: Sunday 26th SeptemberTime: 3:50pm
Night at the MuseumOn: Film4Date: Monday 27th SeptemberTime: 9:00pm (and 10:00pm Film4+1)
Of Mice And MenOn: TCMDate: Sunday 26th SeptemberTime: 6:45pm (and 10:45am 27th Sept)
PandorumOn: SyFyDate: Saturday 25th SeptemberTime: 10:00pm (and 11:00pm Syfy+1, 10/11:00pm 26th Sept)
PredatorOn: E4Date: Friday 24th SeptemberTime: 10:00pm (and 11:00pm E4+1, 9/10:00pm 26th Sept)
Project XOn: Film4Date: Saturday 25th SeptemberTime: 1:00pm (and 2:00pm Film4+1)
RavenousOn: horror channelDate: Saturday 25th SeptemberTime: 11:10pm
RushmoreOn: Film4Date: Friday 24th SeptemberTime: 10:55pm (and 11:55pm Film4+1)
SpeciesOn: ITV4Date: Sunday 26th SeptemberTime: 10:45pm (and 11:45pm ITV4+1)
Stir Of EchoesOn: SyFyDate: Friday 24th SeptemberTime: 01:00am (and 2:00am Syfy+1, 00:10/1:10am 26th Sept)
Teen WolfOn: SyFyDate: Friday 24th SeptemberTime: 3:00pm (and 4:00pm Syfy+1)
The Brink's JobOn: TCMDate: Friday 24th SeptemberTime: 1:00pm (and 5:00am 25th Sept)
The Day After TomorrowOn: Film4Date: Sunday 26th SeptemberTime: 6:40pm (and 10:00pm Film4+1)
The Fly (1958)On: Film4Date: Friday 24th SeptemberTime: 2:50pm (and 3:50pm Film4+1)
The Fog (1980)On: ITV4Date: Monday 27th SeptemberTime: 00:55am (and 1:55am ITV4+1)
The HangoverOn: Sky Movies PremiereDate: Friday 24th SeptemberTime: 10:00am (and 11:00am Premiere+1 & 8/9:00pm, then daily at similar times through 30th Sept)
The Karate KidOn: WatchDate: Saturday 25th SeptemberTime: 4:35pm (and 5:35pm Watch+1, 2:35/3:35pm 26th Sept)
The Life Of David GaleOn: ITV3Date: Sunday 26th SeptemberTime: 11:10pm (and 00:10am 27th Sept ITV3+1)
The Magnificent SevenOn: Film4Date: Friday 24th SeptemberTime: 6:30pm (and 7:30pm Film4+1)
Top GunOn: Channel 4Date: Sunday 26th SeptemberTime: 10:50pm (and 11:50pm 4+1)
TriangleOn: SyFyDate: Sunday 26th SeptemberTime: 10:00pm (and 11:00pm Syfy+1, 11:00/midnight 30th Sept)
TronOn: Sky Movies Sci-Fi/HorrorDate: Sunday 26th SeptemberTime: 09:40am (and 5:40pm, 3:30pm & 9:00pm 29th Sept)
WhiskyOn: Film4Date: Monday 27th SeptemberTime: 01:45am (and 2:45pm Film4+1)