News
Geek shows and movies on TV in the coming week
Gaye points us once again to the highlights of the geek week on UK TV, including the last ever Pushing Daisies...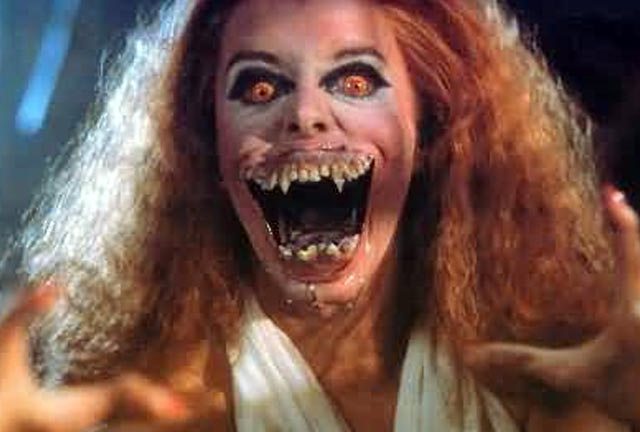 On ITV tonight, Friday, May 1st, you can witness and mourn the passing of Pushing Daisies even before it's laid to rest in its country of birth, with a final breath episode entitled Kerplunk. (The sound of tears into teacups of those who appreciate witty thoughtful television scripts, perhaps?)
Take heart, though. Good programming is still flowing with Ebb Tide, the first of twelve episodes in the second series of The Wire, to be shown on BBC2 Monday, May 4th, at 11:30pm.
Now, onto the week's flicks and remember to check the latest listings in your area before you put the cat out and your feet up. TV scheduling execs are evil and like to mess with your head and your PVR plans.
---
Alien NationOn: Film4Date: Wednesday 6th MayTime: 9:00pm (and 10:00pm Film4+1)
ApocalyptoOn: BravoDate: Thursday 7th MayTime: 10:00pm (and 11:00pm Bravo+1, (9:00/10:00pm 8 May Bravo/+1)
Arlington RoadOn: Sky Movies Action/ThrillerDate: Wednesday 6th MayTime: 09:45am
Back To The FutureOn: Sky Movies Sci-Fi/HorrorDate: Sunday 3rd MayTime: 1:40pm (and 00:30am 4 May)
Barton FinkOn: Sky Movies IndieDate: Tuesday 5th MayTime: 11:40am
BeetlejuiceOn: BravoDate: Friday 1st MayTime: 9:00pm (and 10:00pm Bravo+1, 9:00/10:00pm 3 May Bravo/+1)
Beverly Hills CopOn: Sky Movies Modern GreatsDate: Saturday 2nd MayTime: 08:10am (and 4:10pm)
Beverly Hills Cop IIOn: Sky Movies Modern GreatsDate: Sunday 3rd MayTime: 4:20pm (and 2:30am 4 May)
BladeOn: five USADate: Thursday 7th MayTime: 9:00pm
Blood SimpleOn: Sky Movies IndieDate: Wednesday 6th MayTime: midnight
CaddyshackOn: TCMDate: Friday 1st MayTime: 9:00pm (and 11:15pm 6 May)
CloverfieldOn: Sky Movies Sci-Fi/HorrorDate: Monday 4th MayTime: 12:10pm (and 7:20pm, 11:30am & 9:00pm 7 May)
ConeheadsOn: Sky Movies Sci-Fi/HorrorDate: Thursday 7th MayTime: 08:00am (and 1:20am 6 May, 8:00am and 3:05pm 7 May)
Das BootOn: BBC 2Date: Sunday 3rd MayTime: 00:10am
DaylightOn: Sky Movies Action/ThrillerDate: Friday 8th MayTime: 07:50am (and 3:35pm)
DesperadoOn: Sky Movies Modern GreatsDate: Saturday 2nd MayTime: 01:55am(and 10:00pm 6 May)
Edward ScissorhandsOn: Sky Movies Modern GreatsDate: Sunday 3rd MayTime: 12:40pm (and 8:00pm, 12:40 & 8:00pm 6 May)
Eight Legged FreaksOn: ITV1Date: Thursday 7th MayTime: 10:35pm
F/XOn: Sky Movies Action/ThrillerDate: Saturday 2nd MayTime: 4:30pm (and 10:50pm)
Fear And Loathing In Las VegasOn: Sky Screen 1Date: Monday 4th MayTime: 02:05am
Fright NightOn: Sky Screen 1Date: Wednesday 6th MayTime: 01:45am
Galaxy QuestOn: Sky Movies Sci-Fi/HorrorDate: Wednesday 6th MayTime: 1:30pm (and 9:00pm)
Hard CandyOn: Sky Screen 2Date: Saturday 2nd MayTime: 01:10am
Harold And Kumar Get The MunchiesOn: BravoDate: Tuesday 5th MayTime: 10:00pm (and 11:00pm Bravo+1)
In BrugesOn: Sky Screen 2Date: Sunday 3rd MayTime: 10:45pm (and 11:15pm 8 May)
Jacob's LadderOn: Sky Screen 2Date: Friday 8th MayTime: 00:55am
L.A. ConfidentialOn: Film4Date: Friday 1st MayTime: 11:00pm (and midnight Film4+1)
LadyhawkeOn: Channel 4Date: Monday 4th MayTime: 10:55am (and 11:55am 4+1)
LennyOn: Sky Movies Modern GreatsDate: Friday 1st MayTime: 8:00pm
Master And Commander: The Far Side Of The WorldOn: Film4Date: Tuesday 5th MayTime: 9:00pm (and 10:00pm Film4+1)
Midnight CowboyOn: Sky Movies Modern GreatsDate: Friday 1st MayTime: 10:00pm (and midnight 8 May Sky Screen 1)
Midnight RunOn: Sky Movies Modern GreatsDate: Wednesday 6th MayTime: 00:30am
Mission: ImpossibleOn: ITV1Date: Sunday 3rd MayTime: 4:10pm
Mission: Impossible IIOn: ITV2Date: Sunday 3rd MayTime: 11:00pm (and 10:00pm 4 May)
Mission: Impossible IIIOn: Film4Date: Monday 4th MayTime: 9:00pm (and 10:00pm Film4+1)
Monty Python's The Meaning Of LifeOn: Sky Movies Modern GreatsDate: Sunday 3rd MayTime: 2:30pm
Night Of The Living Dead (1990)On: ITV4Date: Sunday 3rd MayTime: 00:10am (and 10:05pm)
Osmosis JonesOn: ITV1 GranadaDate: Sunday 3rd MayTime: 00:55am
Raising ArizonaOn: Sky Movies ComedyDate: Tuesday 5th MayTime: 08:10am (and 1:40am 6 May)
Requiem For A DreamOn: Sky Movies IndieDate: Saturday 2nd MayTime: 02:15am (and 1:45am 8 May)
Reservoir DogsOn: fiveDate: Wednesday 6th MayTime: 10:00pm
ScarfaceOn: Sky Movies DramaDate: Sunday 3rd MayTime: 00:15am (and 00:15am 8 May)
Shaun Of The DeadOn: ITV2Date: Wednesday 6th MayTime: 10:00pm
Spider-Man 2On: G.O.L.D.Date: Saturday 2nd MayTime: 9:00pm (and 10:00pm GOLD+1, 8:00/9:00pm 3 May GOLD/+1)
Star 80On: TCMDate: Friday 1st MayTime: 11:00pm (and 3:00am 2 May)
Strange DaysOn: Sky Movies Sci-Fi/HorrorDate: Saturday 2nd MayTime: 01:00am
Sweeney Todd: The Demon Barber Of Fleet StreetOn: Sky Movies Sci-Fi/HorrorDate: Friday 1st MayTime: 11:00pm
THX 1138On: Sky Movies Sci-Fi/HorrorDate: Friday 1st MayTime: 1:30pm
Teen WolfOn: Sky Movies Modern GreatsDate: Saturday 2nd MayTime: 12:40pm (and 8:00pm)
The Boston StranglerOn: Sky Movies ClassicsDate: Tuesday 5th MayTime: 00:15am
The Cat ReturnsOn: Film4Date: Monday 4th MayTime: 2:55pm (and 3:55pm Film4+1)
The CraziesOn: Channel 4Date: Sunday 3rd MayTime: 01:25am (and 2:25am 4+1)
The Day The Earth Stood Still (1951)On: Sky Movies Sci-Fi/HorrorDate: Friday 8th MayTime: 09:20am (and 3:50pm)
The Elephant ManOn: TCMDate: Saturday 2nd MayTime: 3:00pm
The HungerOn: TCMDate: Sunday 3rd MayTime: 03:20am
The League Of Extraordinary GentlemenOn: Film4Date: Sunday 3rd MayTime: 9:00pm (and 10:00pm Film4+1, 9:00/10:00pm 7 May Film4/+1)
The Lost WorldOn: Film4Date: Saturday 2nd MayTime: 2:40pm (and 3:40pm Film4+1, 5:05/6:05pm 8 May Film4/+1)
The Motorcycle DiariesOn: Film4Date: Tuesday 5th MayTime: 23:35pm (and 00:35am 6 May)
The OmenOn: Sky Movies Sci-Fi/HorrorDate: Friday 1st MayTime: 9:00pm
The PawnbrokerOn: Sky Movies ClassicsDate: Saturday 2nd MayTime: 02:15am
The Running ManOn: Sky Movies Modern GreatsDate: Saturday 2nd MayTime: 9:40pm
The ShiningOn: Sky Movies Modern GreatsDate: Friday 1st MayTime: 5:35pm
The TerminatorOn: Sky Screen 1Date: Sunday 3rd MayTime: 8:00pm
The Usual SuspectsOn: Sky Movies Action/ThrillerDate: Thursday 7th MayTime: midnight
TitusOn: Sky Movies DramaDate: Tuesday 5th MayTime: 01:55am
Twilight Zone: The MovieOn: Sky Movies Sci-Fi/HorrorDate: Saturday 2nd MayTime: 1:30pm
VideodromeOn: Sky Movies Sci-Fi/HorrorDate: Monday 4th MayTime: 04:00am
Wallace And Gromit: The Wrong TrousersOn: BBC 1Date: Monday 4th MayTime: 1:20pm
Wayne's WorldOn: Sky Movies ComedyDate: Saturday 2nd MayTime: 1:05pm (and 8:00pm)
Wayne's World 2On: Sky Movies PremiereDate: Friday 1st MayTime: 10:00pm (and 11:00pm Premiere+1, 1:05pm & 8:00pm 3 May Sky Comedy)
X-MenOn: Sky Screen 1Date: Friday 1st MayTime: 11:15am (and 8:00pm, 9:40pm 4 May , 3:15am 5 May Sky Family,11:00pm 7 May, Sky Screen 2)
X2On: ITV1 GranadaDate: Saturday 2nd MayTime: 9:20pm
X-Men: The Last StandOn: Film4Date: Friday 1st MayTime: 9:00pm (and 10:00pm Film4+1)
ZodiacOn: Sky Movies Action/ThrillerDate: Saturday 2nd MayTime: 6:20pm