News
Geek shows and movies on TV in the coming week
Gaye edits out the non-geek chaff with her weekly round-up of the finest movies and TV in the next 7 days...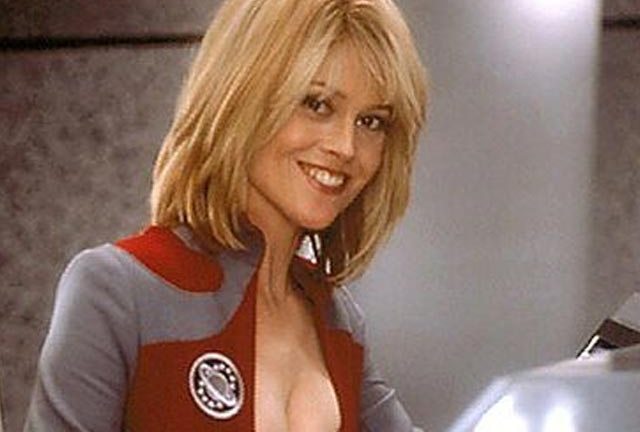 Beginning Sunday 10 May at 9:00pm GOLD will broadcast a documentary-style show entitled Fawlty Towers: Re-Opened with interviews of the cast of the popular late 70s sitcom. The two hour show repeats at 10:00pm on GOLD+1, and runs again on the 11th, 13th and 14th at similar times. Let's just hope no otters are flayed onscreen or, should that happen, plenty warty towels are at hand.
Bring Back Star Trek!, which we wrote about here promising "you can enjoy watching Bill Shatner set some unbelievably frightening dogs on [Justin Lee Collins]"airs on Channel 4 at 9:00pm Saturday, May 9th.
The second season of the Big Apple day-to-day doings of transplanted New Zealand musicians Jemaine and Bret can be seen when Flight Of The Conchords launches tunefully again on BBC 4. The first of ten eps, A Good Opportunity, airs Tuesday 12 May at 10:30pm.
Now on to the cherry picked films showing over the next seven days, and remember to check your local listings before you commit to perfecting your posterior couch imprint. Scheduling changes can squander precious potato time.
---
16 BlocksOn: BBC 3Date: Saturday 9th MayTime: 10:00pm (and 9:45pm 13 May)
Alien 3On: Sky Movies Sci-Fi/HorrorDate: Friday 8th MayTime: 7:00pm (and 1:10am 9 May)
Alien NationOn: Film4Date: Tuesday 12th MayTime: 9:00pm (and 10:00pm Film4+1)
ApocalyptoOn: BravoDate: Friday 8th MayTime: 9:00pm (and 10:pm Bravo+1)
Bad BoysOn: Sky Movies Modern GreatsDate: Thursday 14th MayTime: 8:00pm
Bad Day At Black RockOn: TCMDate: Tuesday 12th MayTime: 11:30am (and 7:05am 13 May)
BatmanOn: TCMDate: Monday 11th MayTime: 9:00pm
Being John MalkovichOn: Channel 4Date: Sunday 10th MayTime: 00:45am (and 1:45am 4+1)
Beverly Hills CopOn: Sky Movies Modern GreatsDate: Tuesday 12th MayTime: 6:10pm
Beverly Hills Cop IIOn: Sky Movies Modern GreatsDate: Tuesday 12th MayTime: 8:00pm
BladeOn: five USADate: Saturday 9th MayTime: 10:00pm
Clerks IIOn: Sky Screen 1Date: Sunday 10th MayTime: 00:40am
Close Encounters Of The Third KindOn: Sky Movies Sci-Fi/HorrorDate: Sunday 10th MayTime: 3:00pm (and 9:00pm)
CloverfieldOn: Sky Movies Sci-Fi/HorrorDate: Sunday 10th MayTime: 09:35am (and 5:20pm)
CompulsionOn: Sky Movies ClassicsDate: Tuesday 12th MayTime: 12:30pm (and 1:20am 13 May)
DarkmanOn: Sky Movies Modern GreatsDate: Tuesday 12th MayTime: 11:45pm
Dolores ClaiborneOn: TCMDate: Sunday 10th MayTime: 9:00pm (and 1:55am 11 May)
Dracula: Prince of DarknessOn: ITV4Date: Saturday 9th MayTime: 11:50pm
Every Which Way But LooseOn: ITV1Date: Saturday 9th MayTime: 3:05pm
FargoOn: Sky Movies IndieDate: Friday 8th MayTime: 11:40pm (and 3:40am 9 May)
FootlooseOn: Sky Movies DramaDate: Wednesday 13th MayTime: 6:10pm
Forbidden PlanetOn: TCMDate: Monday 11th MayTime: 5:15pm
Galaxy QuestOn: Sky Movies Sci-Fi/HorrorDate: Saturday 9th MayTime: 3:05pm (and 1:05am 10 May)
Hard CandyOn: Sky Movies Action/ThrillerDate: Tuesday 12th MayTime: 02:45am
High FidelityOn: BBC 1Date: Friday 8th MayTime: 11:40pm
I Am LegendOn: Sky Screen 2Date: Sunday 10th MayTime: 9:00pm (and 7:00pm 11 May)
In BrugesOn: Sky Screen 2Date: Friday 8th MayTime: 11:15pm (and 10:00pm 13 May Sky Indie)
Jacob's LadderOn: Sky Movies Modern GreatsDate: Tuesday 12th MayTime: 10:05am
Johnny MnemonicOn: Film4Date: Monday 11th MayTime: 11:35pm (and 0035:am Film4+1)
Judge DreddOn: E4Date: Tuesday 12th MayTime: 10:00pm (and 11:00pm E4+1)
KluteOn: TCMDate: Wednesday 13th MayTime: 10:55pm
Lock, Stock And Two Smoking BarrelsOn: Sky Movies Modern GreatsDate: Sunday 10th MayTime: 9:00pm
Master And Commander: The Far Side Of The WorldOn: Film4Date: Monday 11th MayTime: 9:00pm (and 10:00pm Film4+1)
Midnight RunOn: Sky Movies Modern GreatsDate: Monday 11th MayTime: 03:10am
Monty Python's The Meaning Of LifeOn: Sky Movies Modern GreatsDate: Saturday 9th MayTime: 3:30pm (and 6:05pm 13 May)
Mortal ThoughtsOn: Sky Movies DramaDate: Tuesday 12th MayTime: 00:10am
Mr. BrooksOn: Sky Movies Action/ThrillerDate: Wednesday 13th MayTime: 01:30am
No Country For Old MenOn: Sky Movies Action/ThrillerDate: Monday 11th MayTime: 2:50pm (and 9:00pm)
No Way OutOn: Sky Movies Action/ThrillerDate: Monday 11th MayTime: 12:50pm (and 7:00pm)
PaycheckOn: BBC 1Date: Saturday 9th MayTime: 11:50pm
PredatorOn: Sky Movies Sci-Fi/HorrorDate: Friday 8th May)Time: 9:00pm (and 3:10am 9 May)
Predator 2On: Sky Movies Sci-Fi/HorrorDate: Friday 8th MayTime: 12:30pm (and 10:50pm)
QuadropheniaOn: Sky Movies IndieDate: Tuesday 12th MayTime: 00:05am
RecOn: Sky Movies Sci-Fi/HorrorDate: Wednesday 13th MayTime: 01:05am
Repo ManOn: Sky Movies Modern GreatsDate: Tuesday 12th MayTime: 00:25am
RushmoreOn: Sky Movies IndieDate: Friday 8th MayTime: 11:00am (and 1:25am 9 May, 9:00am & 6:r45pm 11 May, 4:50pm 14 May)
ScarfaceOn: Sky Screen 1Date: Tuesday 12th MayTime: 11:45pm
Shoot 'Em UpOn: Sky Movies Action/ThrillerDate: Friday 8th MayTime: 11:10pm (and 11:00pm 11 May Sky Screen 2)
Soylent GreenOn: TCMDate: Wednesday 13th MayTime: 02:55am
Star Trek: The Motion PictureOn: Sky Movies Sci-Fi/HorrorDate: Monday 11th MayTime: 08:30am (and 6:45pm)
Star Trek II: The Wrath Of KhanOn: Sky Movies Sci-Fi/HorrorDate: Monday 11th MayTime: 10:50am (and 9:00pm)
Star Trek III: The Search For SpockOn: Sky Movies Sci-Fi/HorrorDate: Tuesday 12th MayTime: 09:45am (and 7:00pm)
Star Trek IV: The Voyage HomeOn: Sky Movies Sci-Fi/HorrorDate: Tuesday 12th MayTime: 11:45am (and 9:00pm)
Star Trek V: The Final FrontierOn: Sky Movies Sci-Fi/HorrorDate: Wednesday 13th MayTime: 11:20am (and 7:10pm)
Star Trek VI: The Undiscovered CountryOn: Sky Movies Sci-Fi/HorrorDate: Wednesday 13th MayTime: 13:10pm (and 9:00pm)
Star Trek: GenerationsOn: Sky Movies Sci-Fi/HorrorDate: Thursday 14th MayTime: 09:55am (and 7:00pm)
Star Trek: First ContactOn: Sky Movies Sci-Fi/HorrorDate: Thursday 14th MayTime: 11:55am (and 9:00pm)
Star Trek: NemesisOn: Channel 4Date: Saturday 9th MayTime: 10:35pm (and 11:35pm 4+1)
Taxi DriverOn: Sky Movies Modern GreatsDate: Monday 11th MayTime: 01:10am
The Blob (1958)On: Sky Movies Sci-Fi/HorrorDate: Sunday 10th MayTime: 08:00am
The Bourne IdentityOn: ITV2Date: Sunday 10th MayTime: 11:05pm (and 9:00pm 12 May)
The Breakfast ClubOn: Sky Movies Modern GreatsDate: Friday 8th MayTime: 2:20pm
The Cat ReturnsOn: Film4Date: Saturday 9th MayTime: 2:55pm (and 3:55pm Film4+1)
The DescentOn: Film4Date: Tuesday 12th MayTime: 10:50pm (and 11:50pm Film4+1)
The Elephant ManOn: TCMDate: Tuesday 12th MayTime: 6:40pm
The GodfatherOn: Sky Movies Modern GreatsDate: Saturday 9th MayTime: 12:30pm
The Godfather Part IIOn: Sky Movies Modern GreatsDate: Sunday 10th MayTime: 2:05pm
The Godfather Part IIIOn: Sky Screen 1Date: Thursday 14th MayTime: 11:50pm
The Last Of The MohicansOn: Sky Movies DramaDate: Thursday 14th MayTime: 6:00pm
The Lost BoysOn: LIVINGDate: Saturday 9th MayTime: 9:00pm (and 10:00/11:00pm Living+1/+2)
The Man With Two BrainsOn: Comedy CentralDate: Sunday 10th MayTime: 11:00pm (and midnight CC+1)
The MaskOn: Comedy CentralDate: Sunday 10th MayTime: 9:00pm (and 10:00pm CC+1)
The MatrixOn: Sky Movies Action/ThrillerDate: Saturday 9th MayTime: 6:40pm
The Oblong BoxOn: Sky Movies ClassicsDate: Saturday 9th MayTime: 9:00pm (and 2:20am 10 May)
The ProphecyOn: SCI FIDate: Monday 11th MayTime: 11:00pm
The Rocky Horror Picture ShowOn: Sky Movies Modern GreatsDate: Sunday 10th MayTime: 5:25pm (and 8:15pm 14 May Sky Indie)
The Running ManOn: Sky Movies Modern GreatsDate: Sunday 10th MayTime: 00:15am
The ShiningOn: Sky Screen 1Date: Sunday 10th MayTime: 8:00pm
The TerminatorOn: Sky Movies Modern GreatsDate: Wednesday 13th MayTime: 10:25pm
The VanOn: BBC 4Date: Wednesday 13th MayTime: 10:00pm
Three Days Of The CondorOn: Sky Movies Modern GreatsDate: Monday 11th MayTime: 1:20pm (and 6:00pm)
TitusOn: Sky Movies DramaDate: Thursday 14th MayTime: 02:20am
Twilight Zone: The MovieOn: Sky Movies Sci-Fi/HorrorDate: Monday 11th MayTime: 1:00pm
What About Bob?On: Sky Movies ComedyDate: Monday 11th MayTime: 3:00pm (and 11:25pm)