News
Geek movies on TV in the coming week
Gaye rounds up the coming week's worth of nerdish indulgence on UK TV screens...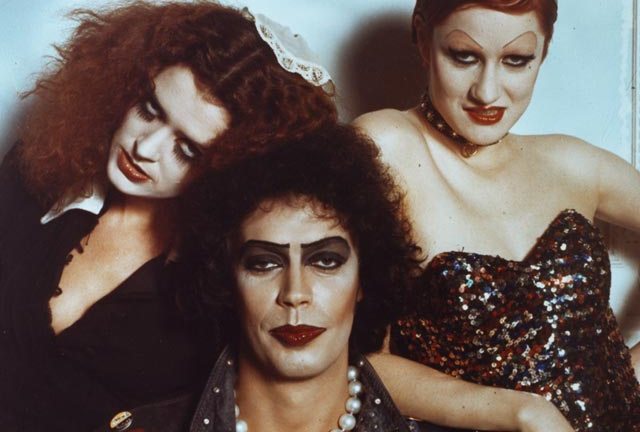 Many of our favourite weekly series are finishing soon for the season, or sadly, forever.
Luckily, we have a couple other things to take their place between movies and we'll squeeze them in before we get to the best or most geek-approved of the week's flicks.
Tonight (24th April) at 10:35pm, ITV will air the second of the previously unseen and final episodes of Pushing Daisies entitled Water And Power. At the same time and channel on Friday, the 1st of May, you can watch the last ever episode called Kerplunk.
A bit more lasting and in a whole nother vein (pun visciously inflicted intentionally!) the third season of the razor sharp series that is Dexter also starts tonight on FX at 10:00pm with opening episode, Our Father.
To start the work week out well, the second series of Argumental, which we talked about with Marcus Brigstocke here, revs up on Dave and Dave Ja Vu starting at 9:40pm on Monday, April 27th.
Now, onto the films and be sure to check the latest listings before you settle in and get cosy. Schedules change more often than remotes go missing…
---
3.10 To Yuma
On: Sky Movies DramaDate: Friday 24th AprilTime: 10:00pm
Alien 3On: Sky Movies Sci-Fi/HorrorDate: Wednesday 29th AprilTime: 12:45pm (and 10:45pm)
… And Justice For AllOn: Sky Movies Modern GreatsDate: Friday 24th AprilTime: 2:10pm
Arlington RoadOn: Sky Movies Action/ThrillerDate: Friday 1st MayTime: 08:55am
Bad BoysOn: Sky Movies Modern GreatsDate: Tuesday 28th AprilTime: 1:10pm (and 9:45pm)
Beverly Hills CopOn: Sky Movies Modern GreatsDate: Friday 24th AprilTime: 8:00pm
Beverly Hills Cop IIOn: Sky Movies Modern GreatsDate: Sunday 26th April 2009Time: 8:00pm
BigOn: Sky Movies FamilyDate: Sunday 26th April 2009Time: 11:20am (and 6:15pm)
BladeOn: fiveDate: Sunday 26th AprilTime: 9:00pm
Blade RunnerOn: Sky Movies Modern GreatsDate: Friday 24th April 2Time: 11:45pm (and 11:50pm 20 Apr)
Bottle RocketOn: Sky Movies IndieDate: Wednesday 29th AprilTime: 10:40am (and 10:00pm)
Bubba Ho-TepOn: SCI FIDate: Sunday 26th AprilTime: midnight
ChinatownOn: Channel 4Date: Monday 27th AprilTime: 00:40am (and 1:40am 4+1)
CloverfieldOn: Sky Screen 2Date: Saturday 25th AprilTime: 1:45pm (and 9:00pm)
Conan The DestroyerOn: Sky Movies Action/ThrillerDate: Friday 24th AprilTime: 10:30am (and 6:05pm, 4:15pm 30 Apr)
Cool Hand LukeOn: Sky Screen 1Date: Friday 24th AprilTime: 12:05pm (and 10:25pm 27 Apr Sky Classics)
DarkmanOn: Sky Movies Modern GreatsDate: Sunday 26th AprilTime: 00:45am
Deep Blue SeaOn: Sky Movies Action/ThrillerDate: Friday 24th AprilTime: 8:00pm (and 1:50am 25 Apr)
DesperadoOn: Sky Movies Modern GreatsDate: Tuesday 28th AprilTime: 11:45pm
Die HardOn: Sky Movies Action/ThrillerDate: Wednesday 29th AprilTime: 07:35am (and 8:00pm)
Die Hard 2On: Sky Movies Action/ThrillerDate: Wednesday 29th AprilTime: 09:50am (and 10:15pm)
Die Hard With A VengeanceOn: Sky Movies Action/ThrillerDate: Thursday 30th AprilTime: 09:45am (and 8:00pm)
Die Hard 4.0On: Sky Movies Action/ThrillerDate: Thursday 30th AprilTime: noon (and 10:15pm)
Dolores ClaiborneOn: TCMDate: Tuesday 28th AprilTime: 9:00pm (and 1:25am 29 Apr)
Dirty HarryOn: Sky Movies Action/ThrillerDate: Friday 24th AprilTime: 10:00pm (and 10:00pm 27 Apr Sky Screen 1)
Eastern PromisesOn: Sky Movies IndieDate: Friday 24th AprilTime: 10:00pm (and 3:35am 25 Apr, 11:40pm 30 Apr, 3:45am 1 May)
Escape From New YorkOn: ITV4Date: Friday 24th AprilTime: 10:00pm
Evil Dead IIOn: Sky Movies Sci-Fi/HorrorDate: Tuesday 28th AprilTime: 00:05am
Face/OffOn: WatchDate: Saturday 25th AprilTime: 10:00pm (and 11:pm Watch+1, 9:00 & 10:00pm 26 Apr)
Fahrenheit 451On: ITV1 Granada (1Date: Saturday 25th AprilTime: 01:30am
Fear And Loathing In Las VegasOn: Sky Movies IndieDate: Saturday 25th AprilTime: 01:30am (and 11:35pm 29 Apr)
Ferris Bueller's Day OffOn: Sky Screen 1Date: Friday 24th AprilTime: 6:05pm
Harry Potter And The Order Of The PhoenixOn: Sky Movies Modern GreatsDate: Monday 27th AprilTime: 8:00pm
IdiocracyOn: Film4Date: Monday 27th AprilTime: 11:00pm (and midnight Film4+1)
Jacob's LadderOn: Sky Movies Modern GreatsDate: Monday 27th AprilTime: 08:40am
KluteOn: TCMDate: Thursday 30th AprilTime: 03:00am
L.A. ConfidentialOn: Film4Date: Monday 27th AprilTime: 01:00am (and 2:00am Film 4+1, 11:00 & 12:00pm 1 May)
Lock, Stock And Two Smoking BarrelsOn: Sky Movies Action/ThrillerDate: Monday 27th AprilTime: 10:00pm
Monty Python's The Meaning Of LifeOn: Sky Movies Modern GreatsDate: Thursday 30th AprilTime: 10:45am (and 8:00pm)
Mortal ThoughtsOn: Sky Movies DramaDate: Tuesday 28th AprilTime: 00:55am
Patriot GamesOn: Sky Movies Action/ThrillerDate: Tuesday 28th AprilTime: 10:35am (and 5:45pm)
PlatoonOn: Sky Movies DramaDate: Sunday 26th AprilTime: midnight (and 10:00pm 29 Apr)
PredatorOn: Sky Screen 2Date: Monday 27th AprilTime: 11:25pm
Predator 2On: Sky Screen 2Date: Tuesday 28th AprilTime: 1:00pm (and 00:20am 29 Apr)
RecOn: Sky Screen 2Date: Friday 24th AprilTime: 11:00pm (and 10:40pm 27 Apr, 3:20am 28 Apr Sky Sci-fi/Horror)
Repo ManOn: Sky Movies Modern GreatsDate: Tuesday 28th AprilTime: 02:25am
RoboCopOn: BravoDate: Friday 24th AprilTime: 10:00pm (and 11:00pm Bravo+1)
RollerballOn: fiveDate: Sunday 26th AprilTime: 11:20pm
ScarfaceOn: Sky Movies DramaDate: Saturday 25th AprilTime: 02:00am (and midnight 29 Apr Sky Screen 1)
Schindler's ListOn: Sky Movies Modern GreatsDate: Tuesday 28th AprilTime: 06:10am (and 3:10pm)
SecondsOn: Sky Movies Sci-Fi/HorrorDate: Thursday 30th AprilTime: 3:20pm
Star Trek V: The Final FrontierOn: Sky Movies Sci-Fi/HorrorDate: Friday 24th AprilTime: 09:30am (and 5:00pm)
Star Trek VI: The Undiscovered CountryOn: Sky Movies Sci-Fi/HorrorDate: Saturday 25th AprilTime: 09:50am (and 5:20pm)
Star Trek: GenerationsOn: Sky Movies Sci-Fi/HorrorDate: Sunday 26th AprilTime: 09:45am (and 5:00pm)
Star Trek: InsurrectionOn: Sky Movies Sci-Fi/HorrorDate: Monday 27th AprilTime: 10:00am (and 5:10pm)
Taxi DriverOn: Sky Movies Modern GreatsDate: Monday 27th AprilTime: 10:20pm
The Bank JobOn: Sky Movies PremiereDate: Friday 24th AprilTime: 10:00pm (and 11:00pm Premiere+1)
The BlobOn: Sky Movies ClassicsDate: Monday 27th AprilTime: 9:00pm
The Day The Earth Stood Still (1951)On: Sky Movies ClassicsDate: Wednesday 29th AprilTime: 3:10pm (and 10:30pm)
The Elephant ManOn: TCMDate: Wednesday 29th AprilTime: : 9:00pm (and 00:55am 30 Apr)
The FrightenersOn: Sky Movies Sci-Fi/HorrorDate: Tuesday 28th AprilTime: 11:30am (and 9:00pm)
The Last Of The MohicansOn: Sky Movies DramaDate: Tuesday 28th AprilTime: 8:00pm
The Man With Two BrainsOn: TCMDate: Saturday 25th AprilTime: 9:00pm (and 00:55am 26 Apr)
The MatrixOn: Sky Movies Action/ThrillerDate: Wednesday 29th AprilTime: 5:40pm
The Monster SquadOn: Sky Movies Sci-Fi/HorrorDate: Thursday 30th AprilTime: 1:15pm
The Rocky Horror Picture ShowOn: Sky Movies Modern GreatsDate: Friday 24th AprilTime: 10:00pm
The SenderOn: Sky Movies Sci-Fi/HorrorDate: Saturday 25th AprilTime: 11:50am (and 2:55am 30 Apr)
The ShiningOn: Sky Movies Modern GreatsDate: Friday 1st MayTime: 10:55am (and 5:35pm)
The TerminatorOn: Sky Movies Modern GreatsDate: Wednesday 29th AprilTime: 2:10pm (and 10:00pm)
The Thing (1982)On: ITV4Date: Saturday 25th AprilTime: 10:35pm (and 5 past midnight 29 Apr)
TitusOn: Sky Movies DramaDate: Thursday 30th AprilTime: 01:45am
Total RecallOn: ITV2Date: Monday 27th AprilTime: 11:00pm
Trading PlacesOn: Sky2Date: Saturday 25th AprilTime: midnight (and 10:00pm 26 Apr)
Watership DownOn: Film4Date: Sunday 26th AprilTime: 5:05pm (and 6:05pm Film4+1)
WestworldOn: TCMDate: Wednesday 29th AprilTime: 03:35am
Whatever Happened To Harold Smith?On: Sky Movies ComedyDate: Monday 27th AprilTime: 07:55am (and 3:15am 28 Apr)
X-MenOn: Sky Movies Action/ThrillerDate: Sunday 26th AprilTime: 07:45am (and 6:05pm, 11:15am & 8:00pm 1 May Sky Screen 1)
X-Men: The Last StandOn: Film4Date: Monday 27th AprilTime: 9:00pm (and 10:00pm Film4+1, 9:00/10:00pm Film4/+1)