News
Gareth Edwards's Monsters to be Adapted as a TV Series
The U.K.'s Channel 4 will adapt Monsters, the 2010 sci-fi thriller from Star Wars: Rogue One director Gareth Edwards, as a TV series.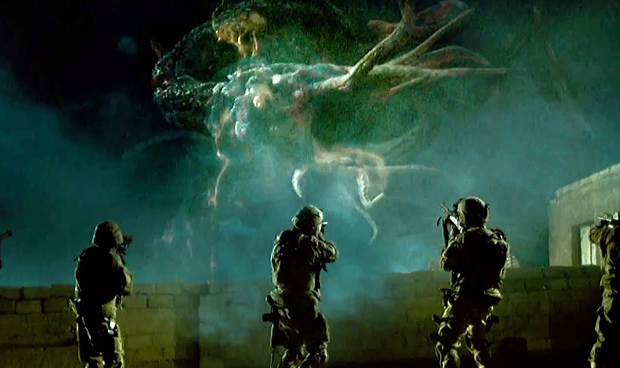 Director Gareth Edwards, who impressed skeptical audiences with his work on the 2016 mega-franchise's inaugural spinoff film, Rogue One: A Star Wars Story, hit the ground running back in 2010 with his U.K.-released feature debut, Monsters. Now, the sci-fi film, which delivered on its billing, will be brought to the forefront, with the U.K.'s Channel 4 looking to adapt it as a television series.
Channel 4, along with the film's original production company, Vertigo Films, is reviving Edwards's well-regarded sci-fi thriller, Monsters, for the small screen, with global distribution ambitions, reports Deadline. Indeed, the endeavor, headed by Channel 4's head of international drama, Simon Maxwell, has already spawned talks with U.S. streaming providers such as Netflix and Amazon to carry the series once its comes to fruition. Channel 4 successfully achieved a similar cross-continental deal with Amazon for anthology series Philip K. Dick's Electric Dreams, which made its premiere on January 12 (today).
Original movie Monsters, set six years after Earth was invaded by horrifically massive monsters, stars Scoot McNairy as a journalist who is tasked with accompanying his employer's daughter (Whitney Able) back to U.S. soil from below the Mexican border. While such a journey would prove difficult under non-monster-apocalypse circumstances, it's exponentially more perilous, since it will involve going through an "Infected Zone" occupied by the extraterrestrial invaders. The film generated enough buzz for Gareth Edwards to land the coveted (thematically similar,) gig of directing the 2014 Godzilla remake, which subsequently led to his Rogue One breakthrough.
According to the early details of the report, the Monsters series will see Ronan Bennett serve as showrunner. The Northern Ireland-born Bennett wrote the recently-released BBC/HBO historically-inspired miniseries, Gunpowder, which stars Game of Thrones' Kit Harington. He also created the acclaimed British crime series, Top Boy, and wrote the screenplay for the 2009 Johnny Depp-starring crime movie, Public Enemies. On Monsters, Bennett will work with burgeoning British writers Daniel Fajemisin-Duncan and Marlon Smith. The writing duo have collaborated on British shows such as New Blood, Run and the upcoming drama, Save Me.
We'll be sure to update you on the developments for Monsters as they become available.