News
Game of Thrones' Emilia Clarke to Star in Sci-fi Rom-Com The Beauty Inside
Fox's remake of a body-hopping Korean rom-com The Beauty Inside has nabbed Emilia Clarke as its star.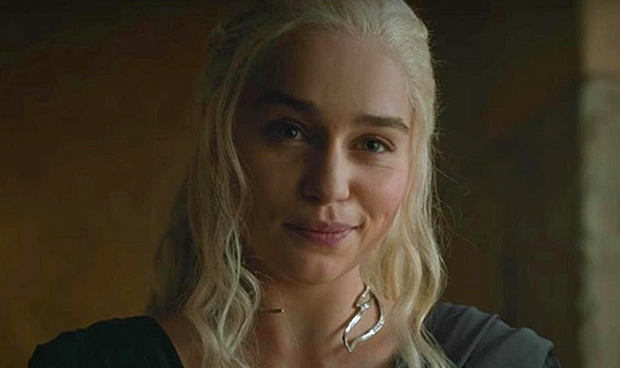 Since Emilia Clarke's rise from obscurity on Game of Thrones, the industry has tried to pull out the proverbial A-lister seat for her on the big screen, especially since her signature platform series has only two season left. While 2015's Terminator Genisys didn't quite resonate, a co-starring role in the upcoming Star Wars Han Solo spinoff film seems more auspicious. However, on another front, Fox just plunked down $2 million to see her star in an inventive romantic comedy.
Deadline reports that Emilia Clarke is booked to star in The Beauty Inside, a rom-com with a borderline sci-fi premise. After a bidding war with five competitors, major studio division Fox 2000 made a $2 million deal to acquire the film, a remake of a 2015 Korean effort of the same name, natively titled, Byuti insaideu. The film already has a promising pair of scribes attached in Scott Neustadter and Michael H. Weber, who penned films such as 2009's 500 Days of Summer, 2014's The Fault in Our Stars and 2015's Paper Towns. They're also writing the script for Fox's major Marvel mutant franchise spinoff film X-Men: The New Mutants.
The original Korean version of The Beauty Inside, directed by Jong-Yeol Baek, depicted the story of a man stuck in a supernatural quandary, waking up every day in a different body, often having changed into different genders, ages and ethnicities. However, in a quasi-Groundhog Day scenario, the one constant of the exterior identity crisis is the woman he loves, whose heart he must re-win with every transformation. While Emilia Clarke is attached as the remake's star, the report did not clarify if she will play the perpetually wooed love interest or the body-hopping protagonist. Regardless, the attachment of the Neustadter/Weber writing team was a major motivation for Fox to close such a lucrative deal to acquire what, on paper, sounds like an experimental indie flick.   
The Beauty Inside, starring Emilia Clarke and penned by Neustadter/Weber, has yet to nab a director. Attached as producers are Marty Bowen and Wyck Godfrey of Temple Hill and Greg Chou of Rumble Entertainment. For context, check out the trailer for the original Korean film below.