News
Game Night Trailer: Jason Bateman and Rachel McAdams Comedic Mystery Movie
The Game Night trailer shows stars Jason Bateman and Rachel McAdams putting a comedic spin on murder-mysteries.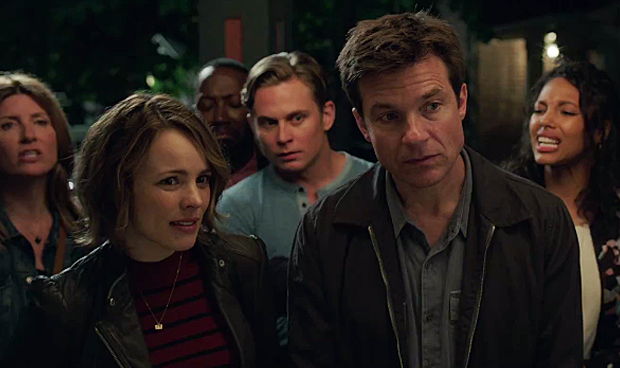 As director Kenneth Branagh's star-stacked Murder on the Orient Express remake movie prepares its November 10 weekend premiere, a trailer for Game Night, a farcical film that skewers the murder-mystery genre that it famously represents, makes its audacious arrival.
Headlined by Jason Bateman and Rachel McAdams, Game Night arrives under the direction of John Francis Daley and Jonathan Goldstein, featuring a comically clueless group who unwittingly find themselves immersed in some seriously murderous machinations.
Game Night Trailer
The Game Night trailer introduces us to a group of friends who regularly meet for a game night. However, rather than Monopoly or Parcheesi, they're going for a more immersive experience that will see one of them kidnapped and held in a secret location, with goal of the game being to find the victim. However, a colossal coincidence occurs when real-life thugs break in and kidnap the game master (Kyle Chandler), setting the oblivious players, notably a couple, Max (Jason Bateman) and Annie (Rachel McAdams), loose around town on a dangerous quest with genuinely fatal implications. Of course, in true comedic fashion, the group continue to sloppily stumble upon key clues in the mystery, eventually requiring one of them be accidentally shot to finally realize what's actually happening.
Game Night Details
Besides headliners Jason Bateman (Ozark, Arrested Development) and Rachel McAdams (Doctor Strange, True Detective), along with Kyle Chandler (Bloodline), the oblivious game night participants consist of Lamorne Morris (New Girl), Kylie Bunbury (Pitch), Billy Magnussen (Get Shorty) and Sharon Horgan (Catastrophe). As the trailer reveals, there will be some intriguing supporting roles here for Jesse Plemons (Fargo) and Jeffrey Wright (Westworld).
John Francis Daley and Jonathan Goldstein continue their directorial partnership, having come off their 2015 feature debut in the Griswold family franchise revival, Vacation. The duo, who also happen to be the credited screenwriters of this past summer's Marvel movie smash Spider-Man: Homecoming, work here off a script by Mark Perez, who, before a hiatus of several years, penned movies such as 2006's Accepted and 2005 Lindsay Lohan vehicle Herbie Fully Loaded.
Game Night Release Date
Game Night gets ready to make some deadly dice rolls at theaters on March 2, 2018.