News
Frozen 2: Trailers, Release Date, Cast, Poster, and News
Frozen 2 is coming as sure as winter, and we are ready to sing "Let It Go" with Elsa all over again!
Frozen 2 (or Frozen II as the official poster says) is coming down your hopefully winterized pipe later this year. This is par for the course with what is to date the highest grossing animated film of all time. Thus Frozen II reunites directors Jennifer Lee and Chris Buck, as well as most of the original cast, including Idina Menzel, Kristen Bell, Josh Gad, and Johnathan Groff. Additionally, Allison Schroeder, a writer who earned an Oscar nomination for her work on the screenplay for Hidden Figures and worked on the recent release Christopher Robin, has co-written the sequel alongside Lee, helping her build her proverbial snowman. It was apparently a necessary step, since Lee ascended to become head of Walt Disney Animation Studios back in 2018, replacing the outgoing and ousted John Lasseter. Consequently, Schroeder is onboard to assist Lee–who remains the primary scribe–in the writing process.
This will mark only the third time that Walt Disney Animation Studios has made an official sequel to one of their films, the other two including the less remembered 1990 feature The Rescuers Down Under and the also recent Ralph Breaks the Internet. While Disney has churned out plenty of straight-to-video sequels to animated classics, WDAS has always been reluctant to return to the well. But in a world where Frozen can gross $1.2 billion worldwide, things have changed. Nevertheless, talent has clearly taken its time to get it right, Frozen 2 coming out a full six years after the original movie. The plan has apparently always been to uproot the familiar for Anna and Elsa and to avoid perhaps the domestic pleasantness of all those Frozen shorts over the years. Lee has previously teased she is sending the quartet of characters (five if you count reindeer Sven) far out of Arendelle.
And juding by the first trailer she has achieved just that, which markets this not on songs or simply familiar characters but as an epic in a strange autumn land. And autumn, of course, brings us closer to winter…
Frozen 2 Trailer
The new Frozen 2 trailer has arrived! Watch it below:
And here's the first trailer: 
Below is the first, stunningly impressive teaser. Marketed more on the spectacle of the animation and the mystery the characters find themselves in, as opposed to the songs, it promises an adventure far from the safety of Arendelle.
Frozen 2 Release Date
Frozen II will open on Nov. 22, 2019. 
Frozen 2 Cast
Idina Menzel, Kristen Bell, Jonathan Groff, and Josh Gad are all set to return in their famous roles of Elsa, Anna, Kristoff, and Olaf. Further, Sterling K. Brown and Evan Rachel Wood have also joined the cast as Lieutenant Mattias and Elsa's mother (via flashback) respectively. Both actors are in demand these days, recently coming off Emmy nominations This Is Us an Westworld, respectively. 
Here is a look at Sterling K. Brown as Lieutenant Mattias.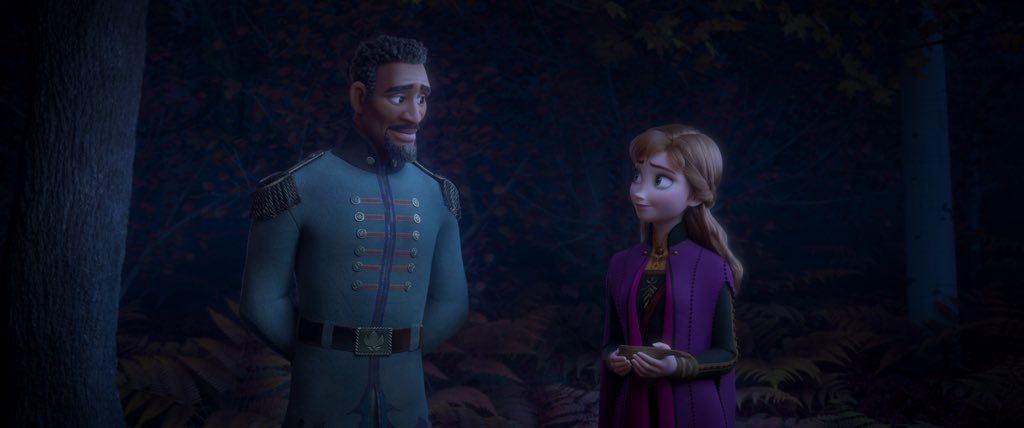 And Evan Rachel Wood as Elsa's mother.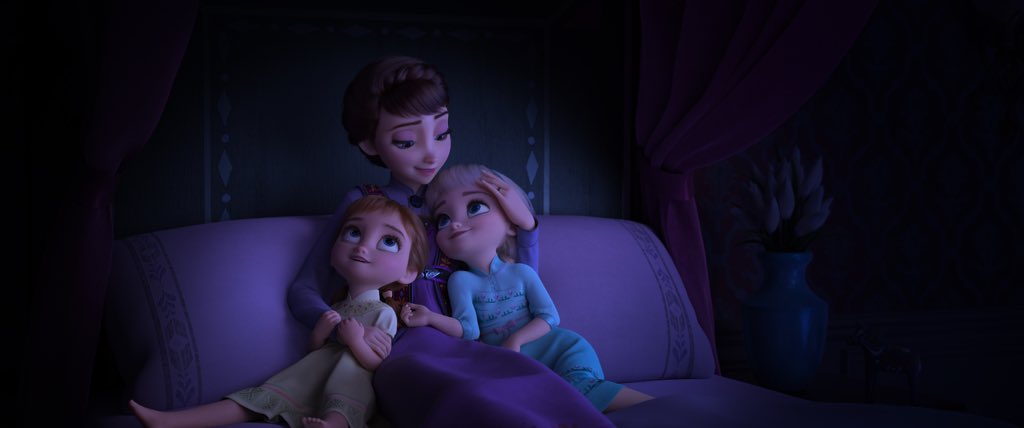 Frozen 2 Story and Songs
Jennifer Lee has given fleeting but tantalizing hints about Frozen 2 in recent months. While doing press for Ralph Breaks the Internet, Lee hinted that Frozen 2 would see the sisters Anna and Elsa be "going far out from Arendelle" in the sequel. Further, Variety had Lee confirm that there are at least four new songs written by the Oscar winning team of Robert Lopez and Kristen Anderson-Lopez. One of them will be an evolution of "Let It Go" from the original movie. This news is curious given that "Let It Go" was itself a song developed late in the process and changed the entire narrative of the original movie, where Elsa was originally not so sympathetic.
"We have a new song that I think is an evolution," Lee said. "It's its own song…Bobby [Lopez] and Kristen [Anderson-Lopez] just delivered it three weeks ago. We've been working with them for two years and this song just came in and I love it."
read more: How Disney Saved Musicals for a New Generation
Frozen 2 Poster
Here is the first official poster of the film showing Anna and Elsa in a grimmer world. The leaves fall, and the mist gathers. Summer is long over now.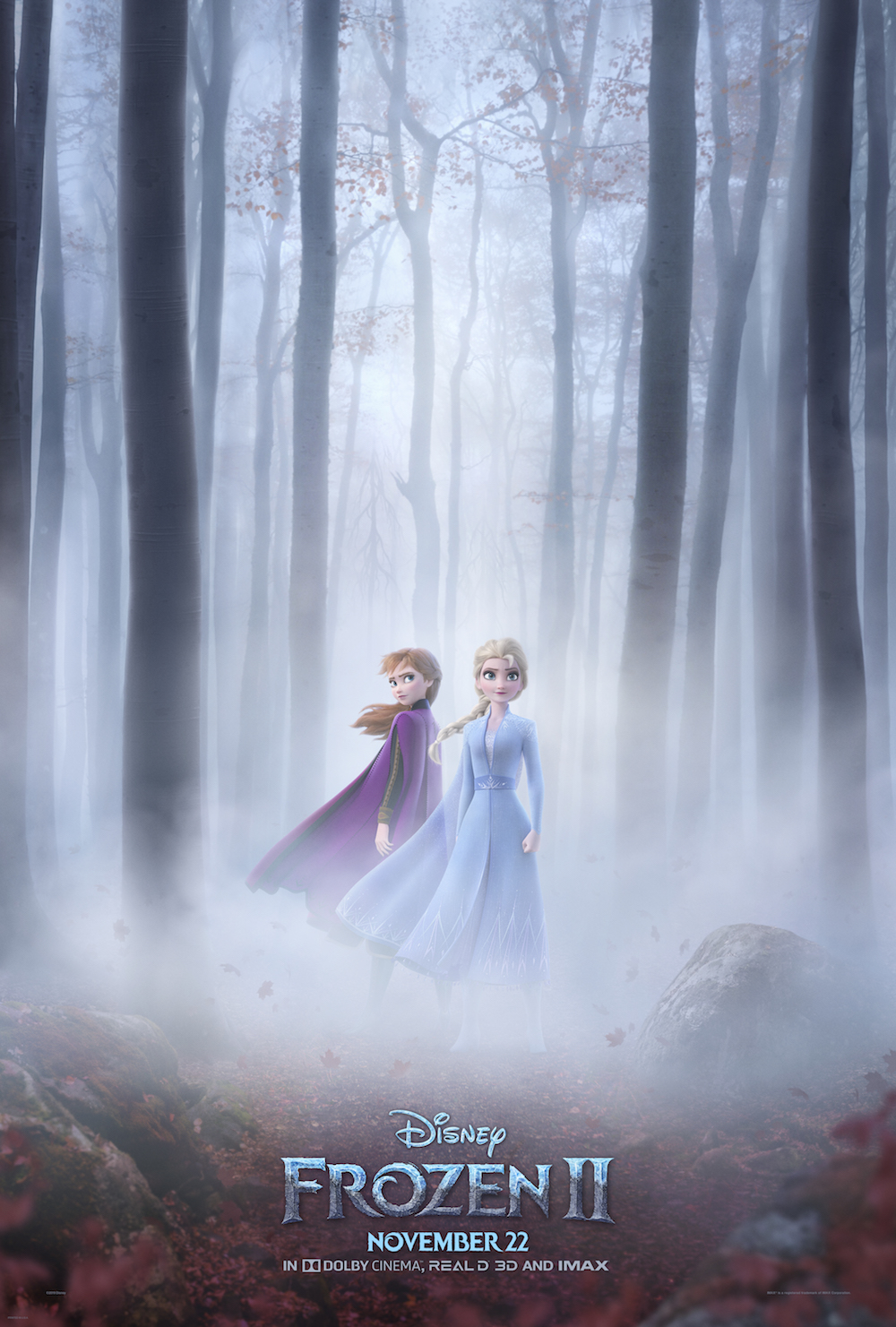 Read and download the Den of Geek SDCC 2019 Special Edition Magazine right here!
David Crow is the Film Section Editor at Den of Geek. He's also a member of the Online Film Critics Society. Read more of his work here. You can follow him on Twitter @DCrowsNest.