News
Free Guy: Ryan Reynolds on New Footage of Video Game Comedy
We unpack some of the Free Guy Footage screened at NYCC, as well as why it's Ryan Reynolds' most exciting movie since Deadpool.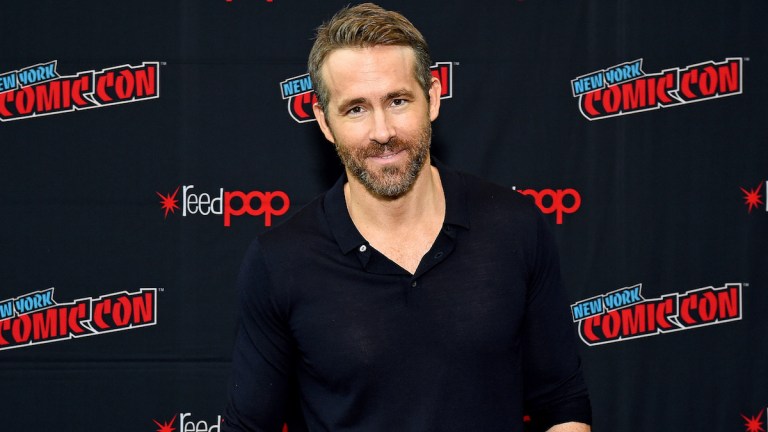 You know when Ryan Reynolds enters a room at Comic Con. Any comic con. While fans who stand in line for hours just to get a glimpse of their favorite talent will generally stand up and cheer just to no longer be waiting in queue, few actors receive the kind of decibel-shattering standing ovation Reynolds does when he strolls across a stage. Such was the case for the Free Guy panel at New York Comic Con this weekend. But what might've been even more startling is that Reynolds himself was just as thrilled to be there and talk about his new, very original high-concept comedy.
"I haven't been this fully immersed, engaged in talking about something since Deadpool," Reynolds said about Free Guy, a project he's also producing at 20th Century Fox. While he's had a string of hits and new projects since that 2016 blockbuster, he's clearly enthused to produce and star in a film where it is the project itself that is the source for chatter… not the intellectual property it's based on.
Shawn Levy, who directed Free Guy, clearly agreed as he began the panel by saying, "It's exciting to us that you know nothing about Free Guy, because that means we're a new original movie, and we've had so much fun bringing this unique world to life."
The film, which has been only slightly teased by the recent promo video that made good fun of Reynolds and co-star Taika Waititi's shared history on Green Lantern, tells the story of a background character in a video game—a non-playable character (NPC) in gamer jargon. Known simply as "Guy," he's a bank teller in the fictional world of Free City who is only starting to find it odd that, as Levy notes, his bank "gets robbed like 17 times a day." Obviously Free City is a tongue-in-cheek version of an urban sprawl in Grand Theft Auto or any other variety of open world games, albeit with a larger online element here and countless players joining the game at once.
Levy, who's previously succeeded at helming high-concept family friendly comedies like Night at the Museum and Real Steel, jumped at the chance to direct when Reynolds brought him the script. The two apparently had almost worked together in the past before this became the serendipitous meeting of the minds.
"I think Shawn and I wanted to work together for a long time," Reynolds said. "We had a couple of near misses, but it's one of those great lessons where you don't shut the door to somebody just because you're not going to work together."
As for why the film excites him right now, Reynolds is blunt that there is an added amusement these days in the idea of discovering our inexplicably problematic world is not actually a real one.
"It spoke to the moment in a huge way," Reynolds said. "I think we live in really weird, really weird times right now. I mean you're like watching the news and they're like, 'Our top story today is it's the end of the world. Now over to Katie Couric to find out what's really happening between Kylie Jenner and Tyga.' It's just like what? I feel like a kinship to the character, because I can sometimes feel like a background character in the world. Like something is happening on some automatic loop that you have no control over, and I just so felt this connection to this character."
Also, unlike the faux-interview with Reynolds, Waititi, and co-stars Jodie Comer and Joe Keery, NYCC attendees were treated to some extensive footage that included full scenes and a sizzle reel trailer. This is fairly remarkable considering the film only finished shooting about six weeks ago, according to Levy.
The footage reminded this writer of something akin to crossing the humorous audacity of a concept like The Truman Show with the kind of knowing wink-wink nudging of Tron: Legacy or Steven Spielberg's Ready Player One. Plus, Reynolds' distinct acerbic humor. For instance, the trailer reel began by acknowledging that 20th Century Fox is now owned by Disney by saying, "From the studio that brought you Beauty and the Beast, Aladdin, and The Lion King… Twice."
Among the footage, we see that Reynolds' Guy is a happy-go-lucky individual who enjoys walking to work, even as a helicopter crashes into a building overhead and someone is run over by a truck with a cop car in hot pursuit. Later that morning while lying flat on his stomach next to his co-worker as they're being robbed by a guy in a mask who's watched The Dark Knight one too many times, Guy asks if any of this seems weird. His friend says no, but Guy decides to save his bank by fighting who is clearly a gamer enjoying stealing from NPCs.
Guy breaks the rules of his own game and takes the shotgun away from the player and shoots him into pixels. He then takes the player's sunglasses and realizes, as if this is They Live, sunglasses allow you to see behind the curtain. In this case, it acts as his menu screen to locate all the other players.
Among them is Molotov Girl (Comer, fresh off her Emmy win for Killing Eve). In the first scene with Comer, her in-game avatar of Molotov Girl is amused but also slightly annoyed by Guy. He's followed her around like a lost puppy in his blue sweater, asking questions about why she has an experience point ranking of over 140 and he has only one point. In gear that looks like it's taken straight out of Fortnite, she tries to explain that this is a game and she knows the maker—apparently Waititi's antagonistic game developer (who we did not see much footage of)—however Guy mistakes that to mean she knows God.
The point though is he refuses to raise his experience points by killing other people. Instead he's going to be nice and try to help make the world a better place. While she sends him off without a seeming prayer, presumably it'll work out for Guy, because a big focal point of the movie is that he becomes something of a social media folk hero, going viral for playing the world's most popular violent game by refusing to ever be violent.
"He's truly an innocent and kind, and it catches on like a trendy cool thing," Reynolds said. "That he's kind and gentle and doesn't hurt people."
The other scene we witness is set later in the film, as well as in the real world. More beige and messy than Guy's saturated game, it's here we learn that Comer's Molotov Girl is actually a game developer in real-life, and maybe a bit of a hacker. She and Keery are friends who developed a code for Free City that allows NPCs to learn and live their own lives. And Keery's character is the first to realize that "Blue Shirt Guy," as he's called in the press, is not another player but an actual NPC. "He's the first true artificial intelligence," Keery marvels. This is bad news for Comer's character though, because at this point she's already begun a digital romance with Guy.
"The first time I've kissed a non-toxic guy in like forever and of course he's not even real," she laments. When Keery says that shouldn't be possible, as there is no button for kissing, she shoots back, "Oh, he found the button."
That showcases the kind of wry humor that Levy is known for after the charming Night at the Museum films. Combining that kind of clever, but still all-ages, sensibility alongside Reynolds' star wattage and plenty of gamer humor could walk away with the highest of scores when Free Guy opens on July 3, 2020.
David Crow is the Film Section Editor at Den of Geek. He's also a member of the Online Film Critics Society. Read more of his work here. You can follow him on Twitter @DCrowsNest.