Reviews
Free Agents DVD review
An unlikely set up generates many, many laughs as Free Agents arrives on DVD...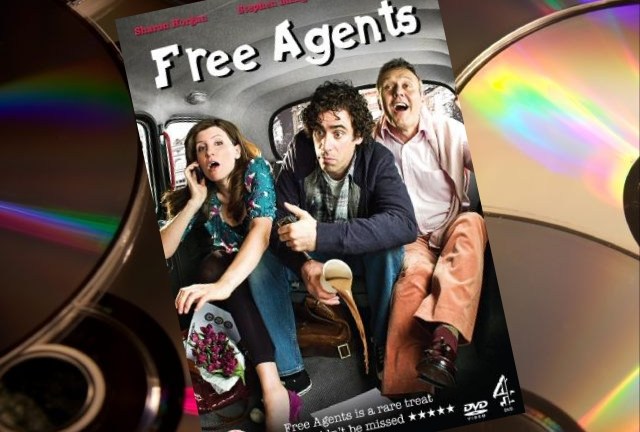 Alex (Stephen Mangan) is a theatrical agent, and is an emotional wreck, prone to unpredictable behaviour and crying at inappropriate moments. His co-worker Helen (Sharon Horgan), meanwhile prides herself on keeping it together, but has a tendency to drink heavily, thus throwing her rationality out the window. Each of them is flawed, and each of them is alone, but for different reasons. Alex has two young sons and did have a wife, but he walked out on them, leaving him with no home, no pride and just his regrets for company. Helen, on the other hand, is childless and was nearly married, but her fiancé died.
Despite – or perhaps because of – this, they end up having a one-night stand. It's in the moments after the completion of the act that the series begins. As the adrenaline rapidly seeps away, there's an immediate awkwardness between the couple, which leads to a conversation about whether Alex should stay the night or not. She agrees to let him stay the night. The conversation moves on and the subject of his children comes up. As he talks about them, his voice cracks, and he turns away from Helen and begins sobbing into his pillow. She then picks up the phone beside the bed and orders a taxi.
This scene really sets the tone for the first few episodes. Alex is clearly a broken man, and he seeks solace in Helen, who strongly rejects the notion of a romantic link between them. However, as the series progress, her façade of stability falls away and the two them grow closer.
Clearly, Free Agents is a series with a heart, but on the face of it doesn't sound like it would be very funny. Fortunately, that's not the case, because Chris Niel's script works brilliantly at exploiting the neuroses of the protagonists, while keeping their outlandish behaviour firmly grounded in reality. Mangan is perfect as the charming loser, while Horgan's proud alcoholic also hit the spot.
However, some of the biggest laughs in the series are provided by the side characters, most notably Anthony Head as Stephen, the couple's boss. A sharply dressed middle-aged man, he appears to be perfectly respectable, but he's also a pervert of epic proportions. Almost everything he says is related to sex, and he doesn't try to hide his penchant for the perverse – he keeps porn on his coffee table and dildos in his dishwasher. Of course, his words take on an extra layer of ridiculousness thanks to the Head's comprehensive verbal skills.
Also providing a few good laughs is Matthew Holness as Alex and Helen's co-worker Dan Mackey. This man takes pride in being as good an agent as he can be; he's constantly using his BlackBerry, and for him, being a good agent is all about 'taking the fuck' for his clients. Anyone who's ever worked in the city will have met someone just like him.
The series finale is perhaps a little predictable, but is nevertheless a fitting ending, and doesn't close off the possibility of a second series. Long may the madness continue…
Extras
Making of documentary – The usual behind-the-scenes stuff, this 20-minute documentary gives a few interesting insights into the how a television program is made, and includes input from the writer, director, producer and the stars.
Out-takes – Fluffed lines, deliberate errors, etc.
Featurettes – A short series of 'interviews' done entirely in character. For example, Alex and Helen talk about what it is that agents do. Probably improvised, and quite funny.
Improvised material – This is stuff that was improvised based on the possibility that it would go in the series. Not bad, but the fact it wasn't used gives you an idea of its overall quality.
Trailers – The clips shown on TV between episodes.
Photo gallery – Pictures of the stars and production crew.
Series
Extras