News
Freaks Trailer Reveals Emile Hirsch as a Disturbed Dad
Kim Possible directors find new ways to torture pre-teens in the Emile Hirsch-starring Freaks.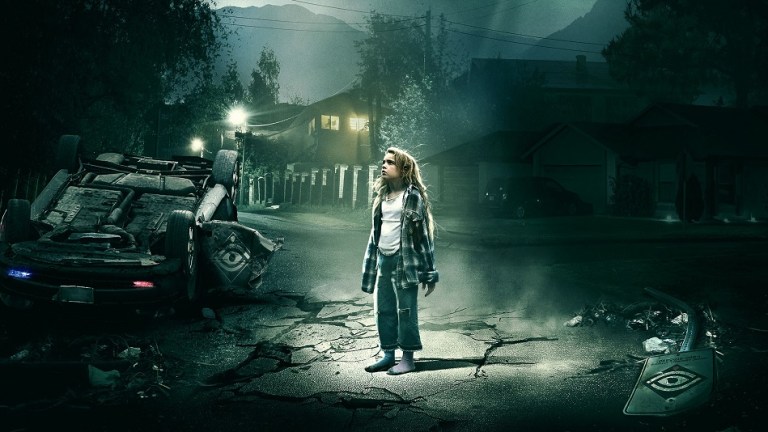 The upcoming film Freaks twists perspectives and ties genres. Shown through the eyes of a 7-year-old girl, the cameras are set low. Co-directed by Kim Possible directors Adam Stein and Zach Lipovsky, the film mixes science fiction, horror and suspense to tell the a very personal story of a sad and dysfunctional family, inspired by the filmmakers' own lives.
Freaks stars Emile Hirsch (Alpha Dog, Lords of Dogtown, Into the Wild) as Adam, a distraught single dad who locks his 7-year-old daughter in their house to keep her safe. Chloe is played by Lexy Kolker (Shooter), and she listens to her father's warnings about the dangers outside. That is until the ice cream truck shows up.
You can watch the trailer here:
The truck is driven by Mr. Snowcone, played by Bruce Dern (Coming Home, The Hateful Eight, Nebraska), in his first science ficton role since the 1972 environmental apocalypse film Silent Running. Like the title of that film, he convinces the girl to keep quiet and pick up the pace.
The trailer doesn't explain what is actually so frightening about what's outside the doors, because the audience sees the world through the child's eyes. We see news reports about houses being bombed by drones, hear warnings that any freaks running loose are illegal, and abnormals are dangerous and can't be let free. The girl even witnesses an attack. But the peril is hidden.
"Kept locked inside the house by her father, 7-year-old Chloe lives in fear and fascination of the outside world, where Abnormals create a constant threat – or so she believes," reads the official synopsis. "When a mysterious stranger offers her a glimpse of what's really happening outside, Chloe soon finds that while the truth isn't so simple, the danger is very real."
The press material says Hirsch connected with the script because he was a new father when he read it. Screen legend Dern, whose career spans over sixty years and the father of screen-legend-in-develpment Laura Dern, connected because his first-born child, a daughter, died when she was young.
The film also features Amanda Crew (Sex Drive, Silicon Valley), and Grace Park (Battlestar Galactica, A Million Little Things).
Freaks debuted at Toronto International Film Festival this year. It won awards at the Brussels, Vancouver and Paris International Film Festivals.
Freaks is set to hit theaters on August 23.
Culture Editor Tony Sokol cut his teeth on the wire services and also wrote and produced New York City's Vampyr Theatre and the rock opera AssassiNation: We Killed JFK. Read more of his work here or find him on Twitter @tsokol.