News
Frankenstein's Monster's Monster, Frankenstein Trailer Stars David Harbour
Stranger Things' David Harbour plays his "father" in this Netflix mockumentary about an ill-fated Frankenstein TV play.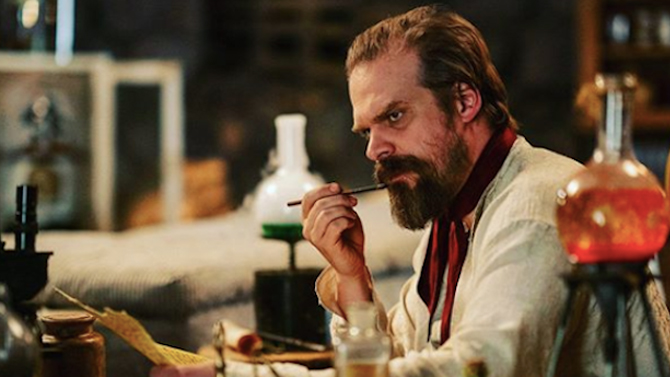 Frankenstein's Monster's Monster, Frankenstein is a title that will make a lot more sense if you accept the fact that "Frankenstein's Monster" – not "Frankenstein" – is the actual name of Mary Shelley's resurrected title character. Consequently, it will then become clear to you that this Netflix offering is not an adaptation of said story, but, rather, a mockumentary about a TV production of it, with which Stranger Things' David Harbour creates an eccentric pseudo-history.
Indeed, Harbour briefly put aside his Stranger Things small town police chief Jim Hopper (and, to a more desirably-forgettable extent, Hellboy), to play, well, David Harbour – a fictionalized version of his "father," named David Harbour Jr., an eccentric thespian resembling a late-life Orson Welles who, via 40-year-old lost footage, is depicted in the midst of a hilariously quixotic attempt to adapt Shelley's Frankenstein for a pretentious Masterpiece-style television play. (For the record, his real father, named Kenneth, is into commercial real estate).
Frankenstein's Monster's Monster, Frankenstein Trailer
The trailer for Frankenstein's Monster's Monster, Frankenstein is here, showcasing a delightfully demented side project for David Harbour, that, surely by no coincidence, drops less than a fortnight after the heavily-hyped July 4 premiere of Stranger Things Season 3.
Frankenstein's Monster's Monster, Frankenstein Release Date
Frankenstein's Monster's Monster, Frankenstein makes its arrival on Netflix on July 16.
Further reading: Stranger Things Season 3 Review (Spoiler-Free)
Frankenstein's Monster's Monster, Frankenstein Details
Daniel Gray Longino occupied the director's chair for the streaming giant's Stranger Things-cross-sold mockumentary. Longino comes off episodes of Hulu comedy PEN15, as well as work on Showtime's Who Is America?, last year's news-headline-making offering from Sacha Baron Cohen. He's also directed episodes of shows like A.P. Bio, Portlandia, Man Seeking Woman and Kroll Show. He works here off a script by John Levenstein (Kroll Show, Arrested Development).
Star David Harbour is joined in the cast by the likes of Alex Ozerov, Kate Berlant and a major name in Alfred Molina.
Harbour will follow up his Stranger Things Season 3 reprisal with film roles in the Joe Russo (of the Russo Bros.) scripted drama, Dhaka, later this year, subsequently set to make his Marvel Cinematic Universe debut in the Scarlett Johansson-headlined Black Widow solo movie.
Joseph Baxter is a contributor for Den of Geek and Syfy Wire. You can find his work here. Follow him on Twitter @josbaxter.