News
Frances McDormand's Oscar Thief Arrested
The LAPD have arrested the man who allegedly stole Frances McDormand's Oscar during the 2018 post-Academy Awards Governors Ball.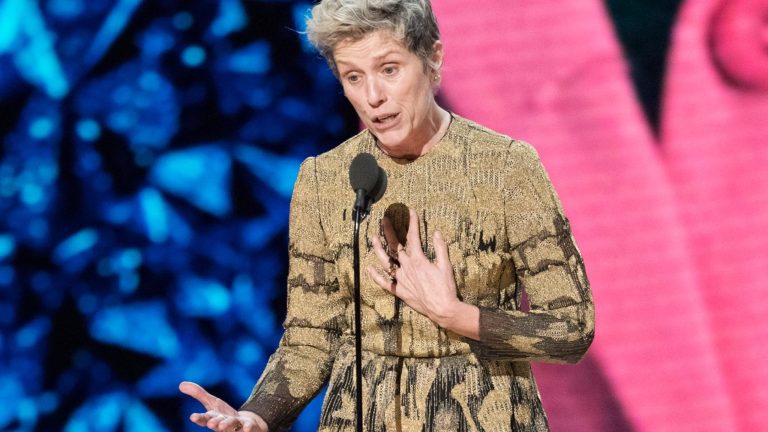 Keep an eye on those Oscars, folks. You never know when they might run away.
The man who briefly stole Frances McDormand's Oscar before being chased down by celebrity photographer Alex Berliner has been arrested. According to Variety, the suspect's name is Terry Bryant, and he has been booked on felony grand theft charges, despite McDormand's alleged request that he be let go by security.
Bryant was charged at 11:50 p.m. last night shortly after nabbing McDormand's Best Actress Oscar and posting a video of himself with it onto Facebook at the post-ceremony Governors Ball, the official after party of the Academy Awards, and his bail is now set at $20,000. 
The weird happening was well-documented by people at the party, which was filled with celebrities and press. New York Times culture reporter Cara Buckley tweeted about the events on Sunday night…
"After a brief time apart, Frances and her Oscar were happily reunited last night," McDormand's rep Simon Halls told Variety via email. "They celebrated their reunion with a double cheeseburger from In-N-Out."
McDormand won the Oscar for her perfromance as Mildred Hayes in Three Billboards Outside Ebbing, Missouri. Her acceptance speech included a call for actors to ask for "inclusion riders" in their contracts.
McDormand also had all of the women nominees in the audience stand up.
"Look around, everybody," McDormand said to those gathered, some of the most powerful people in Hollywood. "Look around, ladies and gentlemen, because we all have stories to tell, and we all have projects we need to finance."