News
Fractured: Trailer and Release Date for Sam Worthington Netflix Film
Avatar star Sam Worthington headlines Fractured, a Netflix movie with a mind-bending mystery.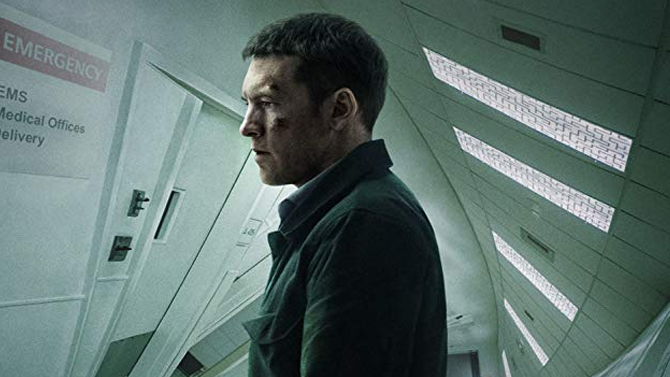 Fractured is part of a slate of fall season horror (and horror-adjacent) film offerings from Netflix; in this case, a mystery movie brandishing a tinge of Twilight Zone-esque themes that question the reality of its embattled protagonist played by headliner Sam Worthington.
Indeed, the film found an appropriate helmer in The Machinist director Brad Anderson, providing a rather appropriate thematic juxtaposition to the morosely surreal 2004 thriller, as Worthington plays a man who, upon the disappearance of his wife and young daughter in a hospital emergency room, discovers that their existence has seemingly been erased from the memories and records of the staff.
Fractured Trailer
The trailer for Netflix film Fractured showcases a man who's either experiencing supernatural phenomenon affected by the space-time continuum, or is just getting gaslighted by a bored hospital staff.
Fractured Release Date
Fractured arrives on Netflix on October 11.
Further Reading: Every New Netflix Horror Movie and TV Series Coming This Fall
Fractured Details
Brad Anderson stepped into the director's chair for this one, perhaps still best known for showcasing a shockingly-emaciated Christian Bale in 2004's The Machinist (immediately after which Bale beefed up for Batman Begins), along with films like 2014's Stonehearst Asylum, 2008's Transsiberian  and 2001's Session 9, with recent TV work on genre shows like DC Universe's Titans and USA Network's The Sinner.
Anderson worked off a screenplay by veteran scribe Alan B. McElroy, who brings a diverse CV consisting of films such as Halloween 4: The Return of Michael Meyers, The Marine, Tekken, and was the writer/creator of HBO's popular 1997 serial animated adaptation, Todd McFarlane's Spawn, and also scripted that franchise's (also-1997) live-action film.
Sam Worthington stars as the vexed Ray Monroe. For the English actor, who, about 10 years ago, seemed to be the lead in just about everything, Fractured is an intriguing detour point, since he will soon be seen back in the franchise that made him a household name, reprising his role as Jake Sully in director James Cameron's long-awaited Avatar sequels – all FOUR of them – which arrive respectively in 2021, 2023, 2025 and 2027.
Lily Rabe (Tell Me Your Secrets, American Horror Story) plays Ray's missing wife, Joanne, and Lucy Capri (Queen America) plays his missing daughter, Peri.
The cast also consists of names such as Adjoa Andoh, Stephen Tobolowsky, Lauren Cochrane and Stephanie Sy.
Joseph Baxter is a contributor for Den of Geek and Syfy Wire. You can find his work here. Follow him on Twitter @josbaxter.