Reviews
Forgetting Sarah Marshall DVD review
Another movie off the Judd Apatow production line. So is Forgetting Sarah Marshall strictly template fodder, or are there laughs to be had?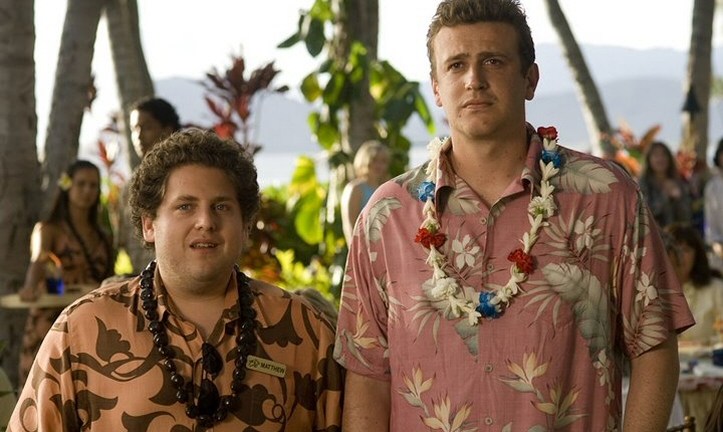 Predictable, hit and miss, too much Ferrell…these are things you might traditionally find me saying about a Judd Apatow production that isn't Anchorman or Superbad. But not in the case of Forgetting Sarah Marshall which is just out on DVD and is actually pretty good.Forgetting Sarah Marshall is the latest from the Apatow production line of movies about down on their luck everyday schmucks and their trials and tribulations with unfeasibly attractive women. Written by and starring Jason Segelk, he plays Peter Bretter, a likeable twentysomething who is dating Sarah Marshall, a way out of his league TV star played by fanboy favourite Kristen Bell. Early on in the film Sarah dumps Peter for British rocker Aldous Snow (Russell Brand), and after a few weeks of self pity, drunkenness and one night stands he decides to holiday in Hawaii, only to find that Sarah and Aldous are staying at the same resort – what are the chances eh? Anyway hilarity ensues, Peter predictably finds a new romantic interest and Sarah realises she may have made a mistake by dumping him.
It all sounds like pretty standard Apatow fodder. But, the movie has courted controversy from critics who label Apatow's films misogynistic, and on the evidence of Forgetting Sarah Marshall – a film that provides another examination of how beautiful women ruin the lives of everyday guys – it is difficult to defend him here.
But that doesn't mean the film isn't without its moments, and there are undoubtedly more than a few gags that had me laughing out loud. It has  some neatly written satire and some excellent gross-out moments too, especially early doors when you perhaps see and indeed hear more of Segel's anatomy than you will have perhaps bargained for. But it is the Dracula musical, a pet project of Segel's that works its way into the script, that is a real highlight, and stands head and shoulders above the rest of the film. Although I can't help but feel a little disappointed that it couldn't find a vehicle in its own right rather than get shoehorned into this movie.
In a cast that is full of talent, if not household names, it is British stand up Brand who comes out top of the acting pile, turning in an enjoyable performance as Aldous Snow, a character who has more than a little in common with his off-screen dandy persona. Segel too turns in an enjoyable if not emphatic performance playing the puppy-eyed loser he has honed to perfection during time on shows such as How I Met Your Mother and Freaks and Geeks (another Apatow collaboration and a show well worth looking up if you've never caught it).
I also have to give a little nod in the direction of Milla Kunis (otherwise known as the voice of Meg Griffin from Family Guy) who is charming in her role as Peter's new love interest. Perhaps most disappointing for me though is Kristen Bell. Bell is not only a favourite, but also a talented actress who excelled as a strong female lead on shows such as Heroes and the superb Veronica Mars. But here her talent is wasted and she seems miscast in a role which I really hope doesn't have too big an impact on her future movie career.
So on to the extras and I'm sad to say that there isn't anything groundbreaking here, but, there are a few interesting titbits that are worth a look. Alongside the usual bonus bits of director commentaries and deleted scenes, there are gag reels and behind the scenes footage that really are a lot of fun and well worth a look for an insight into the great time the cast and crew seemed to have whilst making the movie.
Film:
Extras: