News
Flash Gordon Remake Gets New Director
Gordon's alive! The quest to get a new Flash Gordon movie off the ground and all the way to Mongo continues.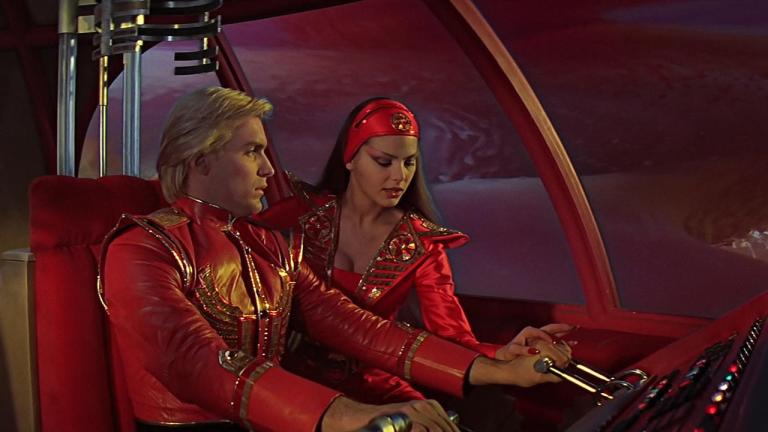 The Flash Gordon remake has had a troubled life cycle so far. Aside from the fact that we were criminally robbed of a sequel to Mike Hodges' brilliant 1980 Flash Gordon movie that starred Sam J. Jones, Melody Anderson, freakin' Max von Sydow, Topol, and the sickest Queen soundtrack ever for cryin' out loud. Seriously, how do you not make a sequel to that movie? 
ahem. Anyway…
Julius Avery (of the upcoming good guys vs. Nazis/zombies flick Overlord which opens on Nov. 9) is in line to write and direct a Flash Gordonremake (via THR). Avery replaces Matthew Vaughn, who had been attached to it since 2015. Vaughn will now produce, alongside John Davis. Avery's script replaces one by Mark Protosevich, which in turn replaced one by JD Payne and Patrick McKay. If you go back even further, Die Hard writer and action movie legend Steven E. de Souza had written two drafts of a Flash Gordon script in the late '90s with Breck Eisner directing, but no version of the property has managed to make it back to the big screen.
Flash Gordon has proven a difficult character to resurrect on screen, which is a shame considering that the character's original comic strips by Alex Raymond are basically ground zero for the visual elements of the superhero genre and a massive influence on George Lucas for Star Wars. Last year, Matthew Vaughn cited both of those as part of the challenge, noting that a new Flash Gordon movie would have to be different enough from both Star Wars and Guardians of the Galaxy to find its audience. Previously, de Souza joked to us about how the failure of Disney's (unfairly maligned) John Carter helped kill Flash's big screen prospects. We will never speak of the Syfy TV series from 2007, by the way.
There's no word on when 20th Century Fox is lining up the Flash Gordon remake for release. Avery has a couple of other projects lined up at the moment, and it's not clear where this one falls on his priority list. I'll be following this quite closely.
Mike Cecchini is the Editor in Chief of Den of Geek. You can read more of his work here. Follow him on Twitter @wayoutstuff.
Read and download the Den of Geek NYCC 2018 Special Edition Magazine right here!