News
First teaser for Monsters: Dark Continent
The sequel to Gareth Edwards' sci-fi debut Monsters gets is out next year, so here's Dark Continent's first teaser trailer...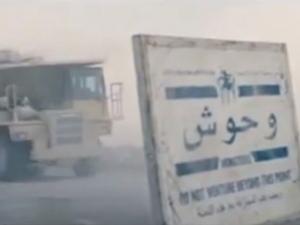 Ordinarily, a 40-second clip of a truck with what looks like giant pieces of rhubarb sticking out of the back of it wouldn't get us in much of a lather. But this isn't just any clip of a truck – this is the first official teaser from Monsters: Dark Continent, the sequel to Gareth Edwards' career-making 2010 sci-fi movie, Monsters.
As teaser trailers go, it's about as vague as they get, but it's certainly thought-provoking, and introduces the sequel's new, Middle-Eastern setting. Edwards, of course, has gone onto direct next year's Godzilla, so it falls to newcomer Tom Green (previously of TV's Misfits) to helm this new movie. It stars Johnny Harris, Joe Dempsie and Sam Keeley, and was shot on location in Jordan.
We're intrigued to see where this continuation of the fledgling Monsters franchise goes next, even without Edwards behind the camera.
Monsters: Dark Continent is due out next year.