News
First Look at Adam Driver in Terry Gilliam's The Man Who Killed Don Quixote
A new picture surfaces from Terry Gilliam's long awaited The Man Who Killed Don Quixote.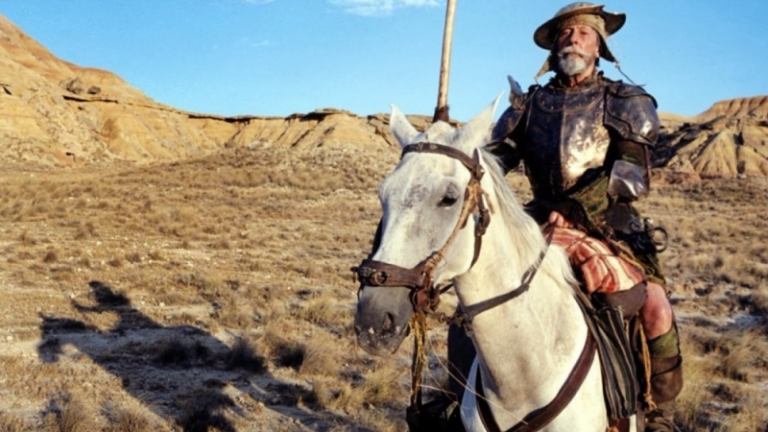 While the smart money is on a Cannes premiere for Terry Gilliam's much-delayed
The Man Who Killed Don Quixote
, the truth is that nothing has yet been publicly announced and Gilliam and his team remain up to their elbows in post-production work.We also don't know who will be releasing the film in various territories, and for now, neither do its producers. They're in Berlin at the film market right now, shopping the rights around and looking for buyers. They won't have trouble – it's really a job of finding the best fit, best deals, best reach for the film.Out in Berlin is Andrea Corsini who has very handily tweeted this image from the film. It's the first actual promotional image to have been published.
On the right,
or so it seems
, is Don Quixote, as played by Jonathan Pryce. On the left… his sidekick. This time it's not Sancho Panza, not literally, but a 21st century advertising creative called Toby Grossini, played by Adam Driver. But he's Sancho Panza in so many other ways.When Gilliam first started production on the film, over a decade and a half ago, it was a time travel film. Much honing, development and rewriting later and the truth is, the shooting script is somewhat more ambiguous. Toby hasn't literally travelled into the past, it's just… well, it's just sometimes as if he has. Expect the blending of reality and fantasy that Gilliam has previously perfected to be put to good use.More news on
The Man Who Killed Don Quixote
soon. We know it has been screened (in incomplete, FX-light versions) and that some first-look footage is expected to roll out fairly soon.