News
FilmStruck Gains Support of Christopher Nolan, Guillermo del Toro, Damien Chazelle and More as Shutdown Looms
As streaming service FilmStruck eyes an imminent shutdown, a letter of support signed by major industry names attempts a save.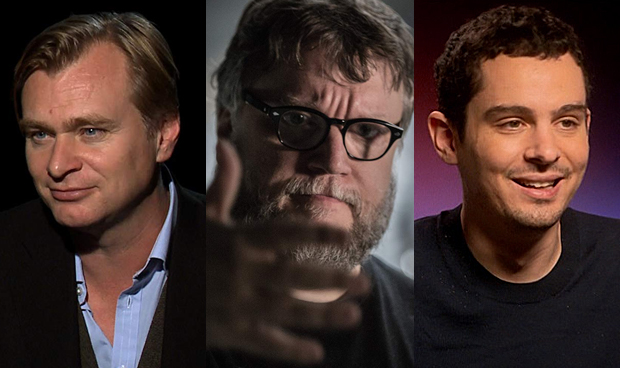 FilmStruck has quietly become the default place for serious movie buffs to stream an impressive lineup of indie, classic and foreign offerings, notably serving as the streaming home of enthusiastically curated releases of The Criterion Collection. Yet, it may have done so too quietly, since the company's splash page is now dominated by a message announcing the service's shutdown, set for November 29. However, some of the service's high-profile industry subscribers are now attempting to keep it alive.
Entertainment industry heavies, notably Christopher Nolan (Dunkirk, The Dark Knight Trilogy), Guillermo del Toro (The Shape of Water, Pacific Rim), Damien Chazelle (First Man, La La Land), along with Barry Jenkins (If Beale Street Could Talk, Moonlight) Christopher McQuarrie (Mission: Impossible – Fallout, Mission: Impossible – Rogue Nation) and Paul Thomas Anderson (Phantom Thread, Inherent Vice), just to name a few, have affixed their names to a petition letter that is urging the folks at FilmStruck to keep things up and running. The letter lauds the role that the service plays in a (one could say Netflix-dominated,) distribution jungle that's rapidly evolving, providing a major platform to burgeoning industry voices who would otherwise be drowned at theaters by a sea of superheroes and slashers.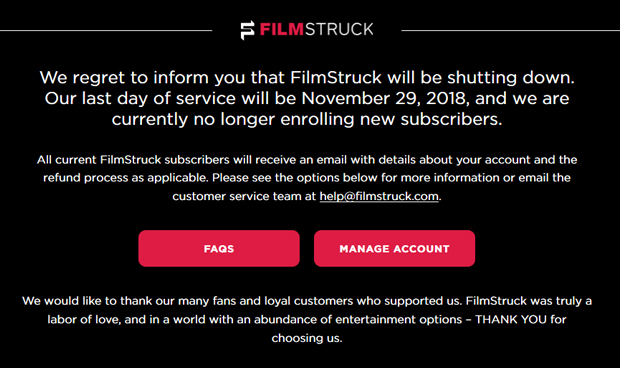 The attempt here is to appeal to Warner Bros Picture Group chairman Toby Emmerich, who the signees believe could have the financial interest to rescue the service. Indeed, with this apparent groundswell of support bringing attention to those who may not have been initiated with FilmStruck, the act of saving the service could give it the momentum it needs to finally stay afloat and continue what the letter refers to as "the Movie God's work."
The letter in its entirety:
Date: November 12, 2018 at 8:44:29 PM PST

To: Toby Emmerich

Subject: FilmStruck

Dear Toby,

We know that Steven Spielberg and Martin Scorsese have been in touch with you and Warners Media Group about the demise of FilmStruck and have urged you guys to keep it going.

While it was not your decision, we would like to loudly echo their sentiments. The FilmStruck service was (IS) the best streaming service for fans of cinema of all kinds: classic studio movies, independent cinema, international treasures. Without it, the landscape for film fans and students of cinema is especially bleak. There's a reason there was a huge outpouring from artists and fans over it being shuttered, they were doing the Movie God's work.

We know one of the reasons that it has been shut down is because of an upcoming Warners streaming service, but really FilmStruck shouldn't be a conflict of interest. In this day and age where there are dozens of platforms, curation of content is really important and FilmStruck was providing a service to both satisfy older fans of cinema and a younger generation of cineastes that will be making amazing movies long after we're dead.

In an era of huge corporate acquisitions of cinema by communication companies- in a business that may render billions of dollars off a medium like cinema, we believe this is a gesture that is needed- a minuscule show of goodwill towards the preservation and accesibility of a tradition and a rich history that would benefit the public.

So we want to add our names to the petition started by Marty and Steven and want you (and Warners) to know that we feel equally strongly and would do anything to support the service being saved.

Yours,

Paul Thomas Anderson

Ana Lily Amirpour

James Brolin

Damien Chazelle

Alfonso Cuarón

Guillermo Del Toro

Leonardo DiCaprio

James Gray

Alejandro González Iñárritu

Bill Hader

Karyn Kusama

Barry Jenkins

Rian Johnson

Christopher McQuarrie

Reed Morano

Christopher Nolan and Emma Thomas

Gina Prince-Bythewood

Barbra Streisand

Edgar Wright
It will certainly be interesting to see how the FilmStruck saga advances in the wake of this kind of publicity. We will keep you updated on the developments.
Joseph Baxter is a contributor for Den of Geek and Syfy Wire. You can find his work here. Follow him on Twitter @josbaxter.