News
Fighting with My Family Trailer: Dwayne Johnson WWE Comedy
Dwayne Johnson and director Stephen Merchant's comedic movie, Fighting with My Family, focuses on the true story of WWE's Paige.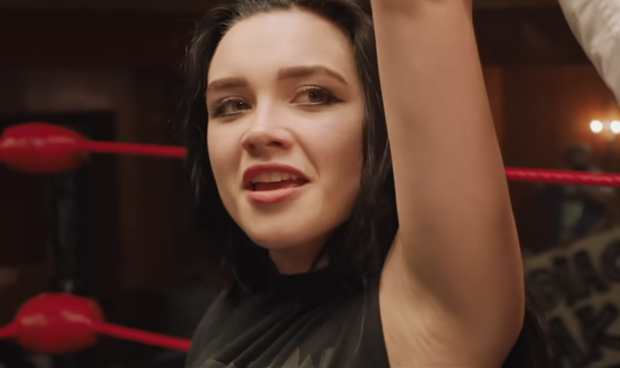 Dwayne Johnson and Stephen Merchant's pro-wrestling-themed, biographically-based film, Fighting with My Family, is back on track for its release after experiencing a series of delays. The wrestling family in focus here is the Bevis clan, played here by Lena Headey, Nick Frost, Jack Lowden and, notably, a rising star in Florence Pugh, who portrays the family's most famous member in former WWE wrestler Paige.
The biopic, written and directed by Stephen Merchant, will arrive from production entities in Dwayne Johnson's Seven Bucks and WWE Studios, with MGM distributing. Along with the cast presence of Vince Vaughn, the film will also see Johnson (who also serves as an executive producer,) bank a cameo as himself. Writer/director Merchant also fields a role.
Fighting with My Family Trailer
A new Fighting with My Family trailer has arrived, setting the film back on course for its release after delays. The onscreen depiction of the Bevis clan – who, in their local U.K. wrestling scene, cavort as the "Knight" family – showcases how their young daughter in Pugh's Paige landed the greatest opportunity that the industry can offer in a WWE contract; a miraculous gift that apparently caused tension within the family, notably with brother Zak (Lowden), who came short vying for the same prize. However, drama aside, the film is clearly a comedy, and the segment in which Dwayne Johnson – in his "Rock" persona – delivers a scathing impromptu promo on the wrestling-aspiring siblings is pure gold.
Interestingly, there's also a bittersweet narrative to this comedic life-affirmer, since the career of Paige – who became the youngest WWE Divas Champion at age 21 – was cut short in early-2018 due to a severe, paralysis-risking neck injury, which forced her retirement at the age of 25; an event that occurred after the film's production. However, Paige is still on the WWE roster in the onscreen role as general manager of the SmackDown show (which, coincidentally, is named after one of Dwayne Johnson/The Rock's signature catchphrases).
Fighting with My Family Release Date
Fighting with My Family is scheduled to hit theaters in February 2019.
Fighting with My Family Details
The movie focuses on the wrestling family of Saraya-Jade Bevis, known to WWE fans as the raven-haired, pigment-deprived retired wrestler, Paige. The film was inspired by a 2012 U.K. Channel 4 documentary called The Wrestlers: Fighting with My Family, which focused on the Bevis family (who work under the nom de guerre surname "Knight.") As Johnson explained – back in early-2017 – on his inspiration for the project:
"Back in 2012, I was in my hotel room in London and stumbled across a documentary on a local UK channel. Not only was I intrigued by this loving and wild family, but I also felt it's the kind of narrative that would make an amazing movie. The Knights' journey is a universal one that all families are familiar with. I relate to Saraya (Paige) and her wrestling family on such a personal level and it means so much that I can help tell their story."
With drama from the documentary supplying the story for Fighting with My Family, the film showcases the Bevis clan in their unconventional family business in the world of professional wrestling, with reformed gangster-turned-wrestler Ricky (Ricky Knight) and wife Julia (Sweet Saraya), who built a local operation in Norwich, England, in which they, with children Zak (Zak Zodiac) and Saraya (Britani Knight, later Paige), all participate and wrestle – often against each other. Like the documentary, the film depicts how the business affected their family life, the hustle of promoting their local venture and, later, the moment when Saraya landed on the world's biggest wrestling stage, signing with the WWE.
Joseph Baxter is a contributor for Den of Geek and Syfy Wire. You can find his work here. Follow him on Twitter @josbaxter.