News
FEARnyc to Feature Classic Creatures, Psycho Killers, and a Real Seance
Night of the Living Dead and The Exorcist headline the first FEARnyc film festival.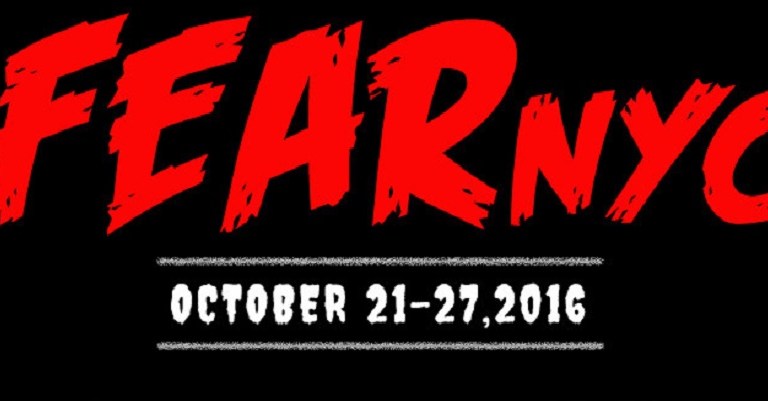 FEARnyc film festival announced that its inaugural event will feature horror movie classics like Night of the Living Dead, Psycho, The Exorcist and Halloween along with cult shockers like Carnival of Souls and Plan 9 from Outer Space and a remake of 1963's Blood Feast. FEARnyc will also pay tribute to late director Wes Craven. His widow, Iya Labunka, will appear at the festival's awards ceremony.
"This Halloween season, FEARnyc aims to scare the pants off New York City as we present more than 65 new and classic horror films along with an array of cast appearances and special events," John Capo, founder and director of FEARnyc, said in a statement. "We will also be honoring horror icon Wes Craven, creator of A Nightmare on Elm Street and Scream, in a special tribute."
FEARnyc will feature new films the killer clown tale Clowntown and Dead Awake. Other new films include Gedeon Burkhard's The Key, The Butcher Brothers' A Beginner's Guide to Snuff, Hannah Macpherson's Sickhouse and Shawn Burkett's Don't Fuck in the Woods. The festival will also show documentaries about horror movies like Resurrecting Carrie and Unearthed and Untold: The Path to Pet Sematary.
FEARnyc will feature screenings of more than 65 new and classic horror films like Hocus Pocus, The Texas Chainsaw Massacre, The Lost Boys and A Nightmare on Elm Street 3 along with cast appearances and special events.
The screening of The Exorcist will begin with a séance with the audience led by a renowned psychic. The Monster Squad screening will include special appearances by cast members Duncan Regehr (Count Dracula) and Tom Noonan (Frankenstein's Monster). The screening of the original 1978 Halloween will be thrown during a Halloween Party featuring candy bags and games for the audience.
There will also be screenings of Nosferatu, The Cabinet of Dr. Caligari, House on Haunted Hill, Dementia 13, SILENT NIGHT Bloody Night, And Then There Were None, The Brain That Wouldn't Die and Santa Claus Conquers the Martians.
Partial Roster:
American Gothic, Director: John Hough (1988) – on a lonely island in the Pacific Northwest, a group of travelers find themselves targeted by a crazed, homicidal family.

And Then There Were None, Director: Rene Clair (1945) – based on Agatha Christie's bestselling novel, ten people are invited to an isolated island only to find that an unseen person is killing them one by one. Could one of them be the killer?

The Brain That Wouldn't Die, Director: Joseph Green (1962) – a doctor experimenting with transplant techniques keeps his girlfriend's head alive when she is decapitated in a car crash, then goes hunting for a new body.

The Cabinet of Dr. Caligari, Director: Robert Wiene (1920) – hypnotist Dr. Caligari uses a somnambulist, Cesare, to commit murders.

Carnival of Souls, Director: Herk Harvey (1962) – after a traumatic accident, a woman becomes drawn to a mysterious abandoned carnival.

Dementia 13, Director: Francis Ford Coppola (1963)- a scheming young woman's plans are permanently interrupted by an axe-wielding lunatic who begins to stalk and murderously hack away at members of the family. Produced by Roger Corman.

The Exorcist, Director: William Friedkin (1973) – when a teenage girl is possessed by a mysterious entity, her mother seeks the help of two priests to save her daughter. This special screening will begin with a terrifying séance with the audience led by celebrity psychic Jesse Bravo. Get there early!

Faust: The Live Event, a can't-miss screening of F. W. Murnau's 1926 classic Faust with a live soundtrack performed by Ben Singer of Modern Robot. In Faust, the demon Mephisto wagers with God that he can corrupt a mortal man's soul. In his live score, composer Ben Singer translates this emotionally charged story with a symphonic sensibility filled with demonic gallops, bubbling textures, breezy sambas, whistling winds, and an unrelenting drum beat. This unique work blends music, theater, film, and live performance to result in a mesmerizing experience.

Halloween, Director: John Carpenter (1978) – on Halloween night of 1963, six-year-old Michael Myers stabbed his sister to death. After sitting in a mental hospital for 15 years, Myers escapes and returns to Haddonfield to kill. This special screening will feature a Halloween Party before the movie! Get there early for candy bags, games and fun. Costumes preferred but optional.

Hocus Pocus, Director: Kenny Ortega (1993) join us for a hilarious Witch Party hosted by hysterical drag queen Shirley U. Jest featuring witch-themed games, performances and prizes! In Hocus Pocus, three witch sisters are resurrected in Salem, Massachusetts on Halloween night, and it is up to two teenagers, a young girl and an immortal cat to put an end to the witches' reign of terror once and for all. Dressing as a witch is preferred but not mandatory.

House on Haunted Hill, Director: William Castle (1959)- a millionaire (Vincent Price) offers ten thousand dollars to five people who agree to be locked in a large, spooky, rented house overnight with him and his wife.

The Lost Boys, Director: Joel Schumacher (1987)- after moving to a new town, two brothers discover that the area is a HAVEN for vampires.

The Monster Squad, Director: Fred Dekker (1987) – a young group of monster fanatics attempt to save their hometown from Count Dracula and his monsters. Followed by a Q&A with cast members Duncan Regehr (Count Dracula) and Tom Noonan (Frankenstein's Monster) live and in person!

A Nightmare on Elm Street 3: Dream Warriors, Director: Chuck Russell (1987) in what is widely considered one of horror's greatest sequels, survivors of undead serial killer Freddy Krueger — who stalks his victims in their dreams — learn to take control of their own dreams in order to fight back.

Night of the Living Dead, Director: George A. Romero (1968) – there is panic throughout the nation as the dead suddenly come back to life. The film follows a group of characters who barricade themselves in an old farmhouse in an attempt to remain safe from these flesh eating monsters.

Nosferatu, Director: F. W. Murnau (1922) – vampire Count Orlok expresses interest in a new residence and real estate agent Hutter's wife.

Plan 9 from Outer Space, Director: Ed Wood (1959) – aliens resurrect dead humans as zombies and vampires to stop humanity from creating the Solaranite, a sort of sun-driven bomb.

Psycho, Director: Alfred Hitchcock (1960)- a Phoenix secretary steals $40,000 from her employer's client, goes on the run and checks into a remote motel run by a young man under the domination of his mother.

Reefer Madness, Director: Louis J. Gasnier (1936)- this legendary exploitation film features a fictionalized and highly exaggerated take on the use of marijuana. A trio of drug dealers lead innocent teenagers to become addicted to "reefer" cigarettes by holding wild parties with jazz music.

Santa Claus Conquers the Martians, Director: Nicholas Webster (1964) – in this rarely seen camp sci-fi classic, the Martians kidnap Santa Claus because there is nobody on Mars to give their children presents.

Silent Night, Bloody Night, Director: Theodore Gershuny (1972) – in the restored version of this classic film, a man inherits a mansion which once was a mental home. He visits the place and begins to investigate some crimes that happened in old times, scaring the people living in the region.

The Texas Chainsaw Massacre, Director: Tobe Hooper (1974)- two siblings visit their grandfather's grave in Texas along with three of their friends and are attacked by a family of cannibalistic psychopaths.
New York City's biggest horror film festival takes place Oct. 21 through 27 at Manhattan's Cinema Village. Tickets are $12 for general admission and $8 for seniors and you can get them at FEARnyc.com.
SOURCE: EW