Reviews
Father Ted: The Definitive Collection DVD review
One of the finest sitcoms of all time, Father Ted now has a definitive boxset. So how does it shape up?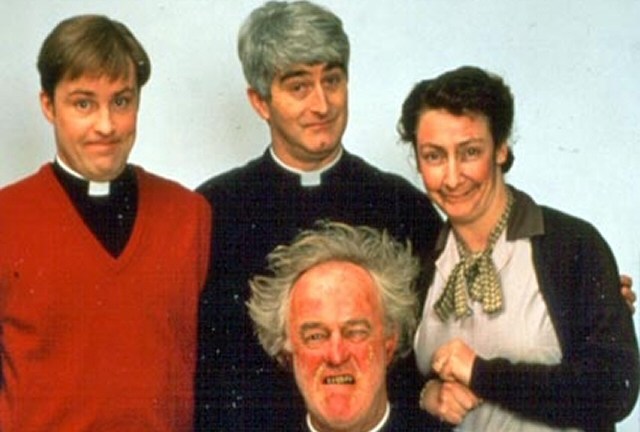 Father Ted: The Definitive Collection
DISTRIBUTOR: 2entertainPRICE: £49.99CERT: 15DURATION: 632 mins approxDISCS: 5
If you have bypassed all of DoG's 'premium' content to get to this review, there's only one thing you need to know – where to buy it. How about here?
You won't find this reviewer resorting to cheap tricks like reeling off the immortal quotes of the 90s' best sit-com (such as Feck! Arse! Gelz! Ah gwan gwan gwan! That would be an ecumenical matter! Down with this sort of thing! The money was just resting in my account! Etc). That would just be silly.
Instead we'll inform Ted-Virgins, if there are any left, that the series takes place on a blasted and utterly disregarded isle off the west of Ireland, where book-cooking priest Ted Crilly has been exiled by the sulphurous Bishop Brennan, to serve out a parochial purgatory in the company of super-thick stooge Father Dougal McGuire and the feral Father Jack Hackett.
Lubricated by the endless rounds of tea from their hapless housekeeper Mrs. Doyle, the trio set off – usually inadvertently – on a series of disastrous and often surreal adventures that bring such splendid sights as The Lovely Girls Contest, Priest Of The Year, The (rather unprepossessing) Holy Stone Of Clonrichert, King Of The Sheep, The Spider Baby, The Dancing Priest…
The 90s was Britain's new golden age of comedy, and Fast Show contributors Graham Linehan and Arthur Matthews overcame the critical drubbing of their first sitcom – the Alexei Sayle vehicle Paris – to produce Britain's most popular and repeated comedy since Fawlty Towers.
Twenty-five episodes over a glorious three-year run were sadly capped when star Dermot Morgan died of a heart attack the day after filming wrapped on the third series of Ted, but the show exited on a high note, and Morgan's premature demise helped to further immortalise it. Even the episodes considered weaker at the time (there are few) reveal themselves to be full of mad invention on re-watching.
This is 2entertain's second stab at a complete series package of the exploits of the Catholic church's least spiritual priest and this time the menus won't have you praying for guidance, though the sweeping semi-3D animations that transport you from one section to another, while amusing, get old fairly quickly and almost qualify as kettle-breaks. Additionally, there is a lot of clicking around to get from one episode to the next, rather than simply listing them all on one page. However the main menu defaults to 'Play All', and if you're a Ted-Head you'll rarely need any other button.
Additional commentaries mean that every single episode of Father Ted is now optionally accompanied by Graham Linehan (joined by Father Dougal actor Ardal O'Hanlan in series 2). The commentaries are fascinating and so exhaustive that you may find yourself making a cuppa for Graham after you hit the pause button. The problem is, it's almost impossible not to try and hear the episode he's talking about over his commentary, and you end up wanting to pass him the bourbons in the hope that he'll shut up and watch Ted with you.
But that's just a reflection of the sterling work that he and Arthur Matthews put into the writing of all three series. If you lack comprehensive Ted, this collection is pure gold, but if you already have the previous 2entertain complete edition, there isn't necessarily much more in the new one to tempt an upgrade.
The features include:
· Interviews with writers (discs 1 and 5)· A very Ted weekend (disc 2) – an amusing mini-documentary on the three-day 'Friends Of Ted' convention held at Iris Mor – an insight into how Father Ted has gripped a new generation, that now descends on the original locations to recreate The Lovely Girls Contest and other Ted-ist events.· Biographies· Photo Gallery· Craggy Island Memories (disc 3) – a series of best-of moments on a per-character basis.· Comedy Connections – a BBC show looking into the origins of Father Ted.· Comic relief with Ted & Dougal – Dermot Morgan and Ardal O'Hanlon recreate their beloved roles as link-men at Comic Relief 1997.· Ted Fest 2007 – Two tribes go to war – two of the isles claiming to 'be' Craggy Island settle their differences with a soccer match during Ted Fest 2007.· Father Dougal's sound effects gallery.
The collection loses a point because it's pretty expensive, but then it gets it back again because you can get it most places for about thirty quid. It's money you won't want back, and 632 minutes of comedy gold. Perhaps there will one day be a British sitcom better than Father Ted, but frankly, that would be a class-one miracle.
Check out our interview with
Ted
writer Graham Linehan here.