News
Father's Day Giveaway: Win Classic and Modern Movies on Blu-ray!
We're giving away a Blu-ray collection of classic films, modern movies, and more, perfect for Father's Day!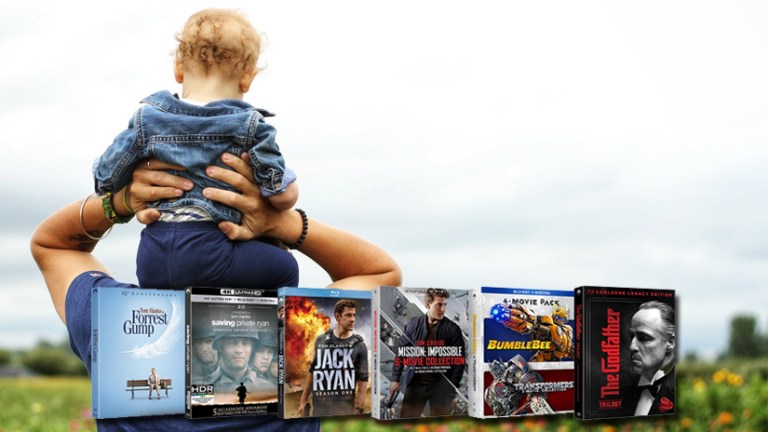 With Father's Day rapidly approaching, you may be wondering what kind of gift you can get for your dad to show him your appreciation. Luckily, we're hosting an epic Father's Day-themed movie collection, featuring classic, father-friendly films and one show perfect for dad on Blu-ray (or better!). 
Click here to enter via our official giveaway page.
THREE lucky winners will each receive this prize collection…- The Godfather Trilogy: Corleone Legacy on Blu-ray– Forrest Gump: 25th Anniversary Edition on Blu-ray- The complete first season of Amazon Prime's Jack Ryan on Blu-ray– All six films in the Mission Impossible series on Blu-ray,- 2018's Bumblebee and the entire Transformers saga on Blu-ray– Saving Private Ryan on 4K Ultra HD.
Whether your father is a fan of the gangster genre, a spy movie buff, or a Michael Bay aficionado, there's something there for your dad to enjoy. The four disc-set of The Godfather Trilogy: Corleone Legacyincludes restored versions of all three films in the trilogy, audio commentary by Francis Ford Coppola, a making of documentary, deleted scenes, biographies, the Corleone family tree, photo galleries, storyboard comparisons, and more. The complete first season of Jack Ryan on blu-ray includes audio commentary and bonus features that go behind the scenes of the making of the show. 
The 25th anniversary edition of Forrest Gumpincludes audio commentary and featurettes on the making of the movie. The complete Mission Impossiblecollection includes making of featurettes and audio commentary for Mission Impossible, Mission Impossible II, Mission Impossible III, Mission Impossible: Ghost Protocol, Mission Impossible: Rogue Nation, and Mission Impossible: Fallout. The THREE winners will each also be able to watch Transformers, Transformers: Revenge of The Fallen, Transformers: Dark of the Moon, Transformers: Age of Extinction, and Transformers: The Last Knight in addition to Bumblebee. 
Click here to enter via our official giveaway page.
Entries will be accepted until June 13th. THREE lucky winners will be drawn randomly and then notified immediately via e-mail. Each winner will have forty-eight hours to respond or another winner will be chosen. Good luck!