News
Fantastic Beasts 2: David Yates Discusses the Sequel's Adult World
Fantastic Beasts: The Crimes of Grindelwald will be "a series of love stories" mixed with a political thriller, said the director.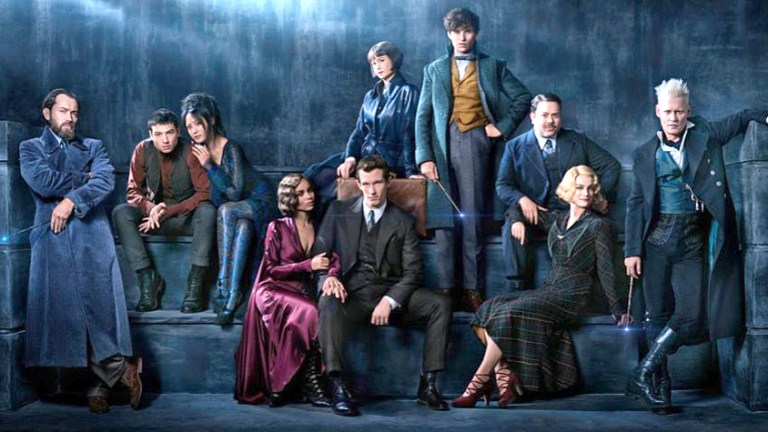 If there's one major difference between Harry Potter and Fantastic Beasts (and, really, there are many), it is that one is a coming-of-age story focused on adolescents set mostly in a school setting, while the other tells the story of adults set in a world of workplaces and other grown-up settings. While this thematic difference didn't get talked about as much in the first Fantastic Beasts film, director David Yates touches on the more adult world of Fantastic Beasts 2 in a recent interview with Collider.
"In terms of the context of Jo's universe, this is a much more sensual film," said Yates. "We didn't really have sensuality or sexuality in any of the Potters or even the first Fantastic Beasts. We had these grown-ups, but ultimately, these grown-ups are really like big kids in a grown-up world. This is a slightly more sensual film, because it is a love story. There's a sense of sensuality between the characters, which is lovely, actually. It feels like everything's growing up and getting a bit more sophisticated."
Yates described the film as "a series of love stories," which is intriguing, but also adds another layer of disappointment to the news that Dumbledore, who features in the film, will not be explicitly characterized as gay, even though J.K. Rowling, who wrote the screenplay for the film, has previously stated that the character identifies as such.
"Really, the central theme is, you know, falling in love, falling out of love, falling in love with an ideology, being drawn into love, being corrupted by love," Yates continued. "It's really– it all circles around that central premise of love, I think."
Speaking more generally about the character of Dumbledore in Fantastic Beasts 2, Yates played up the rebellious aspects of the younger version of the iconic character.
"He's quite complicated," said Yates. "He's far from perfect. He's an inspiring teacher, all the pupils love him, but as ever, being Dumbledore, he's a wonderful manipulator and he has this incredible ability to sort of maneuver people into situations that they may not want to be maneuvered into. And Jude brings this amazing freshness and sexiness and sensuality and sort of wit and sort of charisma to the role."
Yates revealed that Fantastic Beasts 2 will feature a 10-minute return to the world of Hogwarts (circa 1927) in the middle of the film, a setting we've already glimpsed in the trailer.
Read the latest Den of Geek Special Edition Magazine Here!
The more adult world of Fantastic Beasts 2 will combine the aforementioned love story with the political thriller genre, said Yates.
"The thing about [Rowling's] books and the thing about the movies, they're always very generous," said Yates. "You know, they combined a number of genres. In one way, they're funny, they're emotional, they have a fantastical element, obviously. They can be quite dramatic. And so this movie is no exception. It's a really rich meal. It's full of different textures and tones and the challenge always is to combine all of those textures into one."
Will Fantastic Beasts 2's political thriller elements reflect on the current geopolitical status of the real world?
"If you're making a movie, ultimately, you can't help but be sensitive to the world in which you create it," said Yates. "It influences you every single day, influenced Jo when she was writing the script, influences us as we put the whole story together. So we sort of, like– we're alive to what's happening in the bigger world. But the themes, I think, are kind of universal and archetypal and timeless, which is ultimately… rather than a direct political sort of counterpoint or context, it's really about the values of tolerance and understanding and a celebration of diversity."
For more on Fantastic Beasts 2: The Crimes of Grindelwald, check out our news round-up. featuring trailers, cast information, and release date.
Kayti Burt is a staff editor covering books, TV, movies, and fan culture at Den of Geek. Read more of her work here or follow her on Twitter @kaytiburt.