News
Fantasia's Night on Bald Mountain Gets Live-Action Film
The wordless visualization of good vs. evil in Disney's Fantasia, "Night on Bald Mountain," is getting a live-action movie...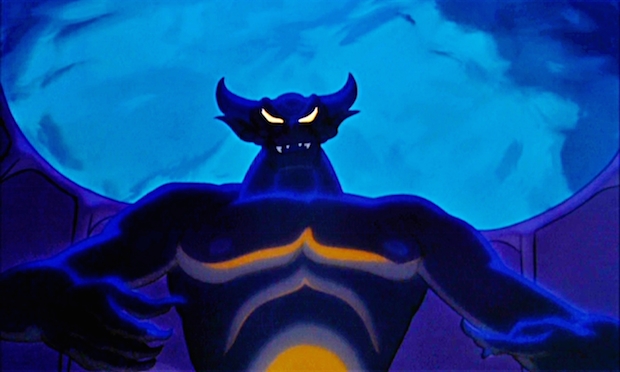 Well if at first you succeed with a billion dollars, try, try, and try again to make more billions. That appears to be the thinking at Disney, which has been on a roll since the live-action adaptation of Alice in Wonderland. And if the releases of Maleficent and Cinderella in the last 12 months have taught us anything, it is that this formula definitely ain't broke.
Thus enter Night on Bald Mountain, one of the most beautiful and unforgettable sequences from Walt Disney Animation Studio's symphonic masterpiece Fantasia (1940). That film adapted the Slavic legend of the demonic entity known as "Chernobog" (whose name translates to "black god") into a far more Christian visualization of a battle of Heaven and Hell. In the "Night on Bald Mountain" short film, Chernobog, portrayed as more the Christian Devil than his ambiguous mythological roots, summons the dead from their graves to declare war on the forces of God and light. It is a masterful sequence that includes animation to the works of composers Modest Mussorgsky and the heavenly reprieve of Franz Schubert's "Ave Maria."
It is wordless, visual, and beautiful. But it also features the second most iconic Disney villain after Maleficent who isn't a talking lion. Thus it's getting a feature length, dialogue-laden movie. Who knows, maybe Chernobog will also be revealed to be an aggrieved sprite of the forest that just wanted a kiss, and is really trying to defend the living from the demonic forces of death he has summoned from their graves…
…Matt Sazama and Burk Sharpless, who previously defanged Dracula for Dracula Untold (fun fact: Chernobog was inspired by Bela Lugosi for the animators), and are next credited with scripting Vin Diesel and Rose Leslie's The Last Witch Hunter, will be writing the film with plans to also produce. No director is currently attached.
The film is adding to the legion of live-action remakes Disney is amassing of their classics including, Alice in Wonderland: Through the Looking Glass in 2016, The Jungle Book also in 2016, Beauty and the Beast in 2017, and an as of yet dated Tim Burton adaptation of Dumbo, plus live-action versions of Mulan and Winnie the Pooh on the distant horizon. Meanwhile, if you want to see Chernobog in live-action, just check out his heavy influence on Ridley Scott's 1985 fantasy film with a devilishly good Tim Curry, Legend.