Reviews
Famous Monster – Forrest J. Ackerman DVD review
A geek legend left our dimension the poorer last year, but here's a fairly fitting tribute…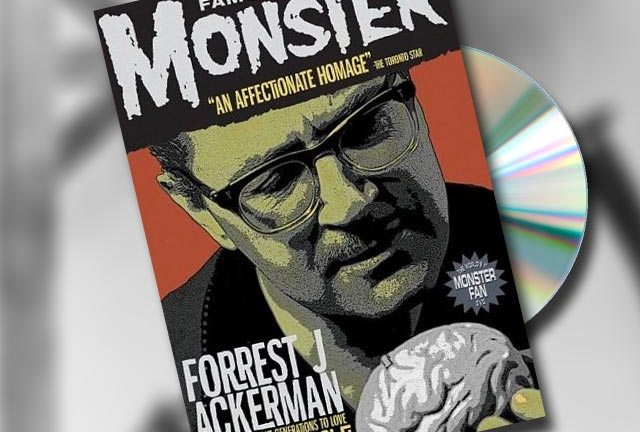 When Forest J Ackerman went to the great sci-fi convention in the sky last December, at the grand old age of 92, the world lost a true pioneer.
For 'Uncle Forry', aka 'The Ackermonster', aka 'Mr Science Fiction', was the first real fan(atic) that the genres of science fiction, horror and fantasy ever had.
Famous Monster is an affectionately-made documentary looking back at his incredible life and times, richly illustrating why he should forever be remembered as 'the original geek', or 'nerd zero'.
The feature-length documentary was made back in 2007 and benefits from having Forry still around to help narrate his own story, which spans seven decades and includes more famous names from the golden ages of cinema and sci-fi than you'd see in a geek wax-works.
Forry was a unique bridge from the birth of horror and sci-fi to the present. He saw his first genre film, supernatural fantasy One Glorious Day, in 1922; bought his first science fiction magazine, Amazing Stories, four years later, upon its launch; and founded the first nerd support group in 1930, with the charmingly quaint title of 'The Boys' Scientifiction Club'.
Hell, we might all still be calling ourselves 'scientifiction' fans if it wasn't for Forry mercifully coining the term 'sci-fi' for us back in 1954.
He was dressing up for conventions, well, actually the first convention (back in 1939), when the only place Star Trek creator Gene Roddenberry was boldly going was to school, and nurturing the talents of such luminaries as Ray Bradbury and Ray Harryhausen in their formative years.
The documentary-makers take advantage of Forry's encyclopaedic knowledge and squeeze him like a 'sci-fi sponge' for information and anecdotes, such as having to handle drunken late-night calls from notoriously bad director Ed Wood in his capacity as the former's 'illiterary agent'.
Forry's love of word play, and puns in particular, got its full expression with the launch of the magazine that cemented his reputation as No. 1 fan and gave the DVD its title: Famous Monsters Of Filmland.
From 1958 to 1983, Famous Monsters was a bible for young horror and sci-fi fans, crammed with articles about genre films past and present as well as a wealth of publicity stills, many from Forry's own vast collection.
You can trace FM back as the inspiration for a generation of film makers, such as John Landis (An American Werewolf In London) and Joe Dante (Gremlins), who both appear in the documentary sharing fond memories of the magazine's influence on their subsequent careers.
The magazine serves as the centrepiece to the documentary and the tale of its rise and fall vividly evoke a sense of a more innocent age, when horror movies were more about having fun than watching half-naked teenagers sliced and diced.
Part of that fun, of course, was collecting, and the DVD is almost worth it's price alone for the footage of Forry's treasure trove of memorabilia. If you think you have a display of maquettes, masks and such like to be proud of, prepare to have all your illusions shattered.
Ever the trend-maker, Forry started gathering together old film props when they were seen as nothing more than a useless by-product of the Hollywood dream factory. If it wasn't for him actively asking bemused film makers and studios for things such as Dracula's cape or Lon Chaney's battered top hat and false teeth from lost silent classic London  After Midnight, these priceless artefacts wouldn't be around today.
Through the eye-catching adverts in FM, readers could start to build their own collections just like Uncle Forry's and the proof is there to see, behind, around and in front of the majority of interviewees, though actor Dan Roebuck (Lost) takes the golden anorak for his envy-inspiring assemblage.
Sadly, Forry lost the majority of his famed collection, valued in the millions of dollars, through a particularly nasty legal battle in the late 1990s, and the doors of the Ackerman mansion, open to all curious to see the object d'art of the horrid, closed for ever.
The documentary ends with a frail-looking Forry ensconced in a 'mini-Ackerman mansion', less  spectacular than its predecessor but still open to the public to pay homage like some sort of geek Mecca.
What's amazing is how the trials and tragedies of later years (Forry lost his beloved wife Wendy in a car-jacking crime in 1990) did nothing to diminish his pure, childlike love of horror, sci-fi and fantasy.
The documentary makers, Roadhouse Films of Canada, caught him in fine form, relishing the chance to perform to the camera, reeling off classic film dialogue and singing the odd song with a natural touch of the dramatic.
Watching their film, which is just short of 50 minutes in length, you get a real sense of what Forry was like and his importance in championing the worlds of horror and sci-fi.
The term 'national treasure' is bandied about indiscriminately these days, but Forest J (no dot) Ackerman was most definitely in that category, though 'international treasure' is probably more fitting. Through his magazine Forry brought us  Halloween every month, and any self-respecting geek would do well to catch up with the Famous Monster DVD at some point to discover exactly why we all owe him a huge debt of thanks.
The DVD extras are mixed in quality. The commentary, provided by director Mike McDonald and writer Ian Johnston, gives extra insights into Forry's life; The Mini-Ackerman video tour gives geeks a closer chance to check out the remains of Forry's once-mighty collection, and the similarly-styled Dan Roebuck's Living Room is enjoyable.
There's also a photo galleryto look at but the rest of the features are pretty poor with a three-minuteblooper reel that isn't really funny, a section of off-cuts featuring Forry called More Forry Memories, which is only welcome as a chance to see more footage of the great man himself, and 22 minutes of deleted interviews which clearly didn't make the grade hoped for.
Film:
Disc:
Famous Monster – Forrest J. Ackerman is available now.