Features
Fall Movies 2018: New Films to Watch Out For
A diverse mix of movies will compete fall 2018 to fill the gap left by some absent heavy hitters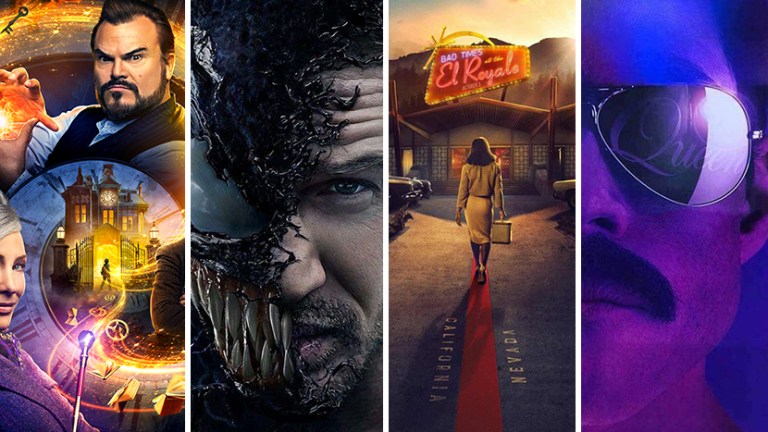 For the first time since 2014, there will be no Marvel Studios, Star Wars, or Pixar films released this fall. There will be Marvel-related films (Venom and Spider-Man: Into the Spider-Verse) as well as a risky DC superhero epic (Aquaman), but Disney's big three brands are skipping the end of 2018.
Alas, don't fret! This means there's a little more opportunity for some new and even original properties to make a stand, while other franchises get a bit of breathing room without the MCU and/or the Skywalker Saga sucking up all the oxygen at the multiplex.
This fall is peppered with a number of interesting titles that could prove to be standouts when the year is said and done, and we've selected 21 of them to give you a taste of what's ahead.
So check the local theater listings, get your tickets and popcorn, and settle into your seat. A strangely frontloaded and topsy-turvy cinematic summer is over, and the fall movie season — the time of year basically known as the lead-up to the Oscars — is upon us.
The Nun (Sept. 7)
Producer James Wan continues to build out the Conjuring universe with this fifth installment, centering on the back history of the evil entity in The Conjuring 2. With the film set in a Romanian monastery in 1952, director Corin Hardy (The Hallow) has said he was interested in creating a Gothic, European-style horror film in the tradition of legendary directors like Mario Bava. If that's the case, The Nun could be one of the more interesting horror titles to emerge this year — and further enhance the one other shared cinematic universe besides Marvel's that seems to be working.
The Predator (Sept. 14)
The Predator franchise has always toiled in the shadow of the much more iconic Alien series, even when they were evenly matched in Alien vs. Predator, but this still-nasty extraterrestrial hunter-killer is getting an upgrade via the writing and direction of original Predator cast member Shane Black (Iron Man 3), who should at least bring some humor and tight plotting to the exercise. The rough-and-tumble cast includes Boyd Holbrook, Thomas Jane, Sterling K. Brown, Olivia Munn, Keegan-Michael Key and a squad of enhanced Predators intent on causing havoc on Earth.
The House with a Clock in its Walls (Sept. 21)
Based on the 1973 children's Gothic horror novel (yes, you read that right) by John Bellairs, this dark fantasy tells the story of 10-year-old orphan Lewis (Owen Vaccaro), who goes to live with his uncle Jonathan (Jack Black) in a creepy old house with a ticking clock somewhere in its walls. Lewis soon discovers that Jonathan, his neighbor Florence (Cate Blanchett) and most of the townspeople are warlocks and witches, and that the clock portends something dreadful. The director on this is Eli Roth, whose spotty track record consists mostly of exploitational horror like Hostel and The Green Inferno; it will be interesting to see how he handles much tamer — if still dark — material.
Read more about The House with a Clock in its Walls
A Star Is Born (Oct. 5)
The buzz about this film is already close to deafening, despite it being the fourth version of the story (the previous ones were released in 1937, 1954 and 1976). This time around, Bradley Cooper (who also co-wrote and makes his directorial debut on the film) is the dissolute musical star who takes a talented young singer (Lady Gaga) under his wing and watches her climb to the heights of success even as he flames out. Even from the trailer, it seems as if Cooper and Gaga have real chemistry, which may give an extra boost to this well-worn and time-honored tale.
Read more about A Star is Born
Venom (Oct. 5)
Tom Hardy takes his second crack at the superhero genre after playing the villainous Bane in Christopher Nolan's The Dark Knight Rises six years ago. Here he portrays Eddie Brock, the rather grubby reporter who is turned by a symbiote into one of Spider-Man's most enduringly popular enemies. Of course, Spider-Man doesn't appear in this movie, which takes place sort of off to the side of the Marvel Cinematic Universe, and Hardy is tasked with taking a character who is an anti-hero at best and making him empathetic when he's not turning into a seven-foot tall tower of black goo with fangs. We're cautiously optimistic on this one, based solely on Hardy's screen-searing intensity.
Bad Times at the El Royale (Oct. 12)
Give Fox a little credit here: This is a wholly original film written and directed by Drew Goddard, who's penned scripts for movies like The Martian, Cloverfield, and World War Z (not to mention his extensive TV work) and directed the cult horror gem The Cabin in the Woods. This time out he's in noir(ish) territory, as seven strangers with dark secrets collide one night at the titular hotel. The cast includes Chris Hemsworth, Jon Hamm, Dakota Johnson, and Nick Offerman. We're intrigued to see what twists and turns Goddard, Thor and company have in store.
Read more on Bad Times at the El Royale
First Man (Oct. 12)
Whiz-kid director Damien Chazelle leaves behind the musical canvas of his previous two films, Whiplash and La La Land, and heads for the stars. This epic-looking biopic tells the story of Neil Armstrong, the first human to set foot on the Moon during the historic 1969 Apollo 11 mission. Ryan Gosling stars as Armstrong — perfect casting since Armstrong was a man of few words — and this looks like it has an inspiring The Right Stuff sweep to it. It's going to be at the Venice and Toronto film festivals, so we'll know if the buzz is real by the time you read this.
Suspiria (Nov. 2)
Normally we'd classify Dario Argento's surreal, blood-drenched 1977 classic as one of those horror milestones that cannot be remade, but damn if we're not excited to see what director Luca Guadagnino (Call Me by Your Name) has done with it. Guadagnino's films possess a luscious sensory texture and juicy onscreen vibrancy; it will be interesting to see how he applies that to this tale of a dance academy that fronts for a coven. Radiohead singer Thom Yorke, however, may have a hard time topping Goblin's unforgettable score. With Dakota Johnson, Tilda Swinton, Chloë Grace Moretz, and original Suspiria star Jessica Harper.
Bohemian Rhapsody (Nov. 2)
A biopic of one of the greatest rock frontmen who ever lived — Freddie Mercury of British quartet Queen — is long overdue, and it's kind of a shame that when one finally gets made it's overshadowed by the news of its director (Bryan Singer) getting dismissed with several weeks of filming left to go. Rami Malek looks the part as the spidery, crafty Mercury, whose colorful, incandescent stage presence made Queen one of the most unique groups of its time. Here's hoping pinch-hit director Dexter Fletcher was able to pull the film together — Freddie deserves it.
Read more on Bohemian Rhapsody
The Girl in the Spider's Web (Nov. 9)
A semi-sequel to David Fincher's 2011 The Girl with the Dragon Tattoo and a "soft" reboot of the nascent film series based on the Lisbeth Salander books, The Girl in the Spider's Web is itself based on a later novel that's not part of late author Stieg Larsson's original "Millennium Trilogy." Rising star Claire Foy takes over the role of Lisbeth from Rooney Mara as the tattooed hacker seeks vengeance for battered women and gets caught up in — of course — a vast conspiracy. The character of Lisbeth remains compelling, but it's hard to say whether audiences will want to revisit her dark world.
Read more on The Girl in the Spider's Web
Overlord (Nov. 9)
We haven't had a good "Nazi occult experiments" film in ages, and producer J.J. Abrams clearly concurs since he's been developing this World War II-set thriller under his Bad Robot banner for nearly a decade. With the usual shroud of mystery surrounding the project, which is directed by Julius Avery and stars a mostly little-known cast, speculation arose that it would actually be revealed as the fourth film in the ongoing Cloverfield series. Abrams shot that down, but in the meantime the trailer looks creepy enough on its own terms. Bring it on, Nazi dogs!
Fantastic Beasts: The Crimes of Grindelwald (Nov. 16)
Author J.K. Rowling, director David Yates, and the returning cast of Fantastic Beasts and Where to Find Them — including Eddie Redmayne, Katherine Waterston, Dan Fogler, Ezra Miller, and Zoë Kravitz — pick up right where they left off, battling evil wizard Gellert Grindelwald (Johnny Depp) in this second Harry Potter prequel. Controversy has dogged the film over Depp's casting and the is-he-or-isn't-he question of whether Albus Dumbledore (whose younger self is introduced here in the form of Jude Law) will be explicitly depicted as gay. But if you loved the first Fantastic Beasts, this is probably your cup of magical English tea.
Read more on Fantastic Beasts: The Crimes of Grindelwald
Widows (Nov. 16)
A knockout all-star cast led by Viola Davis, Michelle Rodriguez, Elizabeth Debicki, Colin Farrell, Daniel Kaluuya, Carrie Coon, Jacki Weaver, Jon Bernthal, and Liam Neeson populate director Steve McQueen's follow-up to his 2013 triumph 12 Years a Slave. Based on a 1983 British TV series, Widows follows the four titular women as they strive to finish the heist that their dead criminal husbands were unable to complete. Look for something perhaps a bit less heavy than 12 Years but almost equally empowering and gripping.
Creed II (Nov. 21)
Let's be honest: It's hard to imagine a worthy follow-up to 2015's evocative Creed without recalling the increasingly silly, formulaic path that previous Rocky sequels took. The signs are not good here either. Ryan Coogler has abdicated the director's chair, handing it to Steven Caple Jr., while the screenplay (co-written by Sylvester Stallone and Luke Cage showrunner Cheo Hodari Coker) finds Adonis Creed (Michael B. Jordan) getting in the ring against the son of Ivan Drago (Dolph Lundgren), the man who killed his father way back in Rocky IV. Still, never underestimate the sheer presence of Jordan — he might have to carry this one a few rounds.
Ralph Breaks the Internet (Nov. 21)
The 57th animated Disney film, this sequel to 2012's surprise hit Wreck-It Ralph seems to be moving away from the video game nostalgia of the first movie as Ralph (voiced by John C. Reilly) and Vanellope (Sarah Silverman) get sucked out of the arcade and into the wild world of the internet, where no doubt they will go into battle with Last Jedi haters, alt-right trolls, and Donald Trump (c'mon, we jest). Other Disney characters are expected to show up in droves, but let's hope all the corporate synergy doesn't drown out the charm and quirkiness that made the original such a delight.
Read more on Ralph Breaks the Internet
Mortal Engines (Dec. 14)
Based on the first of four novels by Philip Reeve, the premise of this Peter Jackson production (he co-produced with wife Fran Walsh and co-wrote the script with her and Philippa Boyens, both collaborators on the Lord of the Rings films) is quite audacious. In a future where civilization has fallen prey to some kind of cataclysm, the cities of the world have become gigantic mobile fortresses with the larger metropolises preying upon and consuming the smaller ones. A woman named Hester (Hera Hilmar) and a historian named Tom (Robert Sheehan) may hold the key to starting a resistance. We'll see if first-time director Christian Rivers can hit the ground running and perform the same wondrous world-building as his mentor Jackson.
Spider-Man: Into the Spider-Verse (Dec. 14)
This animated Spider-Man film is groundbreaking in many ways: It cultivates the idea of parallel multi-verses within Marvel's theatrical film canon for the first time while also introducing the popular comic book character of Miles Morales (voiced by Shameik Moore) as the first big-screen Spider-Man not named Peter Parker. Early footage looks beautiful and the tone seems right on the money. The film could muddy the Marvel waters—or become a separate, scintillating universe in its own right.
Read more on Spider-Man: Into the Spider-Verse
Mary Poppins Returns (Dec. 19)
P.L. Travers wrote seven more books about magical nanny Mary Poppins after publishing the original classic in 1934, so in theory there is a lot of material to mine for a legitimate sequel. Whether this film delves into Travers' canon or not remains to be seen, but we hope that director Rob Marshall can recapture at least some of the magic of the 1964 Disney masterpiece. We can't think of a better successor to Julie Andrews than Emily Blunt, and the rest of the cast — Lin-Manuel Miranda, Ben Whishaw, Meryl Streep, Emily Mortimer, and more — sounds supercalifragilisticexpialidocious.
Read more on Mary Poppins Returns
Bumblebee (Dec. 21)
The first film in the modern Transformers franchise not directed by Michael Bay, Bumblebee looks a bit more like E.T. or The Iron Giant than one of Bay's senses-numbing spectacles. This time out, the titular Autobot becomes friends with Charlie Watson (Hailee Steinfeld) years before the other films take place. Laika Studios head and director of Kubo and the Two Strings, Travis Knight, makes his live action debut behind the camera. Could Bumblebee become the first Transformers movie to make us feel the hot sting of tears?
Aquaman (Dec. 21)
After a sharply divided 2017 that saw Wonder Woman soar while Justice League crashed and burned, the DC film universe begins yet another reset with director James Wan's underwater sci-fi epic. Jason Momoa gets to carry the whole picture on his massive shoulders and while he's got charisma to spare, we'll see if he can float as a leading man. But even with multiple villains and a vast amount of watery CG, Wan is a canny and clever storyteller who could make Aquaman into the kind of buoyant, colorful cruise that DC needs right now.
Alita: Battle Angel (Dec. 21)
James Cameron has been developing a film version of the Battle Angel Alita manga for nearly 18 years, and was at one time slated to direct it himself. He has since handed those reins to Robert Rodriguez (Spy Kids) while staying on as producer for what has ballooned into a nearly $200 million project. That's a lot of dough to spend on a title that is largely unknown to the general public, featuring a little-known actress (Rosa Salazar from The Maze Runner series) as the voice behind a rather odd looking CG heroine. Never bet against Cameron, but he has his work cut out for him.
Read more on Alita: Battle Angel
Also watch for: Mandy (Sept. 14), White Boy Rick (Sept. 14), Life Itself (Sept. 21), Night School (Sept. 28), Smallfoot (Sept. 28), Hell Fest (Sept. 28), Apostle (Oct. 12 on Netflix), The Hate U Give (Oct. 19), The Nutcracker and the Four Realms (Nov. 2), The Grinch (Nov. 9), Green Book (Nov. 21), Robin Hood (Nov. 21), Anna and the Apocalypse (Nov. 30) and Welcome to Marwen (Dec. 21).
Don Kaye is a Los Angeles-based entertainment journalist and associate editor of Den of Geek. Other current and past outlets include Syfy, United Stations Radio Networks, Fandango, MSN, RollingStone.com and many more. Read more of his work here. Follow him on Twitter @donkaye