News
Extinction: Trailer for Netflix Sci-fi Thriller
The first trailer for Netflix's latest sci-fi thriller, Extinction, has arrived! Here's everything else we know about the film as well...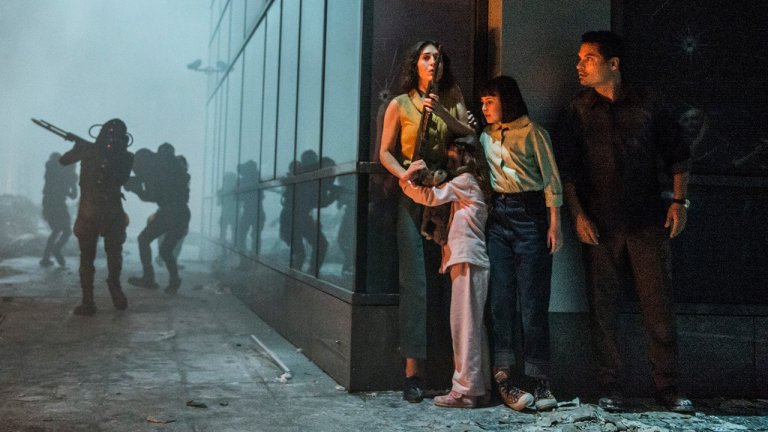 Michael Peña will battle extraterrestrials in the upcoming science-fiction thriller Extinction. The film is produced by Good Universe and Mandeville Films. It will be available to stream starting on July 27.
Here's the first trailer:
Joining Peña are Lizzy Caplan (Masters of Sex) and Mike Colter (Luke Cage). Lilly Aspell, Emma Booth, Israel Broussard, Lex Shrapnel, Erica Tremblay, Amelia Crouch, and Nikola Kent round out the cast.
Director Ben Young, the man behind the unconventional horror/thriller Hounds Of Love that took the Venice Film Festival by storm, will helm the film, working from a script penned by Spenser Cohen, Brad Caleb Kane and Arrival writer Eric Heisserer. Heisserer's work on Arrival was nominated for an Oscar this month.
Here is the synopsis for Extinction:
A working class father of the future faces recurring dreams of destruction by an unknown force. When his unwanted nightmares begin to affect his relationship with his family, he soon realizes they may be the key to a horrible reality, as a relentless alien attack begins to destroy the Earth. As the invaders' assault progresses, he is forced to find both the strength to protect his family and an understanding of who he truly is.
The movie was originally set to be released by Universal Pictures on Jan. 26 but was later pulled from the studio's schedule. Netflix has since picked up the rights.