Features
Exploring Robert Redford films about alienation
A true Hollywood star, Robert Redford is at his best in smaller, more personal films. Aliya picks three great films about alienation...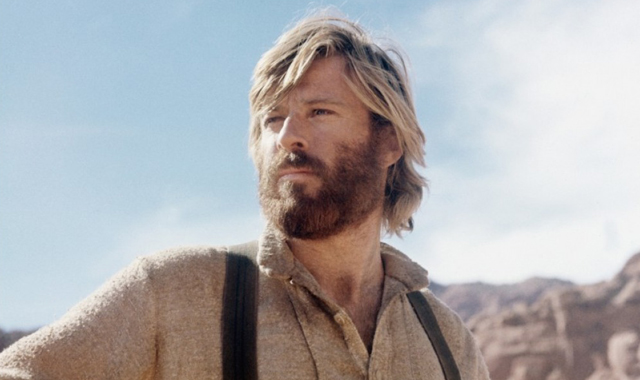 Robert Redford was the number one box office star of the early 70s, appearing in huge hits such as The Sting, The Way We Were, and Butch Cassidy And The Sundance Kid. None of those three films show him at his best as an actor, or address the kind of issues he felt passionately about.
His easy camaraderie with Paul Newman and his status as a sex symbol belied the political angle that influenced his decisions in filmmaking and acting. Once he had amassed enough power in Hollywood to call the shots, the roles he took changed; for me, his most interesting performances began once he believed in the message of the film he was making.
He remains a serious and passionate actor, director and organiser, dealing sometimes directly with governmental issues (All The President's Men, The Milagro Beanfield War, and The Candidate, for instance), but always looking at the power of the state versus the individual.
Here are three great films that feature Redford as an actor, and deal with a key theme in his work – alienation. He plays characters that cannot swallow the hypocrisy of the modern world any longer, and are going to act on their feelings. These films are powerful and challenging, and Redford is great in them. He doesn't often get credit for being a good actor, I think maybe because he looks a little disinterested in some of the big productions. But in these three films he has a truthfulness and a depth of feeling that affect the viewer deeply.
Jeremiah Johnson (1972)
It's a Western based on a true story, and it's very long, and very quiet. This makes it sound like the movie is going to be hard work, but it's far too beautiful and involving for that. There's very little dialogue and the movie relies on following Redford through snowy passes and on winding mountain trails as he attempts to give up town life and become a mountain man.
There's a steep learning curve, particularly through the first winter, but luckily Jeremiah Johnson meets an eccentric bear-trapper called Chris Lapp (played with charm and energy by Will Geer) who decides to show him the ropes. When they go their separate ways once more, Johnson can fend for himself. At least, until he becomes embroiled in helping the US Army Cavalry to cross Native American territory, and disturbs a Crow burial site. Then the film takes a strange turn into mythical territory, and Johnson becomes a figure beyond a lone man. He represents a primal struggle for survival against great odds, and the ending has a strong sense of the continuing nature of this struggle, while providing a satisfying moment of reconciliation.
Redford starred in six Sydney Pollack-directed movies, including The Way We Were, Three Days Of The Condor, and Out Of Africa, but I think this might be the best of a good bunch. There's very little explanation to why Jeremiah Johnson chooses this life, and the lack of wordiness or motivation makes the character much more interesting. The people he meets in the mountains and the emotional connections he makes with them, mainly unwillingly, are very moving. There's something watchable to Redford's face as he observes this people with the same kind of look he gives to the bears that Lapp chases. He is vulnerable to his feelings as much as to the harsh winters, and although he has chosen the path of the outsider, society still won't leave him alone, leading to tragedy.
The Electric Horseman (1979)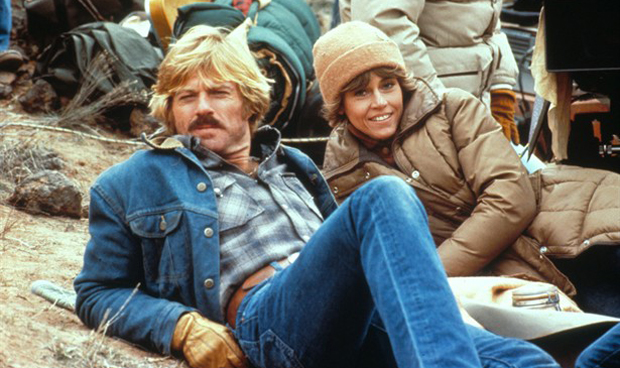 The Electric Horseman starts with a montage of an entire career. We see Sonny Steele (Redford) as a young cowboy, winning his first award, and then the second, third, and so on, until five awards sit on his bedside table. There are also broken bones and broken-hearted women, and a contract to become the face of a breakfast cereal for a very sinister organisation called AmpCo. Then Sonny Steele's name falls lower on the billings of events, and he ends up standing in a promotional event in Las Vegas alongside a thoroughbred stallion that's been drugged. Sonny connects with the racehorse, and realises they are both trapped in a system that's destroying them. And so he decides to help the horse escape.
Jane Fonda makes a great sparring partner for Redford in this movie. She plays Hallie Martin, a sharp journalist who follows her instincts and ends up taking a long journey with Steele, and admiring his attempt to return to a simpler life. Fonda appeared with Redford in Barefoot In The Park, back at the start of their careers, and they had great chemistry then. The chemistry is subtly different in The Electric Horseman – they've both got a weary look about them, and a sense of a history of unsuccessful romance that's very effective.
Willie Nelson is also in the film and he's great. Also, he provided a lot of songs that really work well. His version of Mammas Don't Let Your Babies Grow Up To Be Cowboys is brilliant, and it contains the line – "They'll never stay home and they're always alone" and that sums up the feeling you get. The solitude of Sonny's path on his trek to return the horse to the wild is part of his rejection of AmpCo and the corporate path. It looks lonely. Beautiful and morally courageous, but lonely.
Brubaker (1980)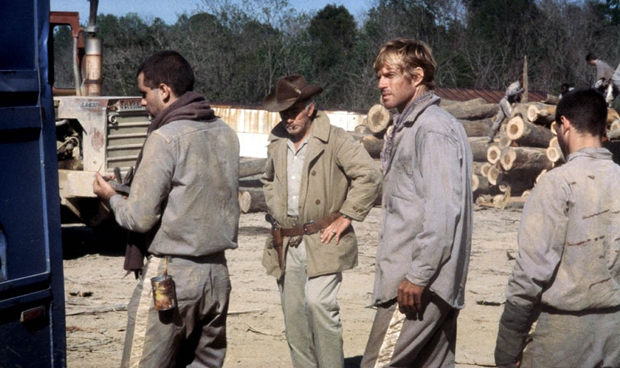 This is a story of prison reform. I don't want to give away the first twist, so I'm only going to say that Wakefield Penitentiary in Arkansas is a horrible, horrible place to be incarcerated, and Henry Brubaker (Redford) is committed to doing something about it. The opposition he comes up against ranges from the lowest criminal to the State Governor; it suits so many people to maintain a status quo of corruption, theft, degradation, and murder.
There are lots of good reasons to watch Brubaker, not least of which is the supporting cast. Yaphet Kotto is so intense in a small role as a Trustee (a prisoner who works as a guard) and David Keith is totally believable as a habitual reoffender who's been put away for life for breaking a toilet. Morgan Freeman makes his film debut and plays crazy really well.
This is a political film of extremes – Brubaker must fight everyone to get his point of view across. He can't see the middle ground. Corruption cannot be condoned amongst the prisoners, the guards, or the board of directors and that point of view makes him very unpopular. He has no real allies. Perhaps the best moments of the film come when he faces people down. Redford has a steely glare and a dismissive jut of the chin as Brubaker. He doesn't need friends to know right from wrong, and maybe that's the key point of these three films. Friends are an irrelevance in all of them. That seems strange for an actor who hit superstardom playing the Sundance Kid in the greatest of all buddy-movies.  
But that's the interesting thing about Robert Redford – from starting out in theatre to organising the Sundance Festival, he's remained true to his own ideas about life and society, even though we've viewed him as a romantic star or a heart-throb. The image funds the political examinations, providing a model that stars such as George Clooney continue to use today. Redford has collected together a rare body of work with strong themes and deep meanings, and Jeremiah Johnson, The Electric Horseman, and Brubaker are only three examples of the alienated hero that he plays so well.
Follow our Twitter feed for faster news and bad jokes right here. And be our Facebook chum here.