News
Exclusive: Aaron Eckhart Not Returning for Angel Has Fallen
Gerard Butler is going to have to find a new President to protect.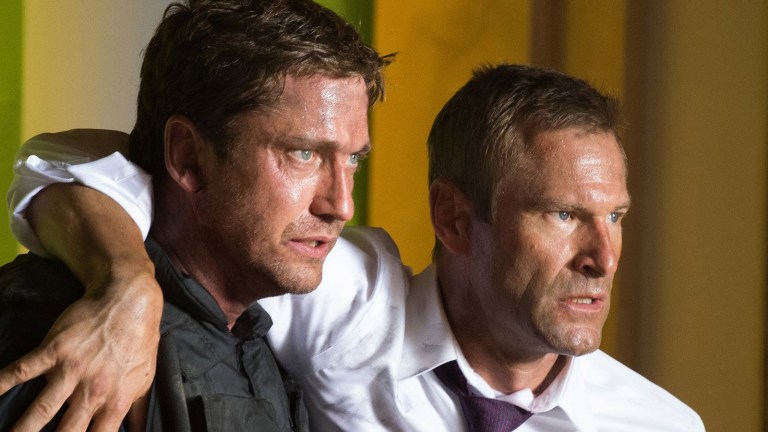 Although a follow-up to Olympus Has Fallen and London Has Fallen, titled Angel Has Fallen, was announced last week, it looks like Gerard Butler's Secret Service agent Mike Banning will be in charge of saving a different President.
Speaking with us on Saturday during the press day for his new movie Bleed For This, Aaron Eckhart confirmed he will not be returning to the Fallen series as President Benjamin Asher. "Oh no, the President is now playing golf," laughed Eckhart. "I'm at my presidential library, I'm playing golf and I'm out of danger."
Reiterating that he was "done" as the Commander-in-Chief, Eckhart added, "My agent told me about that yesterday, that they're going to do another one. But I have nothing to do with that."
That begs the question of whether the series' producers will recast the role, or if Morgan Freeman's Vice President Trumbull or a new Chief Executive will take over in the Oval Office. Whoever it is, Butler will be cracking plenty of bones to defend that person – this time apparently aboard Air Force One — when Angel Has Fallen presumably hits screens in 2018.
Meanwhile, watch for more on Eckhart's superb performance as trainer Kevin Rooney in Bleed For This when our full interview goes live closer to the film's November 18 release date.