News
E.T. and Elliott Reunite in Christmas Commercial
This is not the E.T. sequel we would've predicted.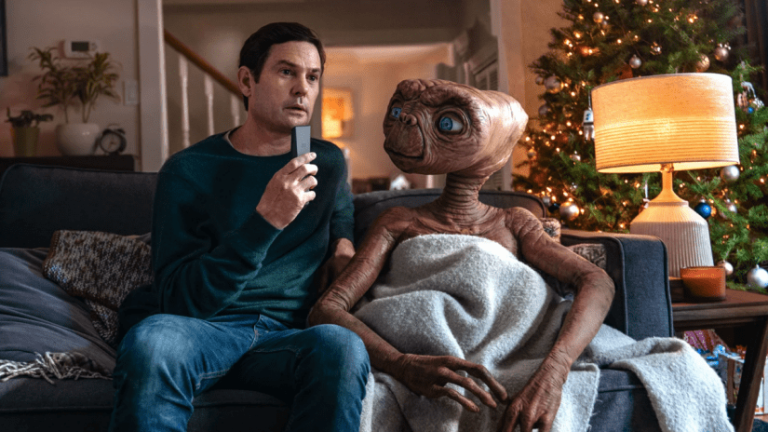 This article comes from Den of Geek UK.
37 years after the release of Steven Spielberg's sci-fi classic, E.T. The Extra-Terrestrial, the film's eponymous alien has reunited with his human chum Elliott. Henry Thomas even reprises his role opposite the loveable otherworldly creature… but there's a catch. This isn't a new E.T. movie. It's a Christmas commercial for Xfinity.
Yep, it looks like the tear-jerking Christmas advert tradition has evolved to a whole new level of nostalgia-based promotion for massive companies. Plinky-plonky piano covers of classic pop songs are out, and stealth sequels to iconic movies are in. What's next, a Back To The Future-themed commercial for Amazon Next-Day Delivery where Doc uses the Delorean to deliver presents with Santa? Actually, that sounds pretty rad.
Anyway, back to this unexpected E.T. sequel. You can watch the commercial, which shows E.T. popping back to Earth for a long-overdue reunion with Elliott, right here…
This isn't the first time that someone has tried to follow on from the original 1982 E.T. movie. Steven Spielberg himself, in fact, worked with the film's writer Melissa Mathison to develop a follow-up at the time that the original flick was in cinemas. They worked on a treatment called E.T. II: Nocturnal Fears, but the film never came to be. It did earn a spot on our list of the greatest movie sequels never made, though.
We're guessing that Spielberg and Mathison's version wouldn't have featured E.T. wearing a VR headset or snuggling on the sofa to watch Christmas movies with Elliott and his kids. But this is the reality we're living in, so let's just appreciate this little E.T. sequel for what is – a cutesy commercial that has flared up our nostalgia glands and brought a bit of joy into the world.
Ooh, also, if you this advert has got you in the mood for some Christmas shopping, click here for our rundown of the greatest Black Friday deals.