News
Ennio Morricone's Best Film Scores
We celebrate the varied work of Ennio Morricone, whose compositions have appeared in a range of classic films...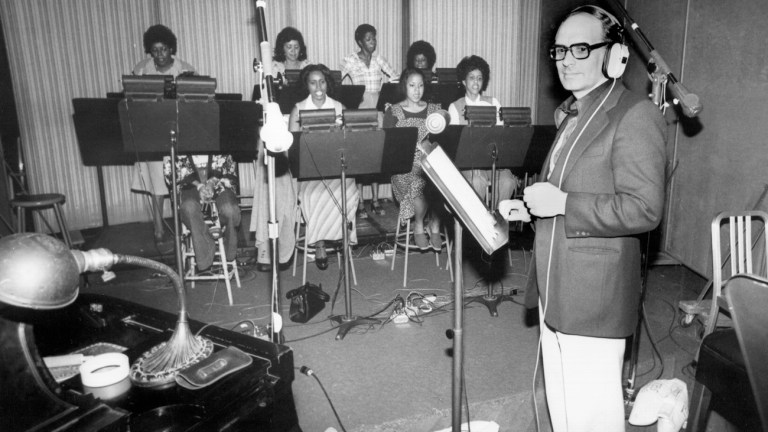 Ennio Morricone is one of the most prolific, successful and respected composers of all time and has contributed a number of scores that are undeniable classics. With the recent release of Sergio Leone's spaghetti western trilogy on Blu-ray, I thought now would be a good time to look at some of Morricone's finest work to date.
10. Lolita
Whilst the 1997 remake of Lolita doesn't compare favorably to Stanley Kubrick's excellent 1962 adaptation, Morricone's score far exceeds the quality of the originals. His work here is often overlooked, which is a great shame as it provides a highlight in his back catalogue.
The music throughout is outstanding, with Morricone utilizing delicate melodic flourishes to put across the obsessive nature of the film's central protagonist.
The accompanying soundtrack sees Morricone's work broken up with pop songs, making it an uneven listen. With some strategic deleting, however, it's easy to enjoy the score as a single piece and appreciate the master's fine work.
9. Bulworth
For his score for Bulworth, Morricone's compositions are split into two extended suites. Both have their knowing and humorous moments, but are distinctly different in their overall tone. The first is almost dreamlike, whereas the second is more up-tempo and often borders on jazz.
An accomplished, interesting and sometimes creepy score, it gives the film its musical backbone and stands out amongst the use of rap songs.
8. The Thing
The score for The Thing marked one of Morricone's earliest forays into composing an electronic score and, given the moods evoked throughout, it could easily be attributed to John Carpenter on first listen.
Morricone acknowledged Carpenter's earlier work as an influence on the piece. Whilst not the easiest listen in Morricone's extensive back catalogue, this is a fantastic piece of work. He draws out the sense of dread and atmosphere that enhances the film considerably and a large part of why the film holds up as well as it does today is down to the score.
7. Once Upon A Time in America
Like the movie it accompanies, Morricone's score requires absolute attention from its audience in order to be appreciated fully. A piece of work that is incredibly emotive and beautiful, it features countless standout moments as well as leitmotifs.
Poverty is, perhaps, my favorite of any of Morricone's work in Once Upon a Time in America. Quite simply, it's a stunning piece of music, but there are other moments that come close. Amapola Pt 2 and Deborah's Theme are both fantastic pieces that stand up favorably against any of the pieces in his back catalogue.
6. The Untouchables
Brian De Palma's 1987 Prohibition era drama was a film that I watched countless times when I was younger and it also marked one of the earliest instances where I waited to see who composed the music. The main theme is undoubtedly the highlight. Suspenseful, powerful, upbeat and emotive, it fully encapsulates what the film required to give key scenes dramatic weight.
Main theme aside, the score is an incredibly accomplished piece of work from top to bottom, utilizing themes heard in his score for Once Upon A Time in America and expanding on them.
5. The Mission
Morricone's score for Roland Joffé's 1986 film focussing on the Jesuit Reductions is widely regarded as one of the greatest scores of all time and, whilst Morricone didn't win an Academy Award for his work here, many of the pieces have been widely used since in commercials and TV shows. Morricone expertly portrays the clash of cultures as he uses a number of styles throughout, utilizing the South American styling of Incantation alongside The London Philharmonic Orchestra.
It's a powerful and haunting score that is worthy of the high praise it received.
4. A Fistful of Dollars
Morricone was called upon by director Sergio Leone to provide music in a similar vein to Dimitri Tiomkin's work on Rio Bravo. There's an almost haunting sense of isolation in much of the score, with the sounds of whistling and harmonica, but there are also moments of high drama.
The bulk of the score was written before the film was made and it's rumored that Leone left extended scenes intact, rather than cutting them, so as not to cut Morricone's work. So, in a sense, this is a case of the music dictating the film as opposed to vice versa and arguably plays a greater role in the film than what's on screen.
3. For A Few Dollars More
For the second in the 'man with no name' western trilogy, Morricone's contribution is relatively minor, given that he only recorded around 14 minutes of new material for the film. Fourteen minutes of high quality material that recalls the themes heard in his work on A Fistful of Dollars and sees another instrument added to his arsenal with the oboe, which is used to stunning effect.
Given that original material for the film is slight, it's perhaps best to avoid picking up the score, especially if you have the soundtrack for the previous film, as this release is padded out with key cues from it.
2. The Good, The Bad and the Ugly
Morricone's score for the third part of the trilogy is an undeniable masterpiece that set a standard, not only for the Western genre, but for movie scores in general.
There's a gritty feel to the score that compliments the film and it draws out the dramatic intensity of some of the movie's key scenes, as well as reining it in and providing some beautiful accompaniments for the more serene moments.
1. Once Upon A Time In The West
A number of leitmotifs are used throughout Morricone's work here to relate to each of the main characters in Sergio Leone's Western epic. As was the case for many of their collaborations, the music was composed prior to the start of shooting, so Leone would have the music as a reference point whilst filming, an undeniably strong tactic, given the quality collaborations it has produced for the pair.
Man With A Harmonica and Finale are the obvious standouts for the score, two fantastic pieces that are classic Morricone.