News
Elle Fanning Sings Ellie Goulding in Teen Spirit Trailer
We now have two lyrical trailers for Teen Spirit, a hypnotic music film in which Elle Fanning reveals her convincing inner-pop star.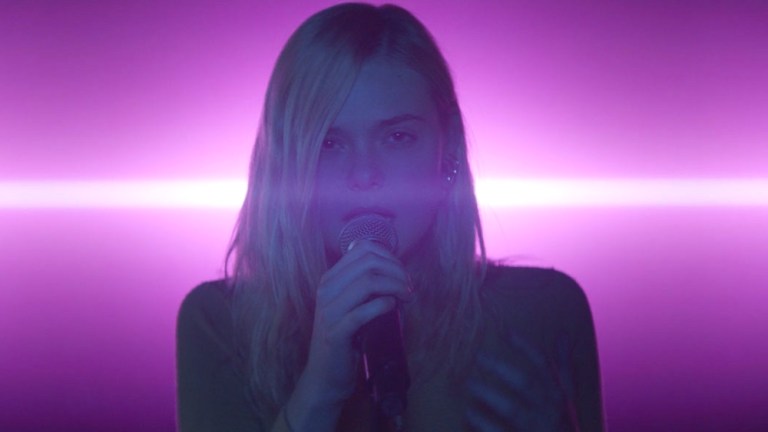 Who knew Elle Fanning could sing? It was a genuine surprise when we caught Teen Spirit back in September at TIFF, and it seems the world is catching on now that the the second Teen Spirit trailer dropping today. Having been picked up by Bleecker Street and LD Entertainment, the film is the directorial debut for actor Max Minghella (and his second screenplay at that), which chronicles in a pseudo-fantastical mood a young woman's trip down the pop music rabbit hole. And in the second trailer, that rabbit hole has never looked so inviting as when scored to an Ellie Goulding-written song, "Lights," as performed by Elle Fanning.
Set in the backdrop of a fictional musical singing competition in the United Kingdom, Teen Spirit finds Elle Fanning's Violet as a first generation Russian immigrant to the UK—or at least a small island off the mainland. She is isolated except when she sings, a fact that is helped by a kindly ex-opera singer living down the street (Zlatko Buric). Her aspirations make her both ideal and also endangered in the world of pop dreams and entertainment manipulations. It might all seem like pretty standard stuff, but the way Minghella shoots the moments Fanning takes the mic have a hypnotic vibrancy, as does the decidedly dry humor between Fanning and Buric. You get just a glimpse of that in the trailer below, as well as a reminder that the songs Fanning impressively sings includes compositions by Ellie Goulding, Annie Lennox, Carly Rae Jepsen, and more.
Teen Spirit also stars Rebecca Hall as a smiling record executive and is scheduled to begin its theatrical rollout on April 5. Get ready to find your voice.
Here is also the first trailer for those who want an encore.
David Crow is the Film Section Editor at Den of Geek. He's also a member of the Online Film Critics Society. Read more of his work here. You can follow him on Twitter @DCrowsNest.