News
Edinburgh Film Festival: Lars von Triers' Antichrist
Daniel has seen Lars von Triers' controversy-baiting Antichrist. But he's not quite sure how to review it...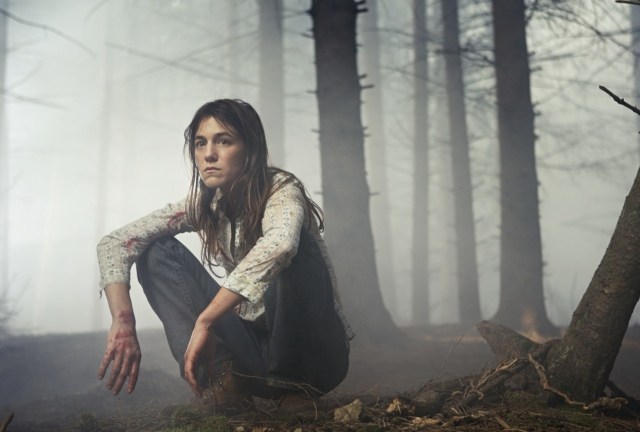 I'm baffled. For the first time at this festival, I'm absolutely scunnered on what to say about a film. Lars von Trier's notorious Antichrist has been the subject of heavy debate since its unveiling at Cannes, and it will screen uncut in Edinburgh on Wednesday night. Maybe the public will take to it far differently than I will – maybe they'll embrace it or slate it? In my opinion, Antichrist is not the great divider I thought it would be… for better or worse, it's just another film. A highly controversial one, but just another film.
Antichrist follows a married couple (played by Willem Dafoe and Charlotte Gainsbourg, winner of Best Actress at Cannes) retreating to a cabin in the woods following the tragic death of their child, which we see in the prologue. And that's not all you see – as you've probably read following the shitstorm the press got wound up into, we also meet a deer foetus hanging out of it's mother's backside, a graphic burning, full-on "insertion" during a sex scene (shot in glorious slo-mo), subliminal imagery hidden in shots of trees and, well, those already famous mutilations involving the main characters. All I'm going to say is you may want to cancel any DIY plans in the near future.
The film is an odd mash-up of grave relationship drama and torture-tastic brainy horror, and it's a surprise watching the film as to just how much of it is, well, boring relationship drama. Not that these chamber dramas cannot be interesting, but Dafoe and Gainsbourg talk in stilted tones of how much pain they're in, how life is meaningless, and how "nature is Satan's church". It doesn't help that Dafoe's character is a therapist, with much of his dialogue being in – ugh – therapy chatter, which doesn't make for thrilling cinema. But even within these scenes, there are superb touches that allow He and She's (the characters are never named) relationship to feel truthful, and despite the abandonment of reality as the film goes on, the psychological torment the couple wreak on each other – intentionally or otherwise – can occasionally be as chilling as any mano-o-mano.
From here I could talk about how repulsed I was about the film's graphic violence – at once both out-of-sync with the rest of the picture and a necessary means-to-an-end for the characters – or even the ever-persistent von Trier misogyny. Here, that's summed up in a debate as to whether women are part of the feral side of nature, or witches, or if 16th century "witches" deserved to be burnt at the stake. But oddly enough, after the WTF dedication to Andrei Tarkovsky that closes the film, I felt not much anger at what I had seen, nor did I feel the need to scream my praise. I was one in a million: mostly dispassionate. Sure, I did find more elements of the film that I'd criticise than I would commend, but I felt more strongly about von Trier's Dogville.
Does it say something about me that a self-professed scaredy cat can watch a film as notorious as this one and not even have a strong reaction to it? Maybe I'm von Trier's worst enemy, a critic who adopts the diplomatic stance to something controversial. Maybe my true feelings for the film will come to me a day, a week, maybe a year from now. Maybe I'm not shocked by the genital stuff because I've seen pornography before? Would a regular twentysomething feel the same that I did? (I asked my friends and, eh, apparently not quite.)
So that's what I've taken from Antichrist: what does film say about me? This is more an egotrip than a review, but really, I can't think too long about what I think about the film right now. This is all about an art form showing me what my limits are, acceptable or as unacceptable as they may be to others. I won't be running out to buy Salo tomorrow, but I think I can take on something else now. Even if I hated Antichrist with a passion, maybe I'd have to push that aside and just concentrate on what I was impressed by – Anthony Dod Mantle's beautiful cinematography, the sound design, Willem Dafoe's underrated performance – and if I loved it with a passion, well, vice versa. At the end of the day, Antichrist is just another film…
…with a talking fox.Is there something wrong with my reaction to the film? Has any other film opened up doors for you as to how you see films? Have you seen Antichrist? If you can, get at me on twitter.com/sitartattoo and share your thoughts and opinions.
I was hoping to catch Pomegranates and Myrrh and The September Issue today but I've been hit with a horrible cold-hayfever-insomnia-flu-fever-hunger virus that I'm calling the "festival flu" so I'll be resting tonight. If I get a lot better tonight, then expect the usual deluge of chat on the film festival, as well as (hopefully) a friend's recap on just what went down during that sold-out chat with Darren Aronofsky. See you then.