News
E! Creating Jawbreaker TV Show Based on 90s Cult Classic
First Charmed, now Jawbreaker. Add another 90s reboot to the prospective TV series list.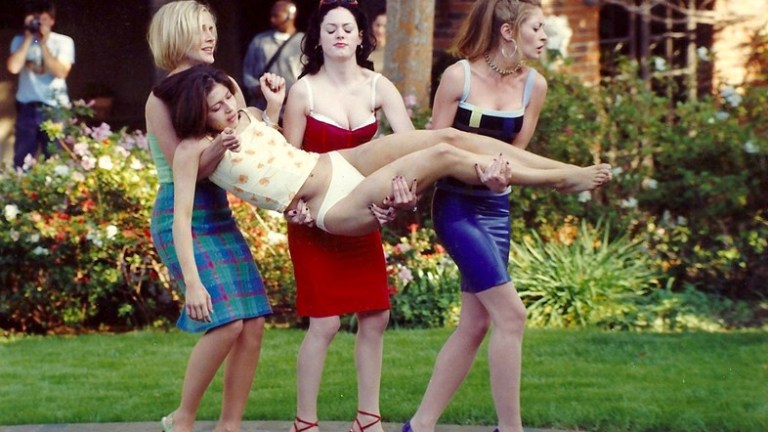 The 90s are back. If you don't believe me, believe the tattoo choker trend and the upcoming Charmed reboot. E! is hoping to cash in on the nostalgia with a TV series based on Jawbreaker, the 1999 teen movie classic starring Rose McGowan, Julie Benz, Rebecca Gayheart, and Judy Greer. (If E! got any of this impressive cast to return for the show, that would be a great start.)
For those who have never seen it, Jawbreakerthe film is a dark comedy about a clique of high school girls whose lives are turned upside down following the accidental killing of their friend. (The death involves a jawbreaker candy.) In the wake of the death, the clique goes to increasingly desperate lengths to cover up their part in it.
According to Deadline, Jawbreaker's writer-director Darren Stein will co-write the TV adaptation alongside George Northy (G.B.F.). Stein also directed G.B.F.It sounds like the plot of the TV show will be a bit different from the movie's, and will cast the main characters a bit older. The Jawbreakerseries will be set in the "fame-obsessed world" of Beverly Hills. This time, the death will happen at a bachelorette party and the resulting machinations is described as an "audacious, juicy soap in which the women will go to great lengths to keep their secret hidden."
So far, the JawbreakerTV series is only in development, but, if it goes through to a series order, it could catch some of the Pretty Little Liarsaudience, which will be looking for a female-led murder mystery to latch onto after the teen drama sensation ends.
Here's the trailer for the 1999 Jawbreaker movie, to give you an idea of the tone of the film…