News
Dunkirk to Get Largest 70MM Release in 21st Century, Plus Release Date, Story Details, Casting & More!
Christopher Nolan's Dunkirk is almost here, and it will receive a wider 70MM release than any recent film, including The Hateful Eight!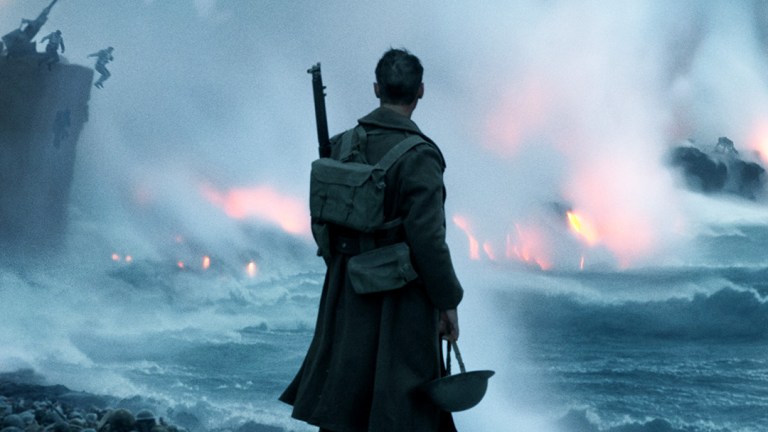 Ever since Christopher Nolan took us to the edge of the time and space with reality-bending ambition, many speculated on what he could possibly do next. Indeed, it is hard to imagine anything exceeding the 70mm IMAX reach of Interstellar's unworldly aspirations. But he's going to try with a drama set in one of the darkest hours of World War II: Dunkirk.
Latest Dunkirk News
Christopher Nolan's Dunkirk will enjoy the widest 70MM release of any film in a quarter-centurry. Indeed, Warner Bros. proudly announced in a press release that the film will be screened at 125 locations in the way Nolan intended: 70MM. This is in large part thanks to Quentin Tarantino's The Hateful Eight, which Tarantino had hoped would spur a renaissance in 70MM film presentations in 2015. That film was screened in about 100 locations in theaters and projectors specifically retrofitted for that film. WB has now bought most of those projectors from The Weinstein Company and is adding their tally to the already 30 confirmed IMAX 70MM presentations of the picture. This brings its total to 125 screens across the country releasing Dunkirk in the discerning cinephile's preferred viewing method. For the record this is also up from the North American distribution of Interstellar by Parmaount, who released that film in 70MM at 50 IMAX locations.
That's a bloody good showing, if you ask us.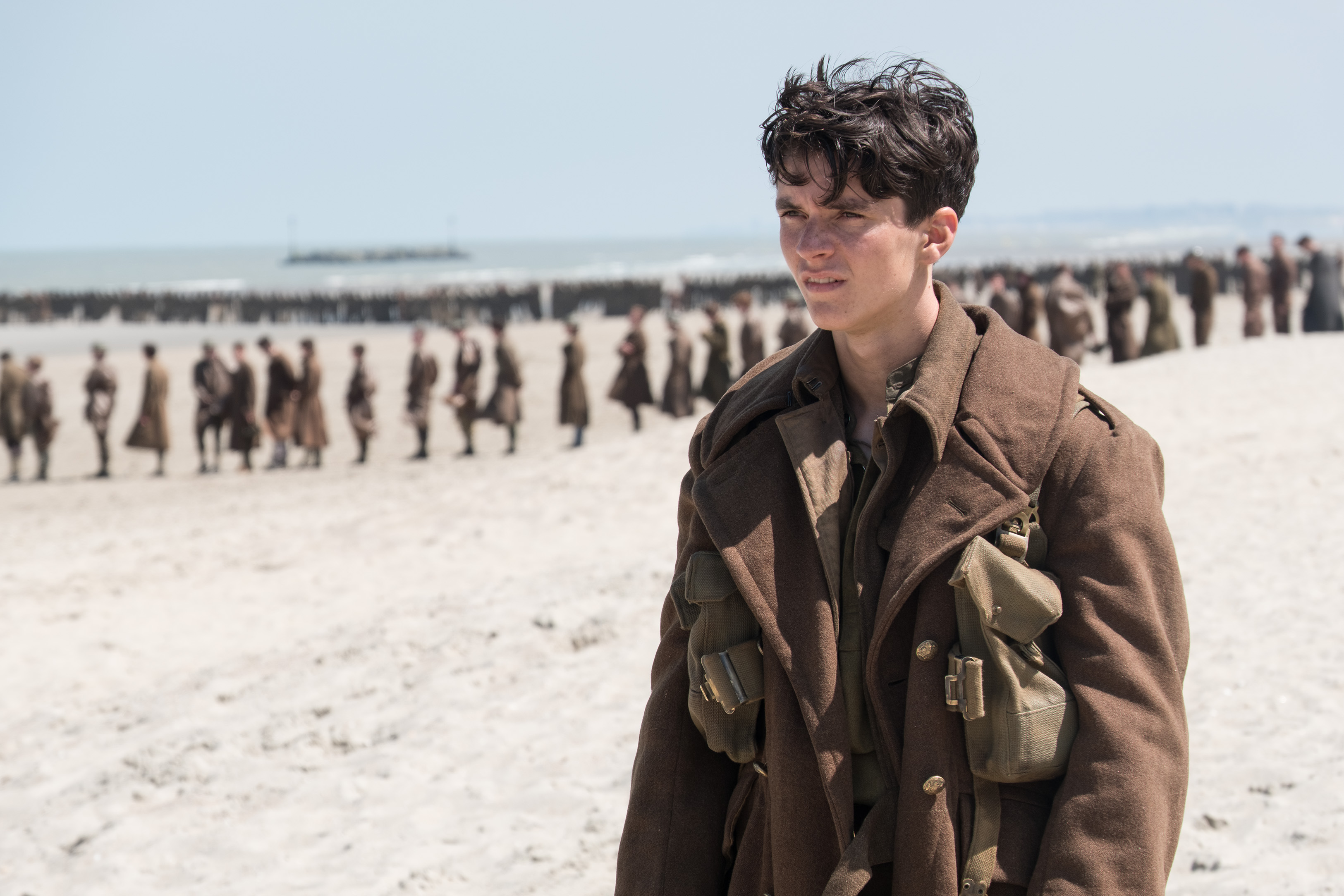 Dunkirk Trailer
The second trailer stops playing coy with the ponderous implicatons of the Dunkirk operation that saved 400,000 British lives on a French shore. In the new trailer, the star-studded cast, including Kenneth Branagh, Cillian Murphy, Tom Hardy, and Mark Rylance showcase the multiple vantage points of one of Britain's greatest trials and greatest hours.
You can almost see it, home. You can also almost see yourself in a theater watching Christopher Nolan's next film. It's there in this first trailer.
Dunkirk Release Date
WB has slated the film for July 21, 2017, however, Nolan and celluloid fanatics will be able to see Dunkirk two days earlier on July 19 when the film opens in select IMAX theaters for 70mm presentations.
We've also got the first poster for Dunkirkand it is suitably Nolan-esque and also fairly reminiscent of the Star Trek Into Darknessposter that saw Cumberbatch staring out at his own destruction. Still, the poster definitely gets the job done when it comes to conveying the all-encompassing urgency of the subject matter: the mass evacuation of Dunkirk following the fall of France to the German forces during World War II. Check it out…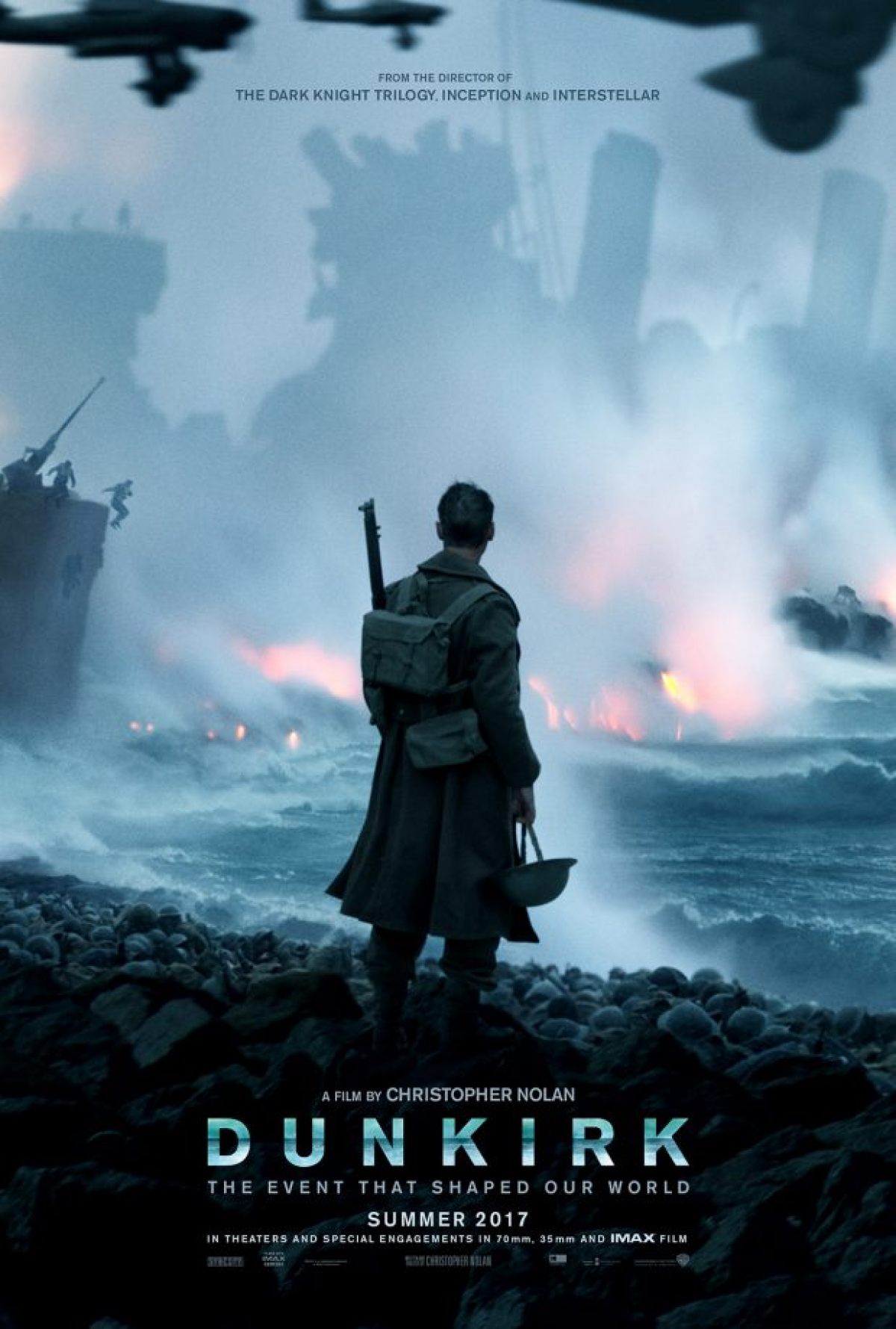 Dunkirk PG-13 Rating
The MPAA's reasoning for the PG-13, according to Exhibitor Relations, is that it the movie contains an "intense war experience and some language."
Dunkirk Story
The primary gist of Dunkirk is understanable to anyone with a passing knowledge of WWII: it's set during the infamous evacuation of the Northern port city in France where the British moved 338,226 Allied Soldiers by any seaworthy vessel available out of the reach of the Nazis' grasp within eight days following the Fall of France to Axis Powers.
Here's an official synopsis from Warner Bros:
Dunkirk opens as hundreds of thousands of British and Allied troops are surrounded by enemy forces. Trapped on the beach with their backs to the sea they face an impossible situation as the enemy closes in.
Actor Tom Hardy, while promoting Taboo, further teased some details when he chatted with The Wrap:
It's a very profound story. What's lovely about it is that it's a classic film, it's so epic in the storytelling, and Chris [Nolan] has gone back to an old school film from the 1940s, 1950s and retold it. Just being there, you can see the effort in this huge orchestration. I was just in my own play – I had limited exposure to cast and crew. And there was also a lot of pressure, in the same way. I grew up in the generation of their granddads talking about the war. Everyone was colored by that experience — Dunkirk was a big turning point in the war.
Dunkirk Cast and Crew
Dunkirk stars Tom Hardy, Mark Rylance, Kenneth Branagh, Cillian Murphy, and Fionn Whitehead. The ensemble cast also includes Aneurin Barnard, Harry Styles (yes, that Harry Styles), James D'Arcy, Jack Lowden, Barry Keoghan and Tom Glynn-Carney.
Den of Geek also exclusively learned from sources close to the project that Leonardio DiCaprio will not appear in the movie despite recent internet rumors to the contrary.
Nolan fans will also be intrigued that like the last two The Dark Knight films and Interstellar, Dunkirk will utilize 65mm IMAX photography. However, unlike those aforementioned films, the non-IMAX scenes will be shot on large format 65mm film. Whether this might be the result or influence of Quentin Tarantino's use of Ultra Panavision 70mm on The Hateful Eight remains to be seen, but it is a curious addition to Nolan's filmmaking process.
Additionally, the cinematogrpahy will be overseen by Hoyte van Hoytema, the director of photography on Interstellar and Spectre. (Wally Pfister who was cinematographer on all three Batman movies and Inception has transitioned into directing himself).
Hans Zimmer is also onboard to provide the score.
Dunkirk Influences
Christopher Nolan curated the latest summer series for the British Film Institute, and rather tellingly listed influences, both war and more abstract, on Dunkirk. And the movies he listed are almost entirely based on taut suspense and impactful thrills. They include All Quiet on the Western Front (1930), Alien (1979), Speed (1994), Unstoppable (2010), and more. You can read below his rationale for listing everything from 1920s German Expressionism to '90s action movie popcorn.
You might expect a season of films leading up to a screening of Dunkirk to be a selection of war movies. But I chose to approach Dunkirk more as survival story than war film. One look at James Jones' essay on 'Phony War Films' (in which he takes down several of my old favourites) immediately shows you the perils of taking on real-life combat in a dramatic motion picture. In Jones' estimation All Quiet on the Western Front (Lewis Milestone, 1930) said it first and best: war dehumanises. Revisiting that masterpiece it is hard to disagree that the intensity and horror have never been bettered. For me, the film demonstrates the power of resisting the convention of finding meaning and logic in individual fate. Most of the other films in this series fall into two different, but overlapping categories. From established classics of tension like The Wages of Fear (Henri-Georges Clouzot, 1953) and Alien (Ridley Scott, 1979) through to the more recent ticking-clock nail-biters Speed (Jan de Bont, 1994) and Tony Scott's final film, the relentless Unstoppable (2010), our season explores the mechanics and uses of suspense to modulate an audience's response to narrative.

Other titles explore the possibilities of purely visual storytelling, whether literally, in the case of the silent epics – Stroheim's Greed (1924) and Murnau's Sunrise (1927) – or in part, like the thrilling windswept beaches and crashing waves of Ryan's Daughter (David Lean, 1970). The relationship of geographical spectacle to narrative and thematic drive in these works is extraordinary and inspiring. Pure cinema. The Battle of Algiers (Gillo Pontecorvo, 1966) is a timeless and affecting verité narrative, which forces empathy with its characters in the least theatrical manner imaginable. We care about the people in the film simply because we feel immersed in their reality and the odds they face. The visual splendour, intertwined narratives and aggressively anachronistic music of Hugh Hudson's Chariots of Fire (1981) combined to create a masterpiece of British understatement whose popularity rapidly obscured its radical nature. Finally, no examination of cinematic suspense and visual storytelling would be complete without Hitchcock, and his technical virtuosity in Foreign Correspondent's (1940) portrayal of the downing of a plane at sea provided inspiration for much of what we attempted in Dunkirk. All the films are screened on 35mm or 70mm prints. I hope you will enjoy the rare opportunity of seeing these incredible movies in their original analogue glory, as nature intended.
Dunkirk Running Time
Dunkirk will be Christopher Nolan's shortest film since his very first (and non-feature length) movie from all the way back in 1998, Following. With a running time of only one hour and 46 minutes, Dunkirk will be emphasizing high tension throughout its brief but impactful viewing experience.