News
Duncan Jones Pitched a Prez DC Movie to Warner Bros.
Moon and Warcraft director Duncan Jones said that he once pitched a Prez movie to Warner Bros., but the studio didn't bite.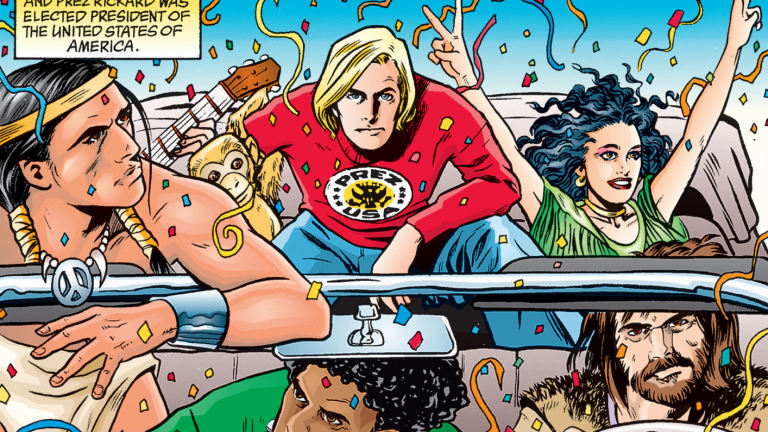 At a time when even Martin Scorsese has considered producing a Joker origin movie, it's not surprising to hear that big-name filmmakers are floating ideas for comic book movies around. One such filmmaker is Moon and Warcraft director Duncan Jones, who has revealed that he once pitched a DC movie to Warner Bros. — and an unconventional one at that. 
Jones, who is set to direct a Rogue Trooper movie next, wanted to make a film based on the DC character Prez Rickard, who first appeared in a short-lived comics series from 1973 by Joe Simon and Jerry Grandenetti. In the original story, Prez becomes the first teenage president and gets into all sorts of bizarre shenanigans involving vampires, werewolves, and George Washington's descendant. The series was canceled by DC after four issues.
The director said that his take on Prez would have been inspired by a story Neil Gaiman wrote in 1993 for his seminal fantasy horror series, Sandman. 
"I've mentioned this once before, but there was a fantastic DC comic book called Prez once upon a time that [Neil Gaiman] did a spin on, about a young kid genius who solves the problems of the world," Jones revealed on Twitter, while talking about renewable energy (Prez solves the energy crisis in the Gaiman story). "I wanted to make that movie but DC guy at WB not interested."
Jones didn't share any further details about his pitch, but did speculate on why WB wasn't interested in his Prez movie: "Didn't fit in with their 'fights in tights' ethos, I guess."
While Prez might not be coming to the big screen any time soon, the character was recently revived by DC in 2015 as a miniseries starring a teen girl named Beth Ross who also becomes president and chooses Prez as her vice-president. The miniseries was well-received and ran for six issues, and that may be all we hear from our president for now. 
John Saavedra is an associate editor at Den of Geek. You can find all of his work here. Follow him on Twitter @johnsjr9. 
Read the latest Den of Geek Special Edition Magazine Here!