Features
The Fourth Wall Podcast: Duncan Jones Looks Back on Moon After Ten Years
Duncan Jones reflects on his directorial debut, Moon, as the sci-fi Sundance darling receives a tenth anniversary 4K Ultra HD release.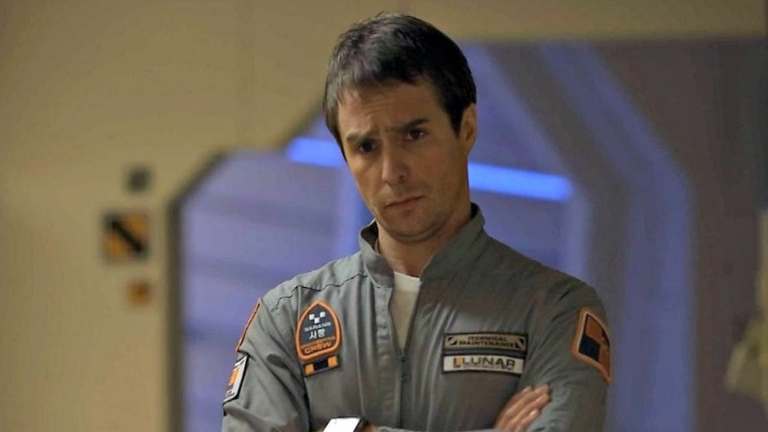 After Moon garnered praise at the 2009 Sundance Film Festival, director Duncan Jones won a BAFTA Award for Outstanding Debut by a British Director, and the science fiction story starring Sam Rockwell quickly became a modern classic. Now, upon the tenth anniversary of the movie's release, new viewers and established fans alike can enjoy the story of a lone astronaut in the final stretch of his three-year contract mining the lunar surface in a special 4K Ultra HD release available today. We spoke to Jones on The Fourth Wall podcast about what new things might pop off the screen in this high definition version of his first film.
"I hope things that are going to pop off are going to be in a good way," he joked. "Because this was such a small budget movie back when we made it, a lot of the set was built using pre-existing bits and pieces and things that we bought at Ikea and other things like that. So hopefully the way we have polished up this movie and brought it to a new level of fidelity is not going to reveal all the tricks of the trade that we got away with back when it was 2K."
Moon follows the solitary existence of  Sam Bell, who longs to return to his wife and child back on Earth after a long stint of harvesting the clean-burning fusion fuel, Helium-3, for Lunar Industries, which harbors a shocking secret about Sam's life on the moon. The only companion Sam has is a robot named GERTY, voiced with a calm HAL-9000-like intonation by Kevin Spacey, who knows what's really going on and is forced to reveal the truth because of his programming that is designed to protect Sam at all times.
Moon featured the stellar acting of Sam Rockwell (Iron Man 2, Three Billboards Outside Ebbing, Missouri), with whom Jones was anxious to work since he began his career. "I had come out of film school and was working on this film project, Mute, which is something that I wanted to make for a long time, and I always thought Sam would be fantastic for that. But he had already played a number of villains and was concerned about being typecast back then. Obviously he has soared to success since then, but the role I wanted him to play was quite a dark one that he wasn't interested in."
further reading: Why Mute Took 16 Years to Make
Luckily, Rockwell was game to work with Jones on a film that could showcase his talents as a protagonist. "We just kind of got on really incredibly well and started talking about the kinds of films that would be fun to make together and the kinds of roles that he would be interested in," said Jones. "And it was out of that conversation for that other film that I decided to write a film specifically for him, and that's what Moon was."
With the 4K Ultra HD release, Jones is excited for people to see the great in-camera effects he and his crew were able to achieve in Moon. "I've seen it, and I think it looks beautiful," he told us. "One of the unique things about Moon is how much we were able to do in camera just because of the approach we took. We built this absolutely beautiful film set that was the moon base that was a full 360-degree set that you would go into in the mornings and shoot all day with the door sealed, so you literally felt like you were in the base."
For its exterior shots, Moon relied heavily on miniature work in the style of Star Wars. "We built this lunar landscape essentially out of concrete powder and other material. It was approximately, I'd say, 20 feet by 20 feet, and we shot there for a week," Jones explained. "And every night, myself and Gavin Rothery, who was the VFX co-supervisor and concept artist, would basically dig up the landscape and turn it into a different part of the moon for the next day's shooting."
This technique didn't require as much green screen as a more traditional shoot might have. "A lot of that was shot with black drapes, so instead of actually using green screen to have to replace everything, a lot of time we'd actually be able to get stuff in camera and wouldn't actually need to add anything," said Jones. "Sometimes it worked, depending on what the shot was, and sometimes we'd put in extra light flares and little bits of dust kicking up from the tires of the vehicles, but we really did get most of that in camera."
related: Source Code Director Duncan Jones to Adapt Killer Intent for TV
All of the atmospheric touches in Moon, like the coffee stains on GERTY or the sticky notes around the base, will be much more noticeable as well, allowing repeat viewers to catch things they might not have noticed a decade ago. "There's a lot of details which are kind of hidden in there which I think you'll get a better look at in the 4K," Jones said. "I think you'll probably notice on the walls of where Sam sleeps there's these little round happy faces that he puts on the walls, and you can get a better, clearer chance to see that he has been doing this for a long time."
Jones also recalled an Easter egg that viewers might be able to enjoy more easily in high definition. "Another fun one is the names of all of the plants that he has in his growing room," he noted. "You can kind of see it in the original, but you can get a much clearer idea and actually read the names of all of those plants and see that they're named after a lot of the directors who we were looking up to when we were making the movie. So there's Ridley, there's Katherine, there's a number of different directors who were on those plants."
For those who haven't yet seen Moon, this will certainly be a great chance to enjoy this modern science fiction classic, which Jones wasn't sure would reach an audience until it received two British Independent Film Awards and the Hugo Award for Best Dramatic Presentation, Long Form, along with his BAFTA. "The awards could not have come at a better time for me personally for what I was trying to do," Jones admitted. "We'd made Moon; my producer and I were both terrified that this film was just going to disappear and no one was going to see it, and we were never going to be heard of again and not get the chance to make any more movies."
Not to worry; Jones is just getting started. Besides Moon in 4K Ultra HD, Jones also has among his credits genre offerings like Source Code, Warcraft, and the aforementioned Mute, his initial movie idea which did end up as a movie on Netflix (and even featured a Sam Rockwell cameo as Sam Bell). His adaptation of Rogue Trooper, a comic-based movie from the same world as Judge Dredd, is currently in pre-production.
The Fourth Wall podcast seeks to allow creative people behind the scenes to break through the illusory "fourth wall" of stage and cinema to speak directly to the audience of their work. Our interviews with authors, composers, set designers, and others give voice to a whole host of artists we wouldn't normally get to hear from. Subscribe so that you never miss an episode, or simply listen to the latest episode below!
Subscribe: Apple Podcasts | Spotify | Sticher | Acast | RSS