News
Dumb And Dumber 2 back on
Warner Bros passed on Dumb And Dumber 2 last week. But new backers have been found...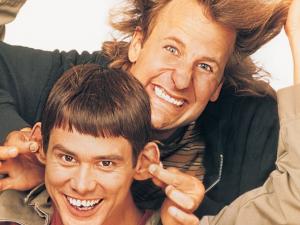 It looked as if the signs for Dumb And Dumber 2 weren't looking too good last week. Warner Bros had the first option on the project, which is set to reunite Jim Carrey and Jeff Daniels, but even given the relatively modest budget, it opted against it.
However, it seems as though the Farrelly Brothers have wasted little time, as on their Twitter account, they've now revealed that Dumb And Dumber 2 is back on, with new backers. Universal Pictures and Red Granite Pictures are now funding the movie.
The movie still has the working title Dumb And Dumber To, and as we hear more about it, we'll let you know. Our guess is to expect it next year.