News
Driven Trailer Reveals Criminalized Origin of the DeLorean
Driven, a dramedy with Jason Sudeikis and Lee Pace, reveals the origins of the DeLorean car... and why they stopped making it.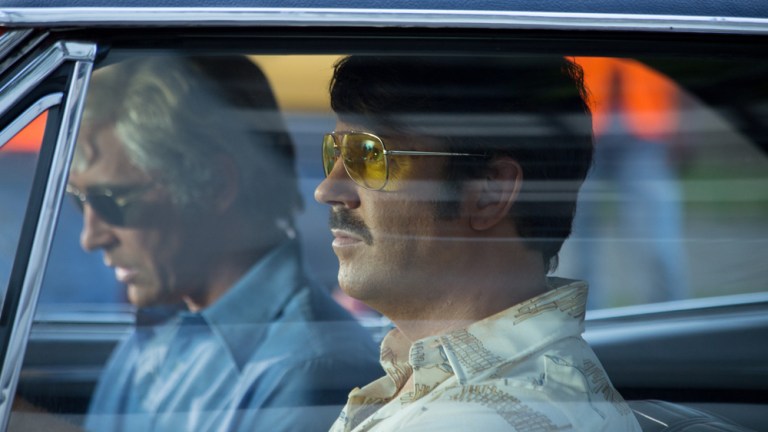 How fitting that the new Driven trailer should drop on July 3 of this year. It is, after all, the 34th anniversary of Back to the Future, one of the seminal touchstones of the 1980s and a movie that is impossible to imagine today without its futuristic vision of the DMC DeLorean. With its stainless steel body and color, engine in the back, and batwing doors that open like a spaceship, the thing looked like it was out of a science fiction movie even before Doc Brown turned this sucker nuclear. It also has one of the most curious (and tragic) origin stories in automobiles, as it was the albatross that destroyed John DeLorean's attempt at a new luxury car manufacturer. Hence where Driven with Jason Sudeikis, Lee Pace, and Judy Greer comes into play.
In the film, Sudeikis plays Jim Hoffman, a friendly neighbor to John DeLorean (Lee Pace) and FBI informant. Now DeLorean doesn't know about that last bit, which might prove catastrophic when he tries to rope Hoffman in to help him raise money for the overrun costs of his new car, the DMC DeLorean. Presumably an intense white collar thriller will ensue as Jim becomes taken with DeLorean's ride, while taking him on a ride into federal-monitored cocaine trafficking.
The creation of the DeLorean really is a fascinating one given that John DeLorean was one of the preeminent American engineers and inventors of his generation. Rising to being one of General Motors' top executives, he oversaw the creation of many of GM's most beloved sports cars in the 1960s before leaving the company in 1972 to form the DeLorean Motor Company where the car we now simply know as the "DeLorean" (or Time Machine) became the one and only product. Proving difficult to manufacture in Belfast, Northern Ireland, the DeLorean lasted only from 1981 to 1983, culminating in DeLorean being arrested in October 1982 for cocaine trafficking. Hopefully Driven can make this ride an exciting one. The film also stars Corey Stoll.
Driven opens in theaters and OnDemand on Aug. 16.
David Crow is the Film Section Editor at Den of Geek. He's also a member of the Online Film Critics Society. Read more of his work here. You can follow him on Twitter @DCrowsNest.