News
Dredd Was Actually Directed by Alex Garland, Says Karl Urban
While celebrated comic book actioner Dredd is credited to director Pete Travis, star Karl Urban says writer Alex Garland did the work.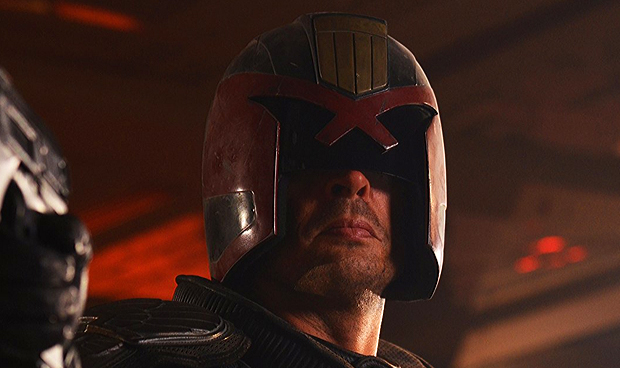 Dredd, the 2012 comic-book-adapted dystopian action epic, remains a revered, almost mythologically-elevated movie in its status as a criminally underappreciated box office dud, evidenced by the fan petitions and social media movements to get a sequel going. However, star Karl Urban just laid down the law regarding who needs to be acknowledged as the film's true director, naming writer Alex Garland.
In an interview with JoBlo, Dredd, Urban – never one to shy away from any solicitation to reprise the role in a prospective sequel – dropped a major bomb about the identity of the person behind the camera for that film. While directorial credit for Dredd was always attributed to Pete Travis (Fearless, Vantage Point), Urban – nearly six years after the film's release – decided to reveal that the would-be celebrated director of 2014's Ex Machina and 2018's Annihilation, Alex Garland – only a screenwriter at the time – was the person who should have received credit as director.
Urban, in lauding the vision that Garland brought to life in Dredd, reveals that it was the film's writer – not Travis – who was the true director of the film (which makes Dredd Garland's real directorial debut), explaining:
"A huge part of the success of Dredd is in fact due to Alex Garland and what a lot of people don't realize is that Alex Garland actually directed that movie." Adding, "I just hope when people think of Alex Garland's filmography that Dredd is the first film that he made before Ex Machina. You think about it in those terms; it goes Dredd, Ex Machina, Annihilation."
When asked about the possibility of someone else nabbing the role of Judge Joseph Dredd, perhaps in a Dredd reboot of some kind, Urban counters with his own hopes to return for a sequel with Garland, who would be properly credited as director; an idea that he confesses, "would rock my word." As Urban continues:
"I mean, I could see other actors portraying him and one day that is an inevitability. I would love to have the opportunity to play Dredd again, but if it doesn't happen then I'm happy with the fact that we've made a film that has become a cult classic and that people have discovered over time."
Of course, Urban's feelings about Dredd are well publicized at this point. While the $50 million-budgeted action film only managed to gross $35 million worldwide, its cult status has certainly inspired a formidable fan force that remains determined to see Urban – when not in the sickbay of the U.S.S. Enterprise as Dr. McCoy in the untitled and slowly developing Star Trek 4 – get his noggin back into that intimidatingly iconic helmet to provide appropriately violent course corrections for the bizarre criminal elements of future-dystopian Mega-City One.
Interestingly enough, things aren't looking financially auspicious for Alex Garland's sophomore (credited) directorial effort, Annihilation, which – even with Natalie Portman headlining – only managed to gross $11 million in its February 23 opening weekend, ranking in at #4, with no late surges to be found. However, the film has generally earned a reputation as a poignant, if not memorably disturbing, offering that successfully separates itself from typical CGI-strewn sci-fi fare.
Yet, it could be the case that the combined elements of the financial failure (but critical acclaim,) of Annihilation, along with the driving fan-led force of the Dredd sequel movement may just be the industry formula that leads Garland to helm the prospective Dredd 2. #wishfulthinking