News
DreamWorks Animation Adds Spooky Jack to Lineup with The Croods 2
Spooky Jack, a supernatural feature, joins The Croods 2 on DreamWorks Animation's slate of upcoming projects.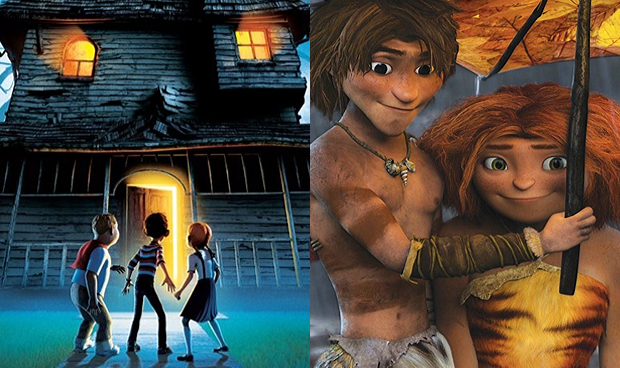 DreamWorks Animation has announced two major projects for its lineup, notably its inevitable sequel The Croods 2, which follows up the 2013 cavepeople-centric animated feature, which managed to globally gross $587 million at the box office (a figure dominated by a $400 million foreign take). However, the studio's second announcement is something completely new in a supernatural-themed featured, titled Spooky Jack.
The studio's calendar entries for distributor Universal certainly feel far-ahead. The Croods 2 is marked for a release on September 18, 2020. While nothing was revealed about the quasi-Pliocene picture, it is confirmed to have the return of the star-studded voice cast of the original with Nicolas Cage, Emma Stone, Ryan Reynolds, Cloris Leachman, Catherine Keener and Clark Duke.  
Spooky Jack, which is set to arrive the following year on September 17, 2021, sounds like an intriguing offering that showcases different tropes, seemingly putting a Narnia or Jumanji spin on the haunted house genre. The feature will focus on a trio of siblings who move into what is described as, "an eerie new home," at which point they find themselves amongst an array of squatters made up of supposedly-mythical creatures. The kids will have to fend of creatures such as cryptozoic quarry Big Foot, legendary Irish folklore fellows in leprechauns, as well as a supposedly "shy" version of the Boogeyman who, nevertheless, still causes creepy disturbances in the middle of the night.
Spooky Jack will be the written brainchild of Robert Ben Garant, who is generally known as a comedic actor from Reno 911!, Viva Variety and 1990s MTV sketch comedy series The State. Garant's screenwriting resume includes the recent Baywatch film reboot, the Night at the Museum films, horror films The Veil and Jessabelle and he's attached to co-write The Cannonball Run reboot film for director Rawson Marshall Thurber.
Thus, fans of family-friendly, reliably-lucrative, animated features now have far-off dates to mark on their calendars.
*In the absence of Spooky Jack promotional images, the top image features the similarly-themed 2006 animated feature, Monster House.
Read and download the full Den of Geek Special Edition magazine here!