News
Downsizing Trailer Scoops Shrunken Matt Damon with a Spatula
Inventive dramedy Downsizing carries the most literal title ever, showing Matt Damon get shrunk down.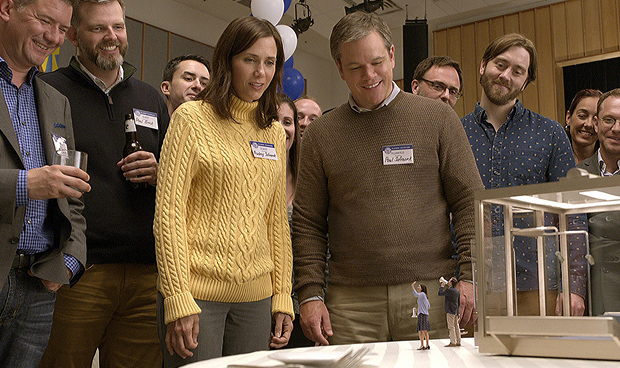 While Matt Damon has provided his share of poignant movie roles in the genres of action and drama, every now and then he takes a conceptual, comedic-leaning risk (see the 2003 conjoined twin comedy Stuck on You). Indeed, his upcoming satire-laced dramedy Downsizing fits that bill, depicting a world in which economic woes have people desperately resorting to literally shrinking themselves down to size for a better bang for their cost of living buck.
Downsizing Trailer
The Downsizing trailer showcases a levity-infused film that also seems to carry a surprising amount of poignancy. While the film takes place in a world like our own, it also proves to be one in which the problem of overpopulation has gotten to a point that people are turning to technology that shrinks them down to a few inches in height, a move that exponentially increases the value of their nest eggs and the guarantee of a spacious, luxurious lifestyle. 
Two people pursuing this path are Paul Safranek (Matt Damon) and his wife Audrey (Kristen Wiig), who see a shrunken existence as a chance to finally get out from underwater and live fulfilled lives. However, the latest trailer reveals a bit of a twist: Audrey backs out at the last minute, leaving poor Paul to live out the rest of his life alone as a mini-Matt-Damon. While, it means living an existence in which he's dwarfed by dandelions, with birds, insects and vermin becoming mortal threats, the upsides also become apparent. Indeed, the sight of an ordinary vodka bottle turned into water-tower-sized keg certainly drives home the idea of the unlimited excess it affords.
Indeed, just as Moore's Law famously posited the perpetual shrinking of microchip transistors (making technology become more potent as it becomes more portable,) the film's shrinking process here – called downsizing – seems like a bizarre, but oddly-feasible life choice that people would make in the name of comfort. In fact, it's something mirrored in real-life by the "Tiny House" movement.
All that aside, the trailer image of a naked, head-shaven and shrunken Matt Damon getting scooped up with a spatula is something that won't soon be forgotten.
Here's the original Downsizing trailer, which hit back in September.
Downsizing Cast and Crew
Joining co-stars Matt Damon and Kristen Wiig in the Downsizing cast are Christoph Waltz, Hong Chau, Jason Sudeikus, Rolf Lassgård, Ingjerd Egeberg, Udo Kier, Søren Pilmark and Maribeth Monroe.
In the director's chair for Downsizing is Alexander Payne, who works off a script he co-wrote with Jim Taylor. Payne, a veteran helmer, is known for the acclaimed 2011 dramedy The Descendants, as well as inventive, buzz-heavy, comedies such as Sideways, About Schmidt and Election. His last film was the 2013 comedy Nebraska, which starred Bruce Dern opposite (Kristen Wiig's SNL contemporary,) Will Forte.
Downsizing Release Date
Downsizing – which should have been set in the Honey, I Shrunk the Kids universe – is set to miniaturize itself to theaters, just in time for the holidays, on December 22, 2017.
Read the full Den of Geek NYCC Special Edition Magazine right here!