Features
Dougray Scott on Last Passenger, Doctor Who, Iain Banks
Ahead of the release of his new thriller Last Passenger, we chat to star Dougray Scott about realism, genres, and Iain Banks...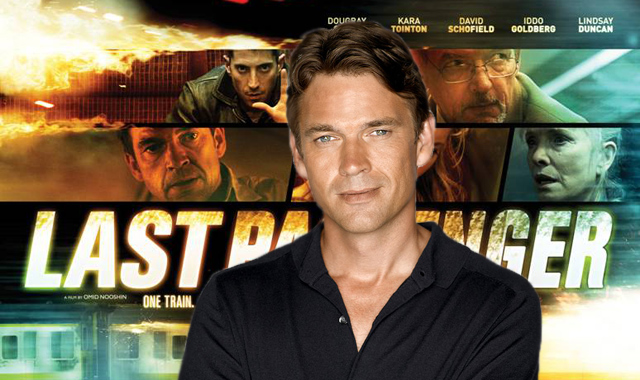 Over the phone, while a very quiet and slightly confused engineer inspected our boiler, Den of Geek chatted to Dougray Scott – former Triffid wrangler, IMF double agent, author of Death Of A Salesman and guest star in Highlander: The TV Series – about his new film Last Passenger.
Set on a quiet, late-night commuter train out of London, the first full-length movie from short-film director Omid Nooshin sees a small group of strangers trapped on the speeding train with no help coming from outside. Think Unstoppable directed by Mike Leigh, and then try not to let your imagination run away with you next time you step on board public transport…
How did you become attached to this project? What was it about this movie that made you want to be involved?
He [writer/director Omid Nooshin] sent me the script, and then the short film he'd made [Panic, 1999] which is really impressive. We met and chatted about the script and what we wanted to do with it, and then I committed to it. I think it was maybe a year later that we started filming it.
I loved the story, the simplicity of it, and I thought it was quite realistic as well. I was very much reminded of Hitchcock when I was reading it and that really resonated with me. When we met Omid and I talked about those kind of movies and how much we liked them, y'know, we're both fans of early Spielberg as well. We were speaking the same kind of film language.
Last Passenger almost complete lacks any popcorn logic, it's very distinctive… do you think we expect films to take liberties with credulity?
Yeah, and that's what's refreshing about this – not to knock those kind of films because we all enjoy watching them – but I still think this film retains its sense of tension and keeps one invested in the characters. The realism connects one to the film, it really feels like the camera is intruding on this private situation that they find themselves in; the reactions and the way they deal with the problem they're facing are, to me, very very realistic.
At no point, as happens in many horror films, do you find yourself thinking 'But why would you do that?' This could happen to you, and you would probably react as the characters do in the film.
Yeah.
While that works really well, is that potentially a problem if people are looking for that escapism?
I think it's a benefit to be honest, because so rarely do you see that in cinema, and that's what people will talk about when they see it. I mean, who knows? I don't bloody know, people might go and see it and think exactly the opposite, you just don't know. Certainly, trying to be objective, that's what I thought when I watched it: that it's quite a breath of fresh air to see a film like that, and that's what I felt when I read it and when I filmed it. Omid has really carried it forward from the page to the screen in a very successful way.
The script and the dialogue are very down to earth, but you still get to tick off a lot of  genres: There's the father-son relationship, a romance, an awkward comedy-of-manners, the thriller element, men jumping off trains going at 70mph…
You see? You've got something for everyone there haven't you? Demographic on this film's gonnae be enormous! 
And yet it downplays all of it.
Yeah, I like it. It fits my sensibilities. Not to say everyone's going to dig it because I think some people want smash-bang right from the start, straight into the action. I think by investing in the characters and spending the time with them at the beginning of the movie the audience then care more about what happens to them.
There's a good long section at the start – about half an hour – before things kick off, and then another half hour before it goes for the explosions and death defying stunts…
Yeah.
Would you say you're known for that kind of thing? Genre-thriller, science fiction kind of stuff?
Not really, I wouldn't say My Week With Marilyn or United was like that, or Enigma. I think that I have done a few of those films. I don't know, there's so many different genres of films that I've done that I think when people look it depends on their favourites…
Yeah, I've probably just homed in on that kind of thing…
Hey, I'm not complaining. If that's what people remember than that's what people remember. 
Are you a fan of those genres though? You've mentioned Hitchcock and Spielberg, who are quite hard to categorise sometimes…
For sure. I like suspense movies, y'know? Jaws was a great suspense movie, not a horror film but just a bloody great movie. Strangers On A Train is a great romp. These thrillers are fantastic and those directors are geniuses at what they did. I do kinda like that otherworldly genre-filmmaking and have done a few, but equally I'm at home doing a straight drama.
I remember doing a film a few years ago called Perfect Creature, about vampires, which was set in a parallel universe… the first of those new wave of vampire films. It was very different and I enjoy it… Hemlock Grove is sort of in that kind of genre, slightly horror but thriller-ish, family drama.
However I just did a movie called The Vatican Tapes and it's very much in that kind of horror, possession movie, although it's very invested in its characters in the same way that The Exorcist was, and of course that's just such a terrific movie.
The characters that you've played, for example, in Doctor Who…
I loved doing that, that was terrific fun to do. And that character, again, is not someone you just like if you're a geek…
It's a similar set-up to Last Passenger, with a small cast and an enclosed space. Did you hear that at one point they were considering making your character Quatermass? The story was inspired by Nigel Kneale's work.
Quatermass is an intriguing story, it's something that I've heard about as well. It was a fantastic script, the fantastic premise of it: this man was so guilty about the young men he sent to their deaths in the way that he wanted to contact them in order to say sorry. I just thought it was just such a sweet premise.
Whatever genre you do, it's always more resonant and successful when the writers invest in the back-story of the characters, to make them three-dimensional, that's the movies you will remember. The Exorcist, you remember what happens in the film, but it's also remembered because those characters are so well drawn. The same way as The Omen. 
Way back when you were in The Crow Road. Are you a fan of Iain Banks?
Yeah, big fan. I'm actually still reading Stonemouth. I knew him as well, he was such a lovely, intelligent, intriguing wonderful guy and I still think The Bridge is one of my favourite novels of all time.
YES.
That book is so fantastic.
I was going to ask if there were any other characters of his you'd like to play, or novels you'd want to see adaptations of?
Yeah, The Bridge. But trying to convince people – I mean, because it's set on a bridge in that world, that kind of Kafka-esque world that he's created – the relationship with his girlfriend from university is so heartbreaking, you'd just be desperate to try to see that on screen wouldn't you?
Yeah, and also, you've got all three versions of the main character to play.
Yeah! 
Now that could be a series. Ten years ago that might not have happened.
Could be a series, and what's also interesting is that it's easier to make it now. It's not as expensive as it would have been ten years ago. I was just in Fife recently, and the Forth Rail Bridge is – for me – just one of the iconic images in the world.
When you go over it now, do you do that thing of just imagining the bridge as it is in the book?
Yeah! I do, I'm like "I'm gonna get the lift now!" It's just a brilliant book.
You're under no obligation to say Death Race, but what's your favourite Jason Statham film?
The Bank Job.
And back to Last Passenger: are you hoping for people to go and see the film, get the train back, and then spend that journey in a state of constant fear?
Yes. Absolutely.