News
Don't Worry About Me preview
Mark recommends David Morrissey's directorial debut, which is screening on UK TV over the weekend, and on DVD from Monday...
David Morrissey is more renowned as an actor in TV shows like Blackpool, State Of Play and last week's event drama Five Days than as a director. But the Liverpudlian actor directed two TV dramas for the BBC, Sweet Revenge in 2001 and Passer-by in 2004, and for the last three years has spent his time between roles in his home city, bringing Don't Worry About Me to the big screen.
Morrissey doesn't appear in the film, but he's been directing, co-writing and financing this film since 2007. On a budget of £100,000, the film isn't backed by the likes of Working Title or the UK Film Council, but was financed by the business sector for Morrissey's production company, Tubedale Films.
Since completing the film and screening it at last year's London Film Festival and securing a premiere for the film on the BBC, he's touring the country with leading lady Helen Elizabeth, giving a number of screenings and talks about his own creative process, starting in Belfast and ending in Derby.
The film is based on The Pool, a stage play written by Elizabeth with her fellow co-star, James Brough. It's the story of David (Brough), an affable London lad who hops on a coach to Liverpool in a bid to advance a relationship with a one-night stand. When she's not interested in his good Samaritan act, he's left stranded in the city with little money and nowhere to stay.
Hoping to get back home, he goes into a bookie's and has a chance meeting with Tina (Elizabeth), a local girl who works behind the counter and gives him a good tip to bolster his paltry funds. It pays off, and David promptly nudges her to skive off work for the afternoon to wander around the city together, spending the next 24 hours forging a relationship and bickering along the way.
There's a real sense when you watch the film that the writers have lived with the characters for a while in performing them for the theatre, and that is reflected so well in their performances on film that it would be churlish to suggest they're believable only because they're unknown quantities. They're believable because they're both fine performers.
Brough is the protagonist for the larger part of the film, and he is our insight into the somewhat tragic figure Elizabeth creates. Tina is a warm and endearing character, but there's a sense of naïveté and a dutiful and put-upon aspect to her life that acts as the elephant in the room throughout, particularly as David is not the most sensitive of characters.
Of the two, Elizabeth is the real revelation, and she's at the emotional heart of the film in a harrowing monologue set inside a confessional box in the Anglican Cathedral. It's a consummately shot sequence too, with the camera exposing the divide between the two by sitting them in opposition, while the dialogue- Tina's 'confession'- brings them closer together.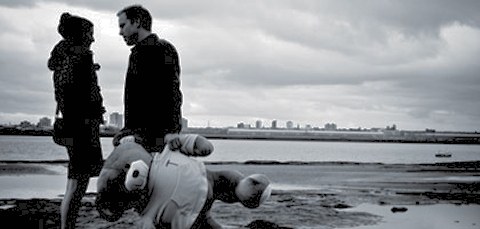 The visual motif of the film comes in the form of a large plush teddy bear, an addition to the screenplay that's attributed to Morrissey and which accompanies David and Tina on their tour of Liverpool. When they bicker, it looks all the more comical for the presence of the giant toy, and it also acts as something for David to take his frustrations out on in a later scene that typifies the film's sometimes dark humour.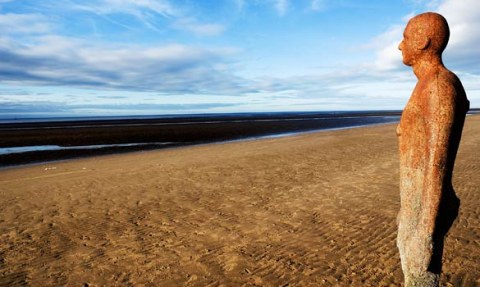 And the city looks beautiful. Similarly to 2008's Of Time And The City, the Liverpudlian at the helm loves his home city, and that reflects very well in Morrissey's framing of shots and landscapes. His camera caresses landmarks like Antony Gormley's iron men on Crosby beach and the staggering architecture of Richard Wilson's Turning The Place Over.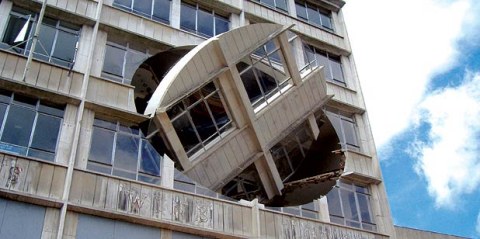 More than that, there's an appreciable love for the locals of Liverpool too, not only in the altruistic Tina keeping David company, but also in a hilarious scene midway through the film when he upsets her, and two young mothers come to the rescue by physically blocking David and screaming profanities at him.
Because it's such a socially oriented and personal piece, it was unsurprising to hear Morrissey speak of his love of Ken Loach's work, specifically of the first time he saw Kes, at the acting master-class that preceded the film.
"I was a happy kid, but the football scene where Brian Glover bullies Billy Caspar reminded me of my school. I felt total empathy for the lad, but I was also transported. Like God knows how many blokes my age, it made me want to act."
The film actually made me think that my home town, Middlesbrough, wouldn't have a reputation nearly as bad if someone were to shoot the town even half as beautifully as Liverpool is shot in Don't Worry About Me. For now, Boro settles for Ridley Scott's opening to Blade Runner, which was based on the industrial vistas that surround the town, and that series of Auf Wiedersehen Pet where they nicked the bridge. If this independent venture can inspire people to go out and make films about their own home town, then it is a resounding success.
With the budget at hand, Don't Worry About Me is wonderful, and it's all the more organic and refreshing for not looking like a polished HD car advert of a film. It's beautiful in other ways. Although he's said he'd prefer to have more money on future projects, there's certainly no bitterness on the director's part about the likes of super-expensive films like Avatar.
"I never met a director who had too much time or too much money," he told the audience at the post-screening Q&A.
Don't Worry About Me is more than just an example of what can be achieved in an entirely independent film. It has a sweet story and a terrific central dynamic between Brough and Elizabeth at its heart. Their script and their performances are tremendous, even after David becomes somewhat underwritten once the audience's sympathy shifts towards Tina.
The film marks them as talents to be watched in the future, both on-screen and off. Their collaboration with Morrissey to bring their stage play to the screen makes for a fantastic film that's by equal turns a romantic drama and a dark comedy. It's a labour of love for all concerned and deserves wider recognition.
Don't Worry About Me airs on BBC Two on March 7th at 11.45pm and is released on DVD on March 8th.