News
Donnie Yen Dishes on Fighting Mike Tyson and Rogue One
Ip Man 3 star Donnie Yen talks about shooting fight scenes with Mike Tyson and his role in Rogue One.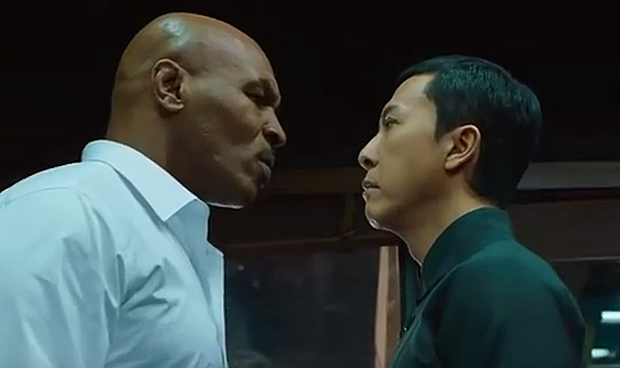 While Donnie Yen is already an action flick icon over in Hong Kong, he seems to be on the verge of big breaks on the global stage. Besides co-starring in February's Netflix-bound sequel to an Oscar-winner, Crouching Tiger, Hidden Dragon: Sword of Destiny, he also has a major role next year in the very first Star Wars spinoff film, Rogue One: A Star Wars Story. Of course, this chairman of chopsocky will do all of that by way of an in-ring fight with boxing legend, Mike Tyson that ended with someone breaking a finger!
Indeed, 2016 could be quite the year for Donnie Yen starting with the January U.S. release of Ip Man 3. The popular biographically based action series portrays Yen as the titular kung-fu master who was famously known to have taught Bruce Lee. While the film will apparently pit our embattled ascetic protagonist against a group of gangsters who are attempting to exploit his city, the film will somehow culminate with Master Ip stepping into a ring to tangle with an American boxer played by the one and only Mike Tyson.
In an interview with The Hollywood Reporter, Yen, a self-confessed fan of Tyson, says he's "seen every one of his boxing matches" and enjoyed shooting their epic fight scene. While he claims they "became friends," their onscreen clash of styles apparently got intense enough for the former heavyweight boxing champ to end up with a broken finger! As Yen explains:
"Accidents do happen on set. As an actor, Mike Tyson was very professional and very humble. Since fighting in a ring is different from fighting for the camera … we need to have a different set of skills to perform a fight scene in a movie. We have to remember the choreography, and a fight scene onscreen might take weeks or even a month to shoot."
Regardless, the onscreen presence of the iconic cheek-tattooed former knockout artist in Ip Man 3 is sure to make fans in the U.S. take a glance at this cross-discipline spectacle. The surreal pairing apparently came about after what Yen calls "a series of coincidences" with a buddy of Tyson's having trained with Yen's mother, a former martial arts grand master. Yen, who, unlike Tyson, emerged unscathed from the fight, described the process as "a fun time," stating that "Ip Man versus Mike Tyson is an attraction in itself."
However, when it comes to the role that will undoubtedly be the crown jewel of Yen's year in Rogue One: A Star Wars Story, the actor, of course, had to mostly remain mum, since even a kung-fu master must fear deadly Disney non-disclosure clauses. However, he did provide a potentially insightful comment regarding his character. According to Yen:
"I am very proud to be the first Chinese actor cast in Rogue One. It was a good and benevolent character."
His character, an apparently blind fighter during a period slightly before the events of A New Hope, will help fulfill the events in that film's opening crawl to steal the plans to the original Death Star that eventually end up in R2-D2's "rusty innards."
Ip Man 3 will showcase a mind-blowingly devastating donnybrook with Tyson when it hits theaters in the U.S. on January 22. Rogue One: A Star Wars Story takes off on December 16, 2016.