News
Donald Trump Blames Hollywood Movies for Racism
President Donald Trump, a man who began his political career in birtherism and race-baiting, blames Hollywood for racism and divisiveness.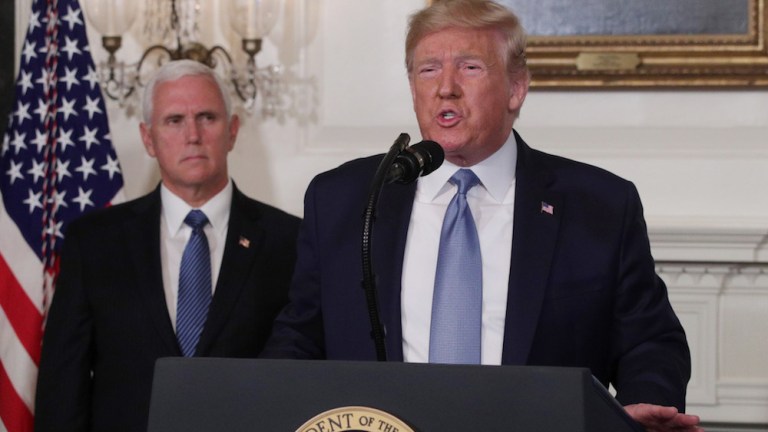 On Wednesday morning, President Donald Trump found a new scapegoat for the divisiveness and rising tension in the United States after two catastrophic mass shootings on the same day in El Paso, Texas and Dayton, Ohio: It's the movies. More specifically, Trump said unnamed Hollywood movies were racist and are stoking a dangerous tension in this country.
"Hollywood is really terrible," the president lamented on the White House lawn. "You talk about racist—Hollywood is racist. What they're doing with the kind of movies they're putting out, it's actually very dangerous for our country. What Hollywood is doing is a tremendous disservice to our country."
This seems an odd criticism from a President of the United States who began his political career bathed in racism, first in 2011 by throwing fuel on the bigoted conspiracy theory that President Barack Obama was not born in this country (which led to Obama producing his birth certificate, a first for a sitting president), and again when he announced his candidacy for president in 2015 by describing Central American migrants as "rapists" in his very first speech. Indeed, the shooter in El Paso is believed to have written a manifesto that directly copied one of Trump's favorite descriptions of undocumented immigrants: they're an "invasion."
It is this type of blatant race-baiting by the president that has caused an uproar about his choice to visit El Paso after the shooting and, upon learning that the eight shooting victims still in various conditions at the University Medical Center of El Paso did not want to see him, having a two-month-old infant who was orphaned by the hate crime be brought back to pose for pictures. You can see it here where Trump is smiling with a big thumbs up. Shortly afterward immigration authorities working under the Trump administration detained 680 undocumented workers at food processing plants in Mississippi, leaving the children of many with empty homes after the first day of school.
However, once you realize what Trump is deeming racist, his statement makes sense, at least in a particularly skewed worldview. Trump is not referring to the historic racism of Hollywood movies like Birth of a Nation (1915) which helped resurrect the Ku Klux Klan into broad popularity during the early 20th century. No, he is probably referring to racism he believes is unfairly targeting white people. Trump erroneously brought up Hollywood while criticizing how he views Twitter as persecuting conservative users, saying, "We're going to be very tough with them. They're treating conservatives very unfairly."
And while he could not name a single Hollywood film that he considers racist, it is possible he is referring to Universal Pictures and Blumhouse Productions' The Hunt, a new horror movie about the rich and powerful rounding up blue collar Americans (often white and Southern) to hunt them for sport. In the wake of the El Paso and Dayton shootings, Universal has pulled television ads for the film, but Fox News—the network of choice for the president—has made the movie a new target for endless handwringing about the poor, persecuted white Christian voters.
Laura Ingraham asked earlier this week on Fox New if "a new grizzly Hollywood film could inspire mass shootings?" It is unclear whether she is as concerned about her own moral responsibility on describing the southern American border as being in a state of "crisis," or the president's use of words like "invasion" and "infestation."
No word yet on who Trump will blame next for a country on edge, but you can be sure it will not be his own rhetoric, policies, or the NRA.
Read and download the Den of Geek SDCC 2019 Special Edition Magazine right here!
David Crow is the Film Section Editor at Den of Geek. He's also a member of the Online Film Critics Society. Read more of his work here. You can follow him on Twitter @DCrowsNest.